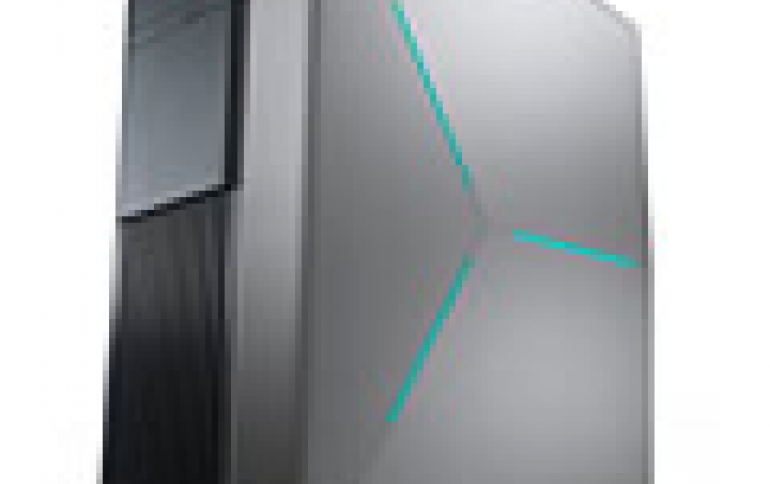 New Alienware Gaming Desktops and Dell Gaming Monitors Announced at Gamescom
Gamers both experienced and new now have more options to choose from in hardware, training and updates, with the launch of Alienware Aurora, NVIDIA and AMD graphics updates to Alienware Area 51; the availability of Alienware Academy; Alienware notebooks; and Dell gaming monitors.
The new Alienware Aurora gaming desktop, designed for VR experiences, and currently the designated training PC for Team Liquid, is both a powerhouse for gaming professionals as well as a complete package for gaming noobs and veterans.
For gamers looking for a mid-tower desktop, the new Alienware Aurora is ready for current Oculus VR or HTC/VIVE requirements and can also support higher performance configurations for the near future's more demanding VR, as well as 4K gaming and even up to 12K gaming with its highest end graphics options. Gamers can choose from a wide variety of upgradability options, spanning many performance and budgetary considerations.
Engineered around the principle of supporting more dedicated graphics power than any previous Aurora, it now comes with a total 600W (2x 300W) of dedicated desktop graphics and an additional 120W of dedicated power for custom CPU overclocking with liquid cooling.
With a MicroATX motherboard, it's Alienware's smallest dual-graphics-capable desktop and has more tool-less features than any previous Alienware mid-tower desktop, including: tool-less graphics, expansion cards, hard drives and memory. It's Alienware's first chassis supporting tool-less graphics card upgrades.
Inspired by the Alienware Area-51, the external design of the system includes AlienFX customizable lighting and has incorporated various ergonomic features for user-handling and component access. Its internal arrangement and fan positioning delivers ambient air towards the priority components with exhausts at the top and rear of the system to deliver maximum performance.
Some notable features of the Alienware Aurora:
Supports five storage drives + one ODD
Supports Intel Optane memory technology
Killer Gigabit Ethernet hardware and software
11ac wireless technology on all configurations
Quiet operation
All-parts upgradeable. Includes intelligent cable and Wi-Fi antenna, routing
Coming this fall, you can now enroll in Alienware Academy, an online training platform where all PC gamers can get data-driven lessons and be challenged to learn, train and improve in competitive gaming.
You'll find CS:GO weapon spray course curriculums for the most popular competitive games and more than 10 lessons taught by Team Liquid's pro gamers and other esports professionals. You'll also get tools enabled with eye tracking that will help you gain insights from your play, with specially designed challenges and custom practice maps that will help you train.
To advance to the next level and unlock your true potential, after each lesson you must pass objectives designed to test your understanding. You can see your progess over time across different challenges on Alienware Academy profile pages. Those who demonstrate lesson mastery receive badges and rewards.
Alienware 15 and 17
With up to 8th Gen Intel Core i9 k-Series processors, the Alienware 15 and 17 are engineered with an improved thermal solution and a thin, hinge-forward design to extract the maximum performance from top-of-the-line components.
The design introduces premium materials such as anodized aluminum, magnesium alloy, steel-reinforcements and copper thermal management. You can also get to internal components easier through a new bottom door mechanism.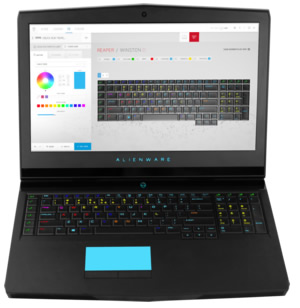 With an upgraded Alienware TactX keyboard, with per key RBG LED, Alienware 15 and 17 now support n-key rollover, enabling more than 108-key commands for maximum actions per minute. It's the only keyboard on a laptop with 2.2mm of key travel, allowing for rapid response for any keystroke. Reinforced with a steel back plate for rigidity and uniform feedback, it's guaranteed to stay functional for up to 10 million keystrokes.
You'll also find:
More than 80 quadrillion lighting combinations via per key RGB lighting with many effects and modes
Improved audio output with a new speaker design that includes internal smart-amps used to monitor the audio waveforms, enabling the use of the entire thermal margin of the speaker, thus enabling louder sound
Support for desktop graphics cards from NVIDIA or AMD with the optional Alienware Graphics Amplifier
The highest performance available AMD- or NVIDIA-based graphics cards using GDDR5 video memory
Optional 120Hz TN+WVA 400-nits display designed for NVIDIA G-Sync experiences
All configurations include Killer Networks e2500 Gigabit Ethernet and Killer 1550 Networks 802.11ac 2x2 Wireless with Bluetooth 5.0 technology
Includes 3 USB 3.0 ports, one of which includes PowerShare technology, another of which uses a Type-C connector for Type-C compatible devices
One Thunderbolt 3 Port (USB Type-C with support for SuperSpeed USB 10Gbps, 40Gbps Thunderbolt, and DisplayPort)
Dell 24 and 27 gaming monitors
With Dell's 24 (S2419HGF) and 27 (S2719DGF) gaming monitors, you'll experience sharp, tear-free graphics with a swift overclocked refresh rate at 144Hz and 155Hz respectively. You'll also leave lag behind, with blazing fast and responsive gameplay at an extremely rapid 1 millisecond response time.
These monitors support AMD FreeSync for smooth gameplay and give you the flexibility to game with the No-Sync fast refresh option on your existing hardware. You can also personalize and preset up to three gaming profiles, in addition to three factory preset modes, with a gamer-geared menu. Both monitors are distinguished by metallic paint in recon-blue to complement Dell gaming PCs.
Qith tilt, pivot, swivel and height adjustable features, you can find your ideal viewing position and game for long hours comfortably. With the wide range of ports, you can hook up these gaming monitors to your PC, and add another secondary device - like your gaming console of choice - for simultaneous entertainment options.
The Dell 24 Gaming Monitor offers FHD resolution, while with the Dell 27 Gaming Monitor, you'll enjoy edge-to-edge gameplay, crisp QHD resolution and 3.68 million pixels - almost twice as much than full HD.