New 20x Super-multi DVD Burners by Pioneer
Pioneer announced today its latest series of 20x dual format DVD writers, offering CD/DVD/DVD-RAM writing support in SATA and PATA versions, as well as a new feature for accurate reading of Audio CDs. The new DVR-115D (DVR-A15J for Japan) is a dual-format ATAPI DVD writer. Also available are two SATA drives: the DVR-215D writes to an identical range of media as the DVR-115D whilst the DVR-215 is a multi-format unit that adds DVD-RAM writing capabilities.
All models offer read-support for DVD-RAM discs and the ability to write at 20X speed on DVD-R/+R discs. They include Pioneer's original technologies to enhance reading and writing performance and are available in three colours, beige, black and silver.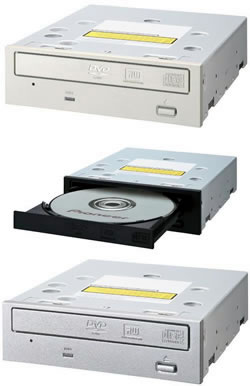 The new models support 20x write speeds on both DVD-R/+R media, and 10x burning on Dual/Double Layer media. Other writing speeds include 12x for DVD-RAM, 8x for DVD+RW , 6x for DVD-RW, 40x for CD-R and 32x. The drives also come with a 2MB cache memory and its's Japanese version will also support the LabelFlash disc labeling technology.
The new writers retain Pioneer's Disc-Resonance Stabiliser technology. This controls the airflow generated by disc rotation in order to minimise disc warping, which can occur when media rotates at high speed. As well as 'Buffer Under Run' protection technology for DVD and CD, writing performance is further advanced by technologies including:
- A Multi-Effect Liquid Crystal Tilt Compensator: it operates at high speed even on Dual Layer/Double Layer media types to ensure precise writing to the disc by automatically compensating for discs that are warped or of uneven thickness.
- An Ultra Dynamic Resonance Absorber: this reduces the instability and vibrations caused by imbalanced or damaged media, maintaining the integrity of the recording and playback performance.
- Performance Adjusting Firmware: this optimises the disc's rotation speed depending on the user's application - for example, if watching a movie or listening to music, the disc velocity is reduced keeping background noise to a minimum.
- PowerRead: There is a difference between how AV and PC handle discs that are difficult to read.In a standard PC environment, DVD-Video is treated as 1 type of data, therefore, if a section is deemed unreadable, playback will stop. With PowerRead, the user-experience is similar to the AV side, making it possible to play the remainder of the disc. Note that with PowerRead, unreadable contents remain unreadable. PowerRead skips to the next readable address.
In addition, the drive features the "PURE READ" function, to compensate the noise introduced when a scratched or dusty audio CD is reproduced. The idea behind PURE READ is to try and correct damaged sectors which are read from the Audio-CD. The feature re-reads damaged sectors to see if it can recover them (I.E. when ripping an Audio-CD). When these damaged sectors are read in a normal scenario, the sector may well be read without any serious error, but sometimes pops or crackles can be heard in the final ripped file. When a sector that is difficult to read is detected, the laser tries to re-read the damaged sector. Not just re-reading the sector, but the drive will actually adjust its read parameters (I.E. higher or lower laser power and the angle of the laser beam are adjusted) to try and get the best-possible read-back from that damaged sector. An algorithm calculates the "best" or "average" result it achieves, and that information (I.E. the best-possible result) is then used as part of the final ripped MP3 file. Re-reading of damaged sectors can be up to a maximum of 40 times.
PURE READ offers are 3 reading modes (that can be set by Pioneer's "QuietDrive utility"):
- Perfect Mode - after re-reading the damaged sector/s, if a "best-possible result" cannot be made, then the drive/software will cease. (I.E. the "perfect" rip of a track is not possible and the user should select Master mode.)
- Master Mode - after re-reading the damaged sector/s, a "best-possible result" is then used in the final ripped MP3 file.
- Standard Mode - the same as Pioneer's regular DVD drives. (I.E. the damaged sector will be read without any re-reading or best-possible result scenarios.)
The drive will retail in Japan in the end of the month, under the code name DVR-A15J. USA, Taiwan, China and Australia markets will be selling the same drive as a retail model in around January 2008. For the European territiory, Pioneer will offer the following rane line-up (bulk models):
DVR-115D: ATAPI, dual format, beige
DVR-115DBK: ATAPI, dual format, black
DVR-115DSV: ATAPI, dual format, silver
DVR-215: SATA, multi format, beige
DVR-215BK: SATA, multi format, black
DVR-215SV: SATA, multi format, silver
DVR-215D: SATA, dual format, beige
DVR-215DBK: SATA, dual format, black
DVR-215DSV:SATA, dual format, silver
Specifications:
- IDE Interface:
ATAPI PIO Mode 4, Multi word DMA Mode 2 16.6 Mbytes/sec. Ultra DMA mode 4 66.6 MBytes/sec.
- Data Buffer (size): 2 MBytes (Write, Read)
- Read Speed
CD-ROM, CD-R: Max 40x CAV
DVD-Video (with CSS, Single / Dual Layer): 5x CAV
DVD-Video (Dual Layer): 5x CAV
DVD-RAM: 12x PCAV
DVD-ROM (dual): Max 12x CAV
DVD-ROM (single): Max 16x CAV
Video CD: 9.3x CAV
CD-RW Max: 32x CAV
DVD-R, DVD+R: 12x CAV
DVD-R DL (Dual Layer), DVD+R (Double Layer): 8x CAV
DVD-RW, DVD+RW: 8x CAV
8cm DVD-ROM, DVD-R/RW, DVD-Video with Adaptor: 3.4x CAV
CD-DA, CD-TEXT, Mixed-CD, CD-Extra (Play Audio): 9.3x CAV
CD-DA, CD-TEXT, Mixed-CD, CD-Extra (Data): 40x CAV
8cm CD-ROM, CD-R/RW, CD-DA with Adaptor: 6.1x CAV
- Write Speed
8cm DVD-R/RW, DVD+R/RW with Adapter: 2x, 1x CLV
DVD-RW 6x, 4x, 2x, 1x
CD-RW: 32x, 24x, 20x, 16x, 10x, 4x
CD-R: 40x, 32x, 24x, 16x, 10x
DVD+R: 20x, 18x, 16x, 12x, 8x, 6x, 4x. 2.4x
DVD+R DL: 10x, 8x, 6x, 4x, 2.4x
DVD-R: 20x, 18x, 16x, 12x, 8x, 6x, 4x, 2x, 1x
DVD-R DL: 10x, 8x, 6x, 4x, 2x
DVD+RW: 8x, 6x, 4x, 2.4x
- Write Support
DVD
DVD-R (Ver 2.1 for General), DVD-R DL (Ver 3.0), DVD-RW (Ver 1,0-1.2), DVD+R (Ver 1.0-1.3), +R DL (1.1), +RW (1.1,1.2) +RW High Speed
CD
CD-R (Type 74, 650MB / Type 80, 700MB), CD-RW (including HS, US, US+)
- Read Support
DVD
DVD-ROM (Single and Dual Layer), DVD-RAM (Ver 2.0-2.2 non-cartridge version), DVD-R, DVD-R DL (Dual Layer), DVD-RW, +R, +R DL, +RW
CD
CD-ROM(Mode 1), CD-ROM XA Mode 2), CD-Text, CD-DA, CD-Extra, Video CD, PhotoCD, CD-R, CD-RW (HS, US, US+)