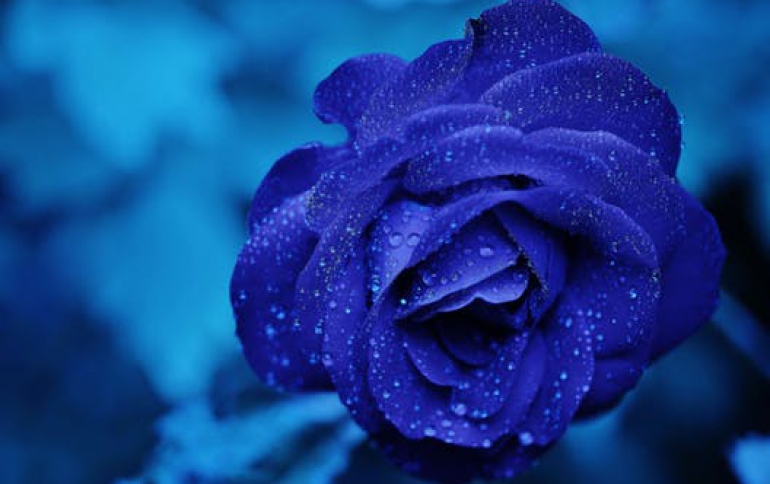 MSI Launches New FM2+ A58-Based Motherboards
MSI today launched 3 new AMD A58 series FM2+ socket based motherboards, the MSI A58-G41 PC Mate, MSI A58M-E35 and MSI A58M-E33. The A58 motherboards support the new AMD Kaveri APU and are backwards compatible with FM2 processors (Richland and Trinity). They are featuring onboard LAN, PCI Express 3.0 and multiple display support.
The motherboards are available in ATX and microATX form factors and offer a Dothill RAID controller, onboard LAN, PCI Express 3.0, SATA and up to 12 USB ports. They can be used as multimedia PCs as they support H.264 hardware decoding and encoding, 4K UHD video, Blu-Ray playback and 8-channel HD Audio through HDMI.
When combined with processors featuring advanced integrated graphics, such as Kaveri, MSI A58 motherboards support triple display configurations.
The new motherboards are also equipped with exclusive technologies, including the one-second overclocking OC Genie 4, the Click BIOS 4 and the Command Center software that combines features such as monitoring, tuning and controlling of your hardware.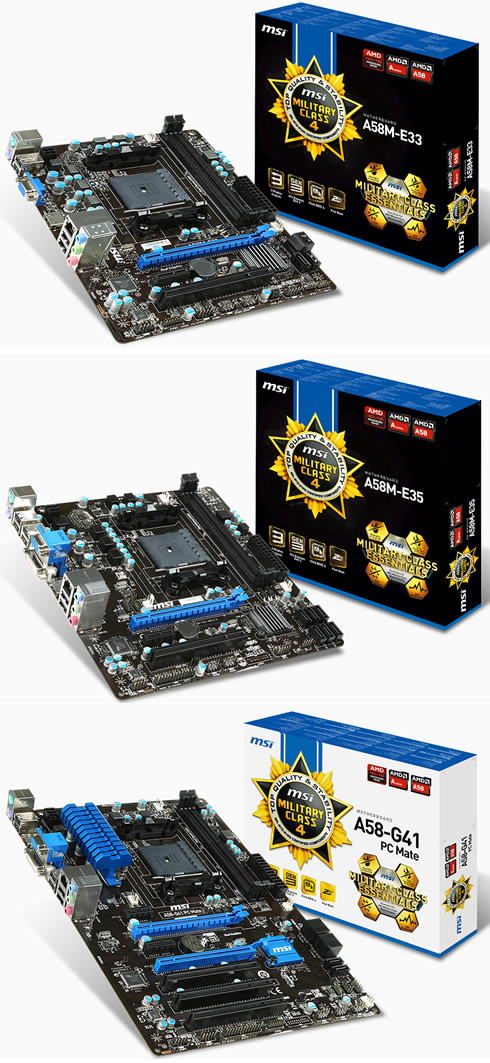 | | | | |
| --- | --- | --- | --- |
| Model | A58-G41 PC Mate | A58M-E35 | A58M-E33 |
| CPU support | AMD A-Series/ Athlon Processors | AMD A-Series/ Athlon Processors | AMD A-Series/ Athlon Processors |
| CPU socket | FM2+ | FM2+ | FM2+ |
| Chipset | AMD A58 Chipset | AMD A58 Chipset | AMD A58 Chipset |
| Form factor | ATX | microATX | microATX |
| Graphics interface | 1 * PCI-E 3.0 x16 slot | 1 * PCI-E 3.0 x16 slot | 1 * PCI-E 3.0 x16 slot |
| Display interface | HDMI, DVI, D-Sub – Requires CPU Graphics | HDMI, DVI, D-Sub – Requires CPU Graphics | HDMI, D-Sub – Requires CPU Graphics |
| Memory support | 2 DIMMs, Dual Channel DDR3 | 2 DIMMs, Dual Channel DDR3 | 2 DIMMs, Dual Channel DDR3 |
| Expansion slots | 1 * PCI-E 2.0 x16 slot, 2 * PCI-E x1 slots, 3 * PCI slots | 1 * PCI-E x1 slot, 1 * PCI slot | 1 * PCI-E x1 slot, 1 * PCI slot |
| SATA/mSATA | 6 * SATA 3Gb/s | 6 * SATA 3Gb/s | 4 * SATA 3Gb/s |
| SATA RAID | RAID 0, 1, 10 – Available ports SATA1-6 | RAID 0, 1, 10 – Available ports SATA1-6 | RAID 0, 1, 10 – Available ports SATA1-4 |
| USB/IEEE 1394 | 12 * USB 2.0 (x6 rear, x6 front) | 10 * USB 2.0 (x6 rear, x4 front) | 8 * USB 2.0 (x4 rear, x4 front) |
| LAN | 10/100/1000 Mbps LAN | 10/100/1000 Mbps LAN | 10/100/1000 Mbps LAN |
| Audio | 8-channel HD Audio | 8-channel HD Audio | 8-channel HD Audio |