Microsoft's Beam Streaming Service Becomes "Mixer"
The evolution of Microsoft's interactive live-streaming platform Beam has a new name: meet "Mixer," which is launching today with new features.
Microsoft says that the name Mixer represents how people watch streams, but to also interact with streamers and play together in near real-time. In other words, Mixer is livestreaming that's actually LIVE, compared to the traditional 10 - 20 second latency on other platforms. What's more, viewers can actively participate in what's happening on screen instead of just watching from the sidelines.
The Mixer service is built directly into the Guide on Xbox One and Game bar on Windows 10 to make it easy for anyone to start streaming their gameplay. Anyone can share their gameplay with friends, or start building out an audience, in just a couple of clicks, and with no extra software required.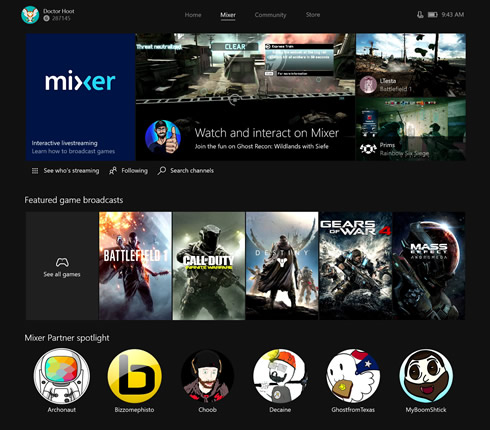 Microsoft is rolling out several new features with Mixer:
Starting today, Microsoft is launching the first built-in cooperative streaming experience on a streaming platform where up to 4 streamers can combine their streams into a single viewer experience. Co-streaming enables multiple channel streams to be displayed on a single Mixer page. You and up to three other friends can deliver a stream that combines separate stream sources into one shared "split-screen" view, including a centralized chat experience. Co-streaming is available now for everyone. And in the coming weeks, Xbox One users will be able to invite friends to join a co-stream directly from the Guide. Co-streaming doesn't require streamers to play the same game or even do the same activity, and you can join a co-stream with friends who are streaming from different types of devices.
Mixer Create Beta Launches on Mobile Devices (iOS and Android). Mixer Create is a new mobile app that enables self-broadcasting, and Microsoft is kicking off the beta today. Soon thereafter, the company will add the ability to stream live gameplay from your mobile device as well. Once mobile gameplay streaming launches, you'll be able to join a co-stream with friends who are broadcasting on PC, console or other mobile devices.
Channel One is an always-on, moderated channel of content that lets you see what's happening across Mixer. Microsoft will highlight a wide variety of content, including big title releases, livestream events, tips and tricks, esports updates, and more.
Launching today to Xbox Insiders, the new Mixer page on the Xbox One dashboard will feature some of the most popular streams that are broadcast on Mixer, curated by our dedicated team.
Xbox will be broadcasting the E3 briefing in 4K Ultra HD, with a special edition Mixer 4K broadcast for those with a 4K A/V setup ready to go.