Microsoft Previews Windows 10
Microsoft's next operating system will be called "Windows 10" and was described by the company as its "most comprehensive platform, ever," featuring a single store, one way for applications to be discovered, purchased, and updated across all of these devices. With the new OS - shipping later in 2015 - the company is trying to gives users the familiarity of Windows 7 with some of the elements of Windows 8. Microsoft promised that users will find all the tools they're used to finding and that Windows 10 will be compatible with all the traditional management systems used today. it described Windows 10 as "a very novel approach of separating corporate and personal data across all devices," adding that enterprise customers will be able to customize the store.
Windows 10 will run across a broad set of devices – from the Internet of Things, to servers in enterprise datacenters worldwide. And across this breadth of devices, Microsoft is actually delivering one application platform for their developers, who will be offered one way to write a universal app that targets the entire family. There will be one store, one way for applications to be discovered, purchased and updated across all of these devices.
For businesses, Windows 10 includes enterprise-grade security, identity and information protection features right into the core of the product. One area of advancement is in the work Microsoft has done with user identities to improve resistance to breach, theft or phishing. Windows 10 will also help advance data loss prevention by using containers and data separation at the application and file level, enabling protection that follows the data as it goes from a tablet or PC to a USB drive, email or the cloud.
Management and deployment have been simplified to help lower costs, including in-place upgrades from Windows 7 or Windows 8 that are focused on making device wipe-and-reload scenarios obsolete. In addition, organizations will be able to customize an app store specific to their needs and environment. The intent is an app store that will allow for volume app licensing, flexible distribution, and the ability for organizations to reclaim or reuse licenses when necessary.
The new Windows will feature a Modern UI that looks like the Widnows 8. However, the familiar Start menu is back, but it brings with it a new customizable space for your favorite apps and Live Tiles.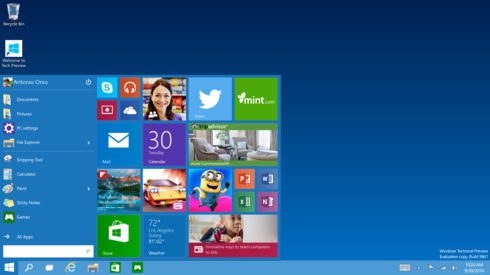 A series of Live Tiles can be found in the Start Menu off to the right side, with the Win7-style set of pinned and frequent apps on the left side, along with web and app search underneath. The tiles can be resized. Options to shutdown and restart are also found on the Start Menu. Universal search will also be available through the Start Menu, including web results.
Windows 10 also comes with a refreshed taskbar that comes with a new "task view," which lays out all of your running apps. Additionally, it will come with an improved command prompt, which supports keyboard shortcuts, as well as copy and paste.
With Windows 10, Microsoft also plans to adjust the user interface depending on the mode you're using it in. For instance, it'll look different if you're using it for touch versus if a mouse and keyboard are detected. The Modern UI shows up as a "large Start Menu" in addition to a back button on the taskbar when you're in touch mode, whereas you'll get the traditional desktop look and feel if you're using a keyboard and mouse.
Everything will run in a window: Apps from the Windows Store now open in the same format that desktop apps do and can be resized and moved around, and have title bars at the top allowing for maximize, minimize, and close with a click.
With Windows 10, you can have four apps snapped on the same screen with a new quadrant layout. Windows will also show other apps and programs running for additional snapping and even make smart suggestions on filling available screen space with other open apps.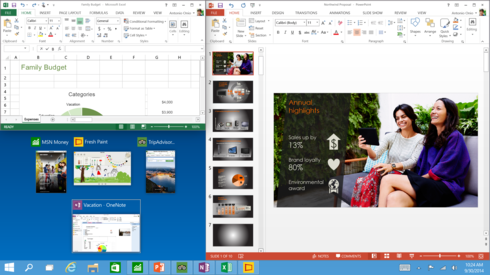 You'll be able to create desktops for different purposes and projects and switch between these desktops easily and pick up where you left off on each desktop.
File Explorer will display your recent files and frequently visited folders making for finding files you've worked on is easier.
More information on the new operating system at the company's Build conference next Spring. Microsoft will be launching an Insider Program tomorrow, which is designed to give the initial Windows 10 experience for desktops and laptops to PC experts and IT Pros. Soon after, Mcirosoft will also be releasing technical previews of Windows Server and our management tools.