Microsoft Previews Azure Sentinel Cloud Security Program
Microsoft unveiled two new cloud security services to help customers track and stop threats and manage their cyberdefenses by tapping experts from the software giant.
Azure Sentinel is a Security Information and Event Management (SIEM) within the Azure cloud platform. It has been designed to let organizations see and stop threats before they cause harm. Powered by AI, it helps reduce noise noise and false alarms - Microsoft says it has seen an overall reduction of up to 90 percent in alert fatigue with early adopters.
Built on Azure means that the new service takes advantage of nearly limitless cloud speed and scale. In a few clicks, businesse scan can bring in their Microsoft Office 365 data for free and combine it with their other security data for analysis.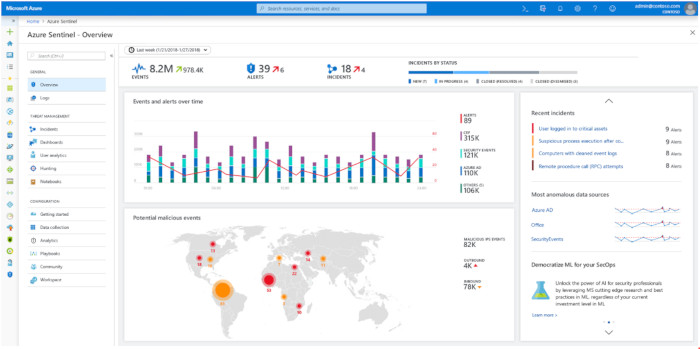 Azure Sentinel supports open standards such as Common Event Format (CEF) and Microsoft's partner connections, including Microsoft Intelligent Security Association partners such as Check Point, Cisco, F5, Fortinet, Palo Alto and Symantec, as well as broader ecosystem partners such as ServiceNow.
Azure Sentinel is available in preview today from the Azure portal.
Microsoft also previewed a service called Microsoft Threat Experts in which the company hunts through a customer's anonymous security data to find the biggest threats and provides help on demand through an "Ask a Threat Expert" button. The services will be part of Microsoft's Windows Defender ATP security product.