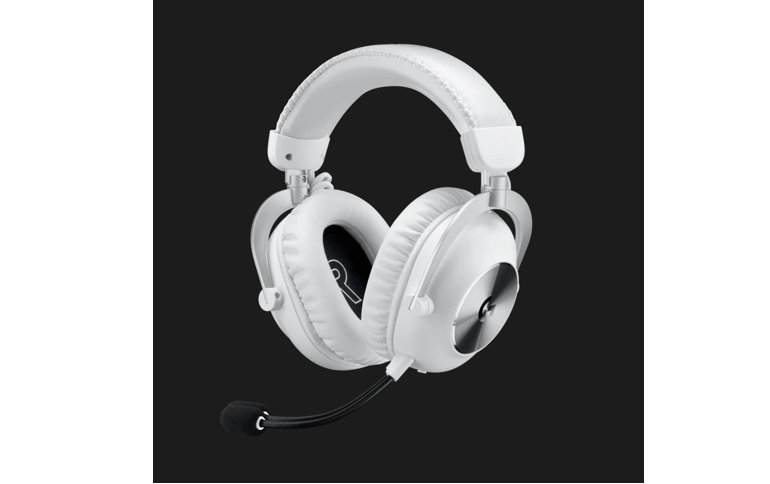 Logitech anounces Rally Bar Huddle, Desk Booking Solution and G PRO X 2 LIGHTSPEED Gaming Headset
Logitech G, a brand of Logitech announced the ultimate esports headset - the new Logitech G PRO X 2 LIGHTSPEED Wireless Gaming Headset. Designed and tested with top esports athletes, the new PRO X 2 headset features all new, revolutionary PRO-G GRAPHENE Audio Drivers, making it the pinnacle of gaming audio and a must-have headset for the most discerning and competitive players.
"The core philosophy of the Logitech G PRO Series is about creating gear that meets the demanding needs of professional esports athletes and competitive gamers," says Chris Pate, Principal Product Manager, Logitech G PRO Series. "With PRO X 2, we've achieved a groundbreaking level of performance by redesigning our PRO-G drivers with Graphene audio technology. With our use of graphene, we can create a driver that is both incredibly rigid and, at the same time, almost impossibly lightweight. This delivers high fidelity sound with extremely low distortion, giving pros the performance they need to play to their maximum potential."
In esports, clarity of sound and communications are critical factors that influence winning. Being able to hear the slightest audio cue and communicate with teammates makes all the difference. The new PRO-G GRAPHENE Audio Driver has been precision engineered with a 50 mm graphene diaphragm featuring a live edge suspension, to deliver immersive soundscapes like never before. The new driver delivers improvements in sound reproduction accuracy, time to signal accuracy and distortion reduction, allowing players to identify audio objects more clearly, and more quickly discern their location as objects move relative to the player.
In addition to an all-new PRO-G GRAPHENE Audio Driver, PRO X 2 features major enhancements over the current PRO X Wireless Gaming Headset, including:
Robust Connections - Prepare for any situation with improved LIGHTSPEED wireless, Bluetooth, and wired connections (3.5mm Aux). LIGHTSPEED now delivers PRO-grade wireless with up to 50 hours of use on a single charge and a consistently robust wireless connection range of up to 30m.
Award-Winning PRO Design - Designed for, and in collaboration with, pro gamers, PRO X 2 features a durable yet lightweight aluminum and steel frame, and supreme comfort with a rotating, durable hinge and swappable earpads in leatherette and velour.
Communicate With Confidence - 6mm cardioid microphone on a detachable boom arm, with advanced Blue VO!CE software filters through G HUB, for clear and consistent communications.
DTS Headphone:X 2.0 Surround Sound - Precision surround sound helps you know exactly where your opponents are before they find you, with deeply immersive soundscape experiences.
Logitech G PRO Series line is developed under a unique Design by Collaboration program, which brings together many of the world's top esports athletes and teams to develop new high-performance esports gear that pushes the boundaries of innovation and performance to give them the competitive edge.
"I have always felt Logitech G values my feedback and opinion for product development, that's why their gear is the highest performing and most popular among top esports athletes. During the development of the G PRO X 2 Gaming headset, I enjoyed the improved comfort and excellent mic. In-game, I found the new Graphene driver a game changer, it really made me feel I got a new advantage to win against my competition," said Oleksandr "s1mple" Kostyljev, Counter-Strike, Natus Vincere.
From the beginning of the design process, Logitech G engages with Esports Pros to obtain feedback, make key decisions, and test to refine the features and design of the products. By implementing their feedback into new tools and solutions, Logitech G has become the defacto standard and leader in professional quality esports gaming gear.
Pricing and Availability
The PRO X 2 LIGHTSPEED Wireless Gaming Headset is available now on LogitechG.com and in the US, Canada, and select markets worldwide for a suggested retail price of $249 US and €269. For more information, please visit LogitechG.com/pro-x-2.
Logitech International (SIX: LOGN) (NASDAQ: LOGI) introduced a desk booking service that delivers a better hotdesking experience for employees and a greater ability to manage shared desks across multiple locations. The service runs on Logi Dock Flex, a fully-featured managed docking station built for shared desks in flexible work environments.
The move to a hybrid work model has given companies the opportunity to reassess and optimize their office space. But the hybrid evolution has also introduced the challenges of motivating employees back to the office, and the need for data and insights to understand space configuration and continued investment.
"Businesses know they have to earn the commute to get hybrid work employees into the office. The answer is not to add more foosball tables, but to instead offer a way for employees to plan their in-office days together," said Scott Wharton, general manager of Logitech B2B. "We took a multidimensional approach to building Logi Dock Flex that not only solves desk booking and management issues, but promotes social collaboration and gives IT and workplace managers data on how the tech and space are being used."
A McKinsey Social Capital survey* shows that employees overall report feeling less connected to people within their company networks. Through Logitech's desk booking service, employees can plan days in the office with their teams, book a desk through Logi Tune and notify their teammates in-app. Once on-site, they simply plug into Logi Dock Flex with a single USB cable and quickly get to work.
With an 8-inch display, three USB ports in the front and three more in the back, Logi Dock Flex supports dual display, network connection and up to 100 watts of power, allowing for both secure, standard-issue device connections, as well as for employees to bring their own device. Employees can personalize their workstation with their own background photo and away message, and join meetings with one touch through calendar integrations with the Logi Tune app. And for ad-hoc booking, the interactive panel signals whether the desk is available or not.
IT teams can quickly install and deploy Logi Dock Flex at scale with secure cable management for clutter-free desk areas. Through Logitech Sync, IT can monitor and manage Logi Dock Flex remotely to adjust booking settings, manage equipment, and customize according to the company's hybrid policies.
Logi Dock Flex's multiservice capability allows IT teams to choose Microsoft Teams, Zoom Workspace Reservation, or Logitech's own desk booking service, with an additional choice of booking platforms to come. Logitech desk booking service is managed through Logitech Sync and can be deployed with either Logi Dock Flex or by using QR codes to work stand-alone, not requiring any purchase of Logitech hardware.
For Facilities Managers, real-time insights and analytics on space usage help them understand how flexible office and return-to-office policies are performing. Workplace management data like desk utilization, peak occupancy rates, and user behaviors take the guesswork out of usage and space planning.
Approach to Sustainability
Logitech is committed to creating a more equitable and climate positive world by actively working to reduce our carbon impact. That's why Logi Dock Flex will partially be made using lower impact materials like post-consumer recycled plastics and low-carbon aluminum when possible, and will be shipped in responsibly-sourced packaging.
Pricing and Availability
Logi Dock Flex, offered in off-white, will be available globally in Fall 2023 through authorized sellers and on logitech.com with a suggested retail price of $699 USD. Logitech's desk booking service is available for free, and can be requested today through the Sync management portal. Premium features like usage insights, alerts, and floor plan maps are free during the public beta through July 1, 2024.
Logitech International (SIX: LOGN) (NASDAQ: LOGI) today announced Rally Bar Huddle, a premium all-in-one appliance-based video bar for huddle and small rooms, and the newest addition to Logitech's family of conference cameras. Designed to deliver equitable video conferencing meetings with ease, Rally Bar Huddle is quick to set up, simple to manage, and easy to integrate with Tap IP through CollabOS.
As companies redesign their office spaces to create more collaboration areas for their hybrid workforce, huddle rooms have become more popular. According to research firm Futuresource, 68%* of companies plan to invest in AV technology for small meeting rooms and huddle spaces.
"Huddle rooms are popping up faster than companies can video-enable them," said Scott Wharton, general manager of Logitech B2B. "We designed Rally Bar Huddle from the ground up to have the optimal AI functionality for modern equitable meetings while coming in at a price point that is affordable for every single huddle room out there."
Rally Bar Huddle is designed for rooms up to six people to ensure every participant is seen and heard clearly. Built-in AI video intelligence and 4K image quality welcome remote participants to the conversation. The redesigned ported-audio system makes Rally Bar Huddle two times louder than Logitech MeetUp. Advanced sound pickup via six beamforming mics and AI-based noise suppression creates a natural meeting experience for remote employees.
Ongoing software improvements make Rally Bar Huddle smarter through regular updates that add advanced features like RightSight 2. With RightSight 2, teams get access to AI features such as: Speaker View, which detects and shows the active speaker while also showing the entire room; and Grid View, which gives each participant equal representation by detecting faces and zooming in on each person to give them their own frame; plus integrations with Zoom Rooms Smart Gallery, Microsoft IntelliFrame and others.
Rally Bar Huddle can be deployed three ways. It works with both a dedicated Windows or ChromeOS computer; in BYOD mode; or runs supported video conferencing applications on the device in appliance mode without an external computer. Rally Bar Huddle works with leading video conferencing platforms, including Microsoft Teams, Zoom, and Google Meet.
IT teams can take Rally Bar Huddle out of the box and have the meeting room up and running in minutes. After setup, IT teams canmonitor room health, deploy updates, and modify settings through single, cloud-basedLogitech Sync. And with Sync Insights, teams can assess how meeting spaces are used over time.
Organizations can customize Rally Bar Huddle for specialty settings or to best suit their decor. An off-white fabric cover provides an alternative to the default graphite, and the easy-clean cover helps keep the video bar clean in healthcare and education environments.
Approach to Sustainability
The plastic parts in Rally Bar Huddle include a minimum of 42% certified post-consumer recycled plastic to give a second life to end-of-life plastic. The paper packaging for Rally Bar Huddle comes from FSC-certified forests and other controlled sources. By choosing this product, you are supporting responsible management of the world's forests. All Logitech products are certified carbon neutral and use renewable energy where possible in their manufacturing. The carbon footprint of all Logitech products, including Rally Bar Huddle, have been reduced to zero by supporting forestry, renewables and climate-impacted communities.
Pricing and Availability
Rally Bar Huddle will be available globally in July 2023 through authorized sellers and logitech.com with a suggested retail price of $1699. RightSight 2 features will be available in Fall 2023.