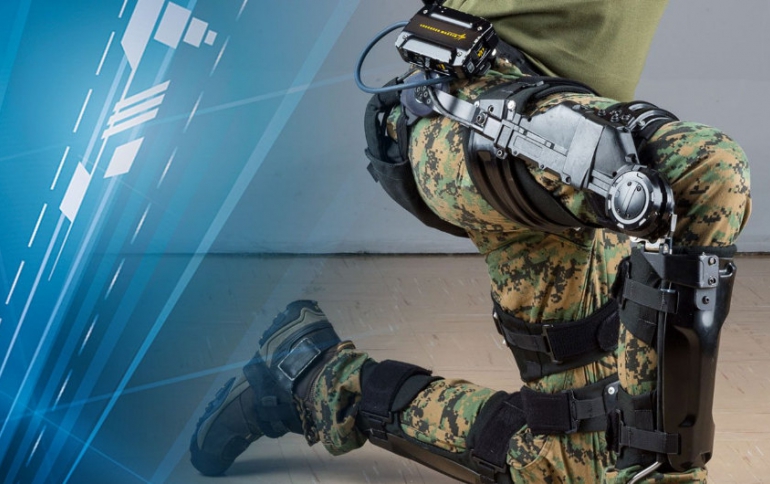 Lockheed Martin Develops Exoskeletons For Future U.S. Soldiers
The U.S. Army is investing in experimental exoskeleton technology to make soldiers more resilient and, part of a push into advanced gear to equip soldiers in the near future.
B-Temia, a Canadian robotics tech company, announced its engagement in a major agreement with U.S. Army Natick Soldier Research, Development and Engineering Center (NSRDEC) with its partner Lockheed Martin, appointed as the prime contractor. At a total value of $6.9M, the agreement is for the optimization of the ONYX exoskeleton, the military version of the B-Temia's Dermoskeleton technology, for field trials with military operators. ONYX is a brand owned by Lockheed Martin under the B-Temia Enabled co-branding.
Exoskeleton technologies can bring new capabilities to fighting forces and improve endurance and safety in industrial settings. Lockheed Martin's new lower-body exoskeleton has demonstrated to increase mobility. By reducing the effort in walking and climbing this technology can literally help soldiers and first responders go the extra mile while carrying mission-essential equipment.
ONYX is a battery-powered, lower-body exoskeleton with artificial intelligence (AI) technology that augments human strength and endurance. ONYX counteracts overstress on the lower back and legs. Using electro-mechanical knee actuators, a suite of sensors, and an AI computer, ONYX learns user movements and delivers the right torque at the right time to assist with walking up steep inclines, lifting or dragging heavy loads. Soldiers now deploy into war zones bogged down by heavy but critical gear like body armor, night-vision goggles and advanced radios. Altogether, that can weigh anywhere from 90 to 140 pounds (40-64 kg).
"Innovative human/machine technologies like ONYX can improve human performance, decrease injury and reduce fatigue to help soldiers accomplish physically demanding tasks," said Keith Maxwell, exoskeleton technologies program manager at Lockheed Martin's Missiles and Fire Control division. "This award brings us one step closer to equipping future forces with advanced exoskeleton capabilities."
Washington is also envisioning more next-generation technologies that can aid soldiers, from better helmets to shield them from blast injuries to the introduction of robotic "teammates" to help resupply them in war zones.
Russia and China were also investing in exoskeleton technologies. Russia was working on several versions of exoskeletons, including one that it tested recently in Syria.