LG Optimus 3D And Optimus Pad Annoucned at MWC 2011
LG Electronics returns to Barcelona this year to introduce two new flagship devices at Mobile World Congress: the LG Optimus 3D smartphone and the LG Optimus Pad, an Android tablet optimized with Honeycomb OS. "I'm confident that this year, LG will emerge as a leader in the next generation of smartphone and tablet devices," said Dr. Jong-seok Park, president and CEO of LG Electronics Mobile Communications Company. "What you see here today is just the beginning -- we will continue to innovate with products that address consumer needs and deliver benefits that live up to our `Life`s Good` commitment."
Aiming to aggressively take a leadership position in the smartphone market in 2011, LG has been bolstering its premium smartphone line-up. At CES 2011 last month, the company introduced the world's first dual-core smartphone (LG Optimus 2X), one of the world's slimmest smartphones (LG Optimus Black) and the company's first phone compatible with 4G LTE networks (LG Revolution).
The basic products debuting at MWC 2011 include:
LG Optimus 3D
The LG Optimus 3D is an Android-based and packs a 1GHz Cortex A9 dual-core processor and the PowerVR SGX 540 graphics processor , as it is based on the Texas Instruments OMAP4 dual-core SoC. The device offers four times more video decoders than competing designs, according to LG. The company also claims that the device doubles the graphics performance of its nearest competitor. In addition, The LG Optimus 3D provides the world`s first full 3D experience covering the full spectrum from recording to viewing and sharing 3D content. It features a dual-lens camera that enables users to capture any moment in 3D which can then be viewed immediately on the 4.3-inch WVGA glasses-free display. LG and YouTube also today announced a partnership to provide 3D videos on mobiles. The LG Optimus 3D as well as other future 3D smartphones will enable users not only to capture and view 3D videos without glasses, but also to upload and share them instantly with others via YouTube.
Multiple connectivity options including HDMI (High Definition Multimedia Interface) and DLNA (Digital Living Network Alliance) also make it easy for users to transfer their recorded content to other devices.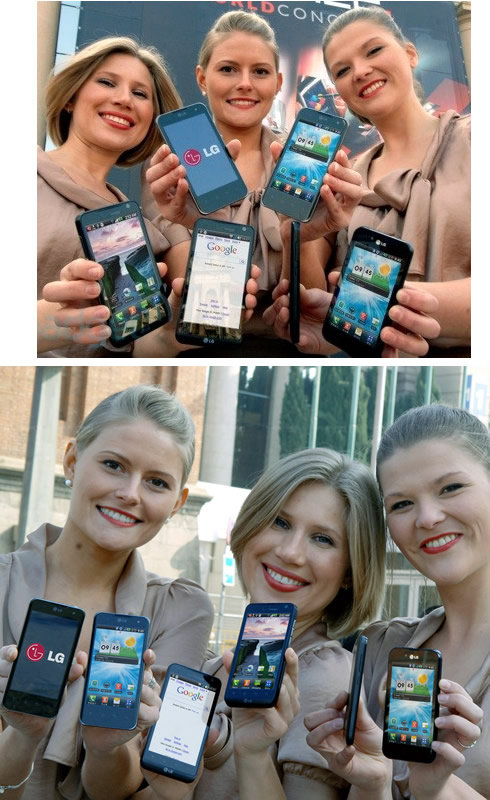 LG Optimus Pad
The LG Optimus Pad is another addition to the Honeycomb / Nvidia Tegra 2 tablet class, joining the Motorola Xoom, Asus Eee Transformer and the Acer Iconia A500. The tablet features an 8.9-inch display in a form factor that`s comfortable to use one-handed. With a 15:9 aspect ratio and Full HD 1080p decoding, the LG Optimus Pad offers users a great multimedia environment on a 1280 x 768 WXGA resolution widescreen display.
The new device sports Honeycomb, Google's latest platform optimized for tablet devices with an optimized and intuitive PC-like interface for running tablet software. LG`s tablet runs on a 1GHz NVIDIA Tegra 2 dual-core processor. In addition, the LG Optimus Pad is the world`s first tablet with a built-in 3D camera, enabling users to capture image and video content to be viewed on a high definition 3D TV or shared on the web via YouTube 3D. The device is essentially the same device as the LG G-Slate that T-Mobile announced at CES 2011.
LG Optimus 2X
At the same event, the company is showcasing the world's first smartphone with a dual-core processor, the LG Optimus 2X . Developed was developed in partnership with NVIDIA, the dual-core Tegra 2 system-on-a-chip found in the LG Optimus 2X runs at a clock speed of 1GHz and boasts low power consumption and high performance for playing video and audio. The LG Optimus 2X offers 1080p HD video playback and recording with HDMI mirroring that expands content on external displays to Full HD quality. The LG Optimus 2X can connect wirelessly to any DLNA-compatible digital device such as HD TVs for a console-like gaming experience, taking full advantage of the phone's HDMI mirroring, accelerometer and gyro sensor.
LG Optimus Black
The ultra-slim (6 mm thick/ 109 grams weight) Android-based LG Optimus Black smartphone is already a hit, having recorded more than two million pre-orders in 20 countries since its introduction at CES, according to LG. At MWC, a range of special-edition LG Optimus Black handsets will be unveiled featuring designs courtesy of the Keith Haring Foundation. Besides its slim body, the LG Optimus Black features a 4-inch NOVA display for optimal brightness and readability under any lighting conditions. In addition, the LG Optimus Black includes a collection of smart features such as Gesture UI, Wi-Fi Direct and a 2MP front-facing camera. The device also features Android 2.3 upgrade capability.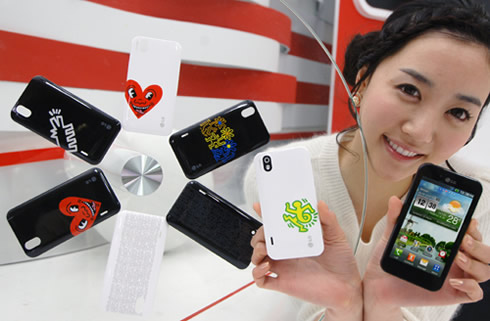 The LG Optimus Black will be available in black, white and other color variations in select European markets next month.
For more information, visit the LG stand at 8B178 in Hall 8, Fira de Barcelona or go to the online newsroom at www.lgnewsroom.com/MWC2011.