LG Launching Voice Recognition Service Challenging Apple's Siri And S Voice
LG today announced a new assistant service in Korea to compete with Apple's Siri and Samsung's S Voice. Named Quick Voice, the service allows users to controll their phones with their voice.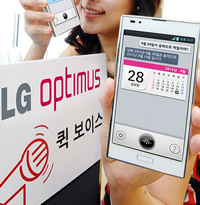 LG says that the service will support 11 apps at launch, including the phone, email, address book, alarm clock, and calendar apps. Quick Voice will also offer search functionality for maps, weather, stocks, and web search - just like Apple's Siri and Samsung's S Voice services.
The new service will be arriving via software update to the Optimus Vu in late June and the Optimus LTE 2 in July.
Google is also reportedly working on a voice-recognition service for Android smartphones.