LG GSA-5168D: A PC TV DVD Burner
LG unveiled Monday the GSA-5168D, an external multi-format DVD burner that can be connected to TVs, DVD players or digital cameras and burn videos directly from the video source. The drive is also capable of writing on DVD DL and DVD-RAM media, while it also features LightScribe.
The external USB 2.0 device can be connected to a digital camera, DVD player or a TV and act as a video capturing device. The captured content can be recorded on a blank DVD disc by pushing a button.
Based on the LG GSA-4166B, the GSA-5168D is able to burn on DVD+R/-R DL and DVD-RAM media. It features burning speeds of 16x support for both DVD-R and DVD+R ( 6 minutes for a full DVD), 8x DVD+RW , 6x DVD-RW, 4x DVD-R Dual Layer, 8x DVD+R Dual Layer and 5x DVD-RAM, as well as 16x DVD-ROM and 48x/32x/48x on the CD side of things.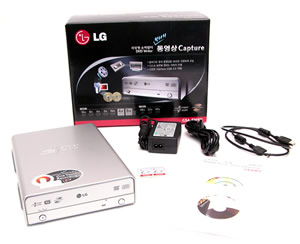 The GSA-5168D is currently available on the Korean market in a price range of $170 to $180.
Basic specifications:
Interface USB 2.0
A/V ports: Audio/video Inputs, S-Video
Bufffer 2MB
Write
DVD+R/-R 16x
DVD+RW 8x
DVD-RW 6x
DVD+R/-R DL 8x
DVD-RAM 5x
CD-R 48x
CD-RW 32x
Read
DVD-ROM 16x
CD-ROM 48x