LG Electronics Brings Its Ultra High Definition TVs Line In The U.S.
LG Electronics today introduced at CEDIA Expo its updated series of Ultra High Definition TVs, which includes five new models. The company also slashed the prices of some exsting UHDTVs. The new LG LA9650 series comes in 65- and 55-inch class sizes (64.7- and 54.6-inch diagonal, respectively) and features a native Ultra HD screen resolution of 3,820 x 2,160.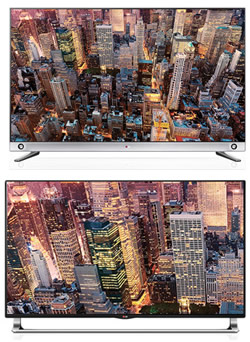 The 65 and 55-inch class LA9650 Ultra HD TVs will be available through U.S. retailers beginning this month at suggested prices of $4,999 and $3,499, respectively. These new sets join LG's LA9700 series 65- and 55-inch class (64.7- and 54.6-inch diagonal, respectively) Ultra HD TVs, which are now priced at $6,499 and $4,499, respectively.
The step up LA9700 series features LG's proprietary NANO FULL LED array backlighting and a sliding speaker. LG's 84-inch class (84.04 inch diagonal) LM9600 sells for $16,999.
The LA9650 series delivers Ultra HD picturea in an edge-lit LED screen and that also includes LG's Smart TV and CINEMA 3D technologies. LG included its LED Plus technology, which provides great brightness control through edge LED local dimming, delivering better contrast. The TV's are using IPS panel displays.
LG has also implemented is "Tru-ULTRA HD Engine," which is a series of algorithms designed to upscale content. Equally significant, it incorporates the new H.265 high efficiency video coding (HEVC) decoder, making these models forward-compatible if content providers begin to utilize this new standard for encoding broadcast or streaming content.
LG's Smart TV platform is included with the LA9650 series, offering users access to proprietary apps, content services including Netflix, Hulu Plus and more. With LG Smart TV platform, users can access LG's "3D World," where 3D content is available. Additionally, LG Smart Share simplifies the process of accessing content from other devices, such as smartphones, tablets and laptops, through a number of connectivity options. DLNA, WiDi, Miracast, MHL and 2nd Display provide a plethora of possibilities for streaming and sharing content.
Users can navigate LG's Smart TV ecosystem using LG's four-mode Magic Remote, which acts like an air mouse with point and click capabilities, plus gesture commands, a scroll wheel and voice recognition capable of recognizing how people naturally speak rather than only simple commands.