LG Brings SMART TV Concept, LED monitors And 3D LED Tvs To IFA
At this year's Internationale Funkausstelung (IFA) in Berlin, LG will showcase a mix of home entertainment and business products as well as the SMART TV concept - a set that mixes connectivity to the Internet with ease of use.
SMART TV
SMART TVs feature an easy Home Dashboard, intuitive user interface and user experience among other TV applications.
LG's SMART TV exhibit at IFA features four main concepts: Easy, Fun, More and Better. As the name suggests, Easy is about convenience of use, which LG achieves through a convenient Home Dashboard that lets viewers use applications and access a range of content all on a single screen. Just like an Internet portal, Home Dashboard helps viewers select their favorite content instantly without having to browse numerous websites.
At IFA 2010, LG will be making things even simpler still with its Magic Motion Remote Control, which enables viewers to find the content they want by pointing the controller at a list of onscreen options and clicking a single button.
Focusing on lifestyle-oriented content, Fun shows how LG's SMART TVs can deliver entertainment value in real life through TV applications. Use the Magic Motion Remote Control to fill in the pages of a coloring book app or learn about first aid through simulated emergency situations. Alternatively, they can pick up tips for relaxation and exercise through a yoga app.
More is about consuming digital content and using Media Link to transfer even more content to the SMART TV. Besides instant access to online videos and images, users can upload things they?ve created themselves. And with a smartphone, leaving the house doesn't mean missing one?s favorite program because content can be delivered wirelessly. Whether connecting to an iPad, PCs, personal media players or home theater systems, LG is expanding the reach of entertainment to every part of people?s lives.
Showing how it will make TV Better, LG is showcasing its quick links to premium content that TV viewers are most likely to use, such as the YouTube, Maxdome, Orange and MLB. On this solid foundation, LG is building a vast selection of online content as it secures deals with some of the internet?s top service and content providers. LG says that it focusing on forming partnerships with major content providers for maximum entertainment value, including the possibility of Pay TV.
"With the introduction of our advanced SMART TV, LG is able to offer a 'Total Home Entertainment Solution' enabling consumers to enjoy practically any digital content on any smart device," said Simon Kang, President and CEO of LG Home Entertainment Company. "For consumers who want full control over how and where they get their entertainment with maximum ease and comfort, the LG SMART TV solution may be all they need."
LG?s SMART TV will launch in early 2011.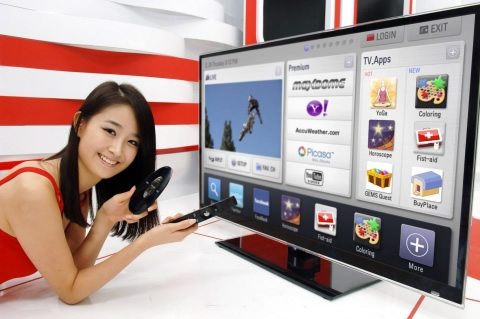 Home Entertainment
Last but certainly not least, LG will be showcesing a mix of home entertainment products at IFA.
The LG experience begins this year with a spectacular gateway adorned with a massive wall of 131 screens, giving visitors their first taste of the world of INFINIA. Beyond this, just inside the LG booth, is an array of LEX8 NANO FULL LED TVs. As the world's first TV with nano technology, the LEX8 uses NANO Lighting Technology to disperse the LED light more evenly and effectively around the screen, producing pictures that are brighter, clearer and smoother than ever before.
Better still, thanks to its NANO Lighting Technology, the LEX8 also boasts an exceptionally slim line INFINIA Design, with the slimmest depth and narrowest bezel on any FULL LED TV on the market today.
Immediately adjacent to the LEX8, there is a selection of FULL LED 3D TVs, a key component of LG's 3D collection. Off to the left is the LEX9, with an expansive 72-inch screen, the largest on any LED LCD TV on the market today.
On the wall opposite the LEX9, a series of mini theaters plays host to LG's range of 3D projectors as well as its first Real 3D Sound Home Theater System, the HX900. With a new set-up producing sound that blankets every corner of the room, the HX900 transports viewers right into the middle of the action.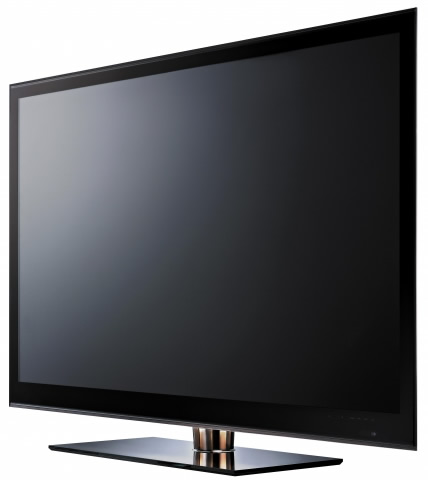 And to answer the growing trend toward bigger TV sets, LG is also showcasing a 180-inch 3D Multi Vision Display at the Home Entertainment stand. With its 3D picture, viewers can get carried off on a Tahitian canoe, blast away at invading forces in a shoot-em-up game, or get lost in a world of animation.
For a peek at the future of Home Entertainment, LG will be displaying its OLED TVs at IFA, including a new 31-inch 3D model with a depth of just 0.29 cm, the slimmest of any comparable set in the world. Dispensing with back-screen lighting, OLED TVs' pixels generate their own light to produce an entirely new level of color, clarity and depth of blacks. Pencil-thin and exceptionally light, LG's OLED TVs are an elegant addition to practically any environment and surface, as the ceiling-mounted sets in the LG OLED zone at IFA can attest. Demonstrating the extraordinary possibilities for 3D on an OLED TV, the 31-inch 3D model seduces viewers into a world with a level of detail that is a wonder to behold.
LED monitors
LG will also unveil its latest Business Solutions technology, including a range of solutions specialized for hotels, schools and offices, along with exceptional high-definition LED monitors and 3D gaming monitors in Full HD, at IFA 2010.
Visitors will have the chance to experience LG?s SUPER+ Resolution, a high-definition technology that provides a realistic picture in full HD resolution while also upscaling SD content to HD. In addition, LG will show off its 3D gaming monitor, W63D, which delivers more realistic 3D images in full resolution.
LG is introducing a wide selection of solutions throughout its booth, where visitors can see just how LG?s high-tech packages work in real life. Ideal for shops and billboards, the SuperSign digital signage solution offers high-performance advertising through multiple frames on a single display. The LG Network Monitor enables up to 31 users to simultaneously share a single host PC. LG Electronics is aiming to provide the best network computing solution for B2B customers and will display the E-series Network Monitor at IFA. The E-series Network Monitor is based on a multi-computing solution developed by N-Computing, a strategic partner of LG Electronics. A high definition Video Conference System and a Hotel TV system offering interactive hotel TV services will also be on display at the Business Solutions booth.
E10
Much more efficient than previous generations of CCFL-backlit screens, the E10 reduces power consumption by around 40 percent (down from approximately 42W to 23W). Better still, its intuitive control, clear picture and mega dynamic contrast ratio of 5,000,000:1 all serve to make it a far more efficient tool at work.
IPS 1 and IPS6
LG will also be introducing its latest IPS monitors, which blend image quality with low-power consumption. Through the marriage of IPS and LED, LG's IPS1 and IPS6 monitors are designed to reduce eye fatigue and provide consistent color and brightness at any viewing angle.
W63D
LG's W63D 3D gaming monitor delivers a more realistic 3D experience with more than double the resolution of regular HD monitors. The extremely high picture quality means longer periods of viewing without discomfort.
LG?s SUPER+ Resolution Technology LED Monitors
LG's LED monitor range, including the E50VR, E60 and E80, will also be on show at IFA. Through a high contrast ratio of 5,000,000:1 and LG?s SUPER+ Resolution technology - which provides a realistic picture in HD while also upscaling SD content to HD - the E50VR and E80 promise to deliver crisp and vivid images. The secret behind LG's SUPER+ Resolution is the IC (Image Clear) Engine chip, which uses a Full HD-compatible single-frame algorithm to eliminate frame delay, without the need for any external memory or software.
Held annually in Berlin, Germany, IFA is one of the world's largest and oldest consumer electronics and appliance tradeshows. This year the show runs from September 3 through 8.