Lexar JumpDrive M20 Mobile 32GB USB3.0 review
2. Bencmarks
Since USB OTG is not supported by every smartphone and tablet, you'll need to check the device specifications. Lexar says that the M20 requires Android platform 4.1 or higher with USB On-The-Go (OTG) compatibility.
We first tested the device on a Sony Ericsson Xperia Neo V smartphone, with Android v4.0.4 installed but not OTG support. The smartphone recognized that something was plugged in but it failed to list the device.
We also plugged the DataTraveler microDuo into an LG G Pad 8.3 with android v4.4.2 and OTG Support. The tablet immediately recognized the device and worked just fine.
Windows phone devices will most probably work, as soon as Windows Phone 8.1 has been installed.. As for iPhone users, you are out of luck with this product since Apple's devices have not a compatible USB port.
We also plugged the Lexar JumpDrive M20 Mobile 32GB into a PC through a USB 3.0 plug. We had absolutely no trouble on the Windows machine. The drive is factory formatted with the FAT32 file system. Useable capacity after formatting is 29.7GB.
So the next step is to run some benchmarks.
The CrystalDiskMark 3.0.2e x64 edition benchmark returned a 143.6 MB/sec sequential transfer rate for read and 41.65 MB/sec for write. The performance of Lexar's 's drive was also high for the category while accessing 512K files (130.9 Mb/s), although writing was slower. Reading small 4K/4K QD32 files was not very fast, mainly in the writing part, meaning that this device will get a rather long time to write small files from you Android smartphone: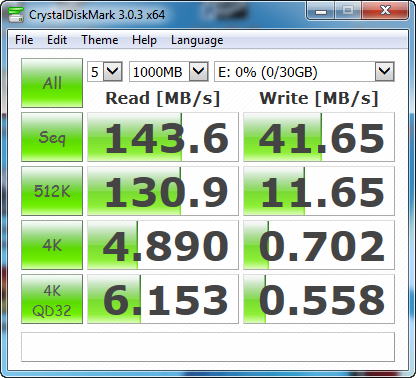 The ATTO Disk Benchmark returned similar sequential read/write speeds: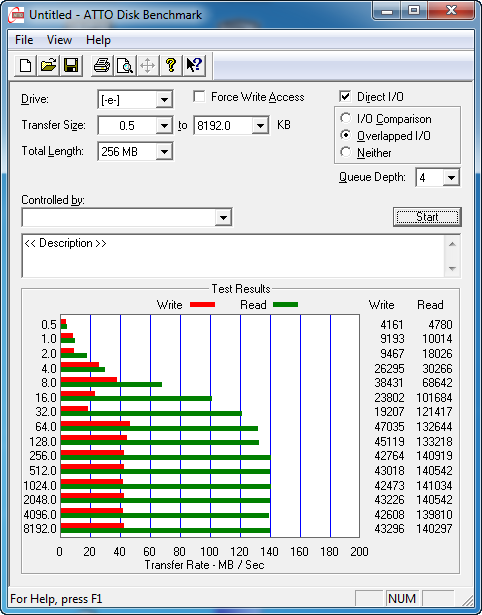 Below you see the relatively cosistent reading performance of the drive:
The AS SSD benchmark confirmed previous findings:
The drive will write and read files in a similar manner whether they can be compressed ot not:
HDTune Pro returned an maverage of 120.7 MB/s for sequential reading: