Lenovo Introduces New Design to Its ThinkPad Notebooks
Lenovo today announced new enhancements to their ThinkPad performance and value portfolio. Improvements include new user inspired designs and longer battery life while continuing to support full connectivity capabilities. The new performance systems are thinner and lighter devices with clean designs and maintain MIL-SPEC tested ThinkPad durability and reliability.
ThinkPad T440p and T540p
The T440p and T540p offer a combination of performance and mobility. They are powered by up to Intel Quad Core i7 processors and offer battery life up to 13.7 hours on the T440p and up to 12.6 hours on the T540p.
Lenovo offers NVIDIA GeForce GT730M graphics on select systems combined with up to 16GB SDRAM, Solid State Drives (SSD) and Hard Disk Drives (HDD) up to one terabyte, 4G/LTE along with mini-DisplayPort, VGA, 4 x USB 3.0 ports and an SD Card reader.
ThinkPad W540
The W540 features the 15.5 inch 3K IPS panel with a 2880x1620 resolution and the wide viewing angles of IPS Technology. At just 27mm and 5.45 pounds, the W540 is the thinnest and lightest mobile workstation in its class.
The W540 is powered by the latest Intel Quad Core i7 processors, up to 32GB of memory and is equipped with the ThinkPad Precision backlit keyboard with number pad. Graphics are powered by NVIDIA Quadro graphics with Optimus 2D and 3D content creation. Storage options up to two terabytes ensure plenty of local space and RAID options guarantee full data backup and protection. Other features include onboard Thunderbolt port, 4G/LTE WWAN.
The ThinkPad T440p, T540p and W540 will be available in November.
ThinkPad L Series
The L440 and L540 deliver mainstream business notebook performance at competitive price points. Powered by Intel's 4th generation Core processors, the L Series also feature vPro technology and are optimized for easy integration into new or existing IT infrastructures.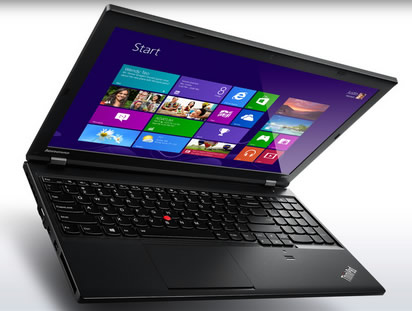 Both the ThinkPad L440 and L540 include WiFi, Ethernet and 4G/LTE connectivity. Offering dual HD noise cancelling microphones, HD Camera and HD+ on the L440 and Full HD on the L540, these systems are Microsoft Lync Certified for video calls and conferencing.
The ThinkPad L440 and L540 will be available starting October priced from approximately $729.
ThinkPad E Series
The new ThinkPad E440 and E540 feature a new thinner, lighter, and more elegant design with the enhanced performance of the latest 4th Generation Intel Core Processors. With up to Quad Core Intel Processors, optional NVIDIA discrete graphics, storage up to one terabyte, memory up to 16GB, and optical drive, the E440 and E540 ensures fast responsiveness and plenty of storage space . The Windows 8 experience is further enhanced by screen resolutions up to 14 inch HD+ and 15.6 inch Full HD antiglare displays with touch screen options and larger gesture trackpads. Voice over IP (VoIP) is improved for small business owners with new multi-function noise cancelling microphones and the ability to switch between conference mode or single voice mode. Dolby Advanced Audio improves multimedia content.
The ThinkPad E series also includes Lenovo's OneLink technology allowing a single cable connection to the ThinkPad OneLink Dock completes the solution. In addition to powering the system, the OneLink Dock also provides driver-free video connection, USB 3.0, Gigabit Ethernet and audio, all through a single cable.
The ThinkPad E series will be available initially in selected markets from October. The E440 will be priced priced from approximately €649, while the ThinkPad E540 will about €20 less.