Kensington Launches The Pro Fit Ergo Vertical Wireless Trackball and Surface Accessories
Kensington today unveiled the Pro Fit Ergo Vertical Wireless Trackball along with three Surface Go accessories developed as part of Microsoft's Designed for Surface program.
The Pro Fit Ergo Vertical Wireless Trackball (K75326, SRP $79.99) provides the comfort and control of both a trackball and a vertical mouse. Designed for new trackball users, the vertical trackball is easy to learn and offers nine programmable buttons.
A 60° tilt angle keeps the wrist in a natural handshake position to improve wrist and forearm posture and decrease the risk of carpal tunnel syndrome and tendonitis.
The Pro Fit Ergo Vertical Wireless Trackball uses the same left click, right click, and scroll wheel operation as a traditional mouse, while providing the advantages of a trackball with a simple roll of the thumb.
The optical tracking sensor and triple DPI switch provide precision and easy cursor speed transitions. The 34mm finger-operated trackball requires a small desktop footprint, and lets users navigate multiple monitors and large files with smooth cursor control.
The device works out of the box with plug and play default settings, or you can use KensingtonWorks software to set pointer and scrolling options and customize nine programmable buttons to tackle common tasks with one touch. Yoy can also connect the vertical trackball to up to three different devices — one via the 2.4GHz nano dongle that stows inside the trackball body, and two additional connections via Bluetooth.
Battery keeps the wireless trackball working for up to 18 months on two AA batteries (included). A low-battery indicator light eliminates surprises.
The SD6000 Surface Go Docking Station (K38700, SRP $349.99) is the first all-in-one Surface Go docking solution designed for Surface. Built on Microsoft's proprietary Surface Connect technology, it comes with 4 USB-A 3.1 ports (5V/0.9A), 1 USB-C 3.1 port (5V/3A), a 3.5mm combo audio jack, and a Gigabit Ethernet port. A hinged design allows you to angle the Surface Go in the perfect position while a magnetic connection keeps the Surface Pen handy. You can also secure your Surface Go and dock with the optional locking module and choose between standard (K62918) or custom (K63251) keying solutions.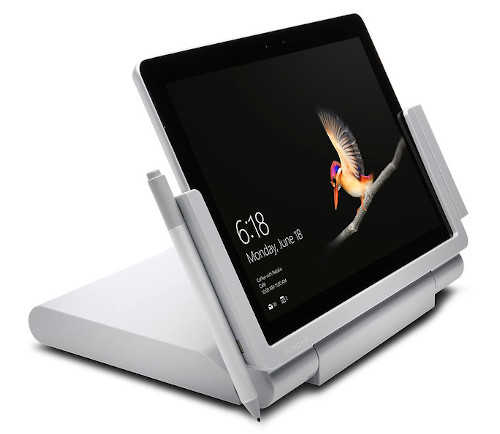 Tthe BlackBelt Rugged Case with Integrated CAC Reader for Surface Go (K97320, SRP $149.99) is a TAA-compliant case that features a FIPS 201-compliant smart card reader, read-only memory (ROM), military-grade drop protection, a protective camera cover, and openings for the kickstand and all I/O ports. Designed to provide secure use of the Surface Go, the case features a self-adjusting hand strap that allows the device to lie flat, pen holder and tether, keyboard holder, and TypeCover strap.
Kensington's Combination Lock for Surface Pro and Surface Go (K66300, SRP $32.99) delivers security. Non-invasive locking technology is supported by a secure carbon steel cable, and the lock head meets Kensington's standards for tamper resistance and durability. The four-wheel number code is programmed into the lock before arrival so you can put it to work immediately, without the need to set the combination yourself. Kensington also offers a Keyed Cable Lock for Surface Pro and Surface Go (K62044, SRP $44.99).