Interview with Sapphire's Daniel Forster
Interviews are essential since they reveal many things about the future of technology, the strategies Companies follow and other important information that help users to have a better perception and understanding on the latest technologies.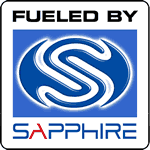 In the past we have published interviews regarding CD/DVD recording Companies, but this time we'll work on a major VGA card distributor - Sapphire Tech.

Daniel Forster, Sapphire's Senior PR & Marketing manager, answers our questions about Sapphire and it's future plans.
CDRinfo : Daniel, Can you briefly share some information with us about Sapphire's past and present?
D. Forster : Sapphire has a rich history in graphics being involved in the production of boards for many years. As far as the Sapphire brand name goes it was introduced when ATI changed their policy a couple of years ago and started using partners. Since then we have pushed hard to become the major ATI player and been very successful at that. In the future we will continue to innovate and enhance our product line-up.


CDRinfo : It is known that many VGA card designers, take the manufacturer's GPU (ATI or Nvidia), add on a cooling system, and then release it on the market in a box with software and the necessary cables. What more does Sapphire offer to consumers with it's Radeon X800 family that make it stand out?
D. Forster :We also do much of our own development. This means that we take existing design and enhance on them by adding new features such as VIVO, Dual DVI or better memory that can attain higher speeds. We also make sure that areas such as the signal quality are not neglected and that both all outputs (VGA,DVI and TV-out) have perfect quality event at the highest resolutions.
With the new X800 Products we have just launched a product called Toxic. This series is aimed at the gaming enthusiast as well as the users of silent systems. Toxic is based on a colour coordinated blue PCB and combined with the newly designed Arctic cooling fan. The fan will offer great performance and virtual silence. The fan sports heatsinks for the RAM and we will be pre selecting boards for Toxic production so that they can attain higher speeds than normal boards. We will be adding a tool called APE (Automated Performance Enhancer) that will enable the overclocking of the memory to our pre-tested speeds.


CDRinfo : Regarding the X800 performance issues, what are ATI's R420 pros compared to Nvidia's NV40?
D. Forster : Fastest solution - plus lower power consumption and single slot - even perfect for the popular small for factor Pcs.

I believe that ATIs R420 due to its single slot solution and low power consumption makes it an attractive solution for both desktops and the highly popular small form factor PCs. This gives the end user the power they are
looking for even with fairly weak power without having to make major changes to your systems infrastructure or leading to stability issues.


CDRinfo : On the web, many disappointed consumers have recently attacked Sapphire, after proving that Sapphire had cheated them with a 128-bit version Radeon Pro card which was supposed to be 256-bit. Why did this happen and what are you going to do to remedy this?
D. Forster : Here is the full statement:

"SAPPHIRE Responds to 128-bit RADEON 9800 ATLANTIS Product Confusion Since the roll-out of the SAPPHIRE 128-bit version of RADEON 9800 PRO core into the
channel it has been brought to our attention that this model is being met with some confusion and for this we would like to extend our sincere apologies. Keeping with our level of interaction within the community, Sapphire is moving to alleviate said confusion by renaming the 128-bit version to the SAPPHIRE RADEON 9800 ATLANTIS and we are instructing each of our retail partners to clearlyand prominently list the 128-bit specification. Further to this end, the SAPPHIRE RADEON 9800 ATLANTIS 128-bit products boxes will now be labeled with an oversized 128-bit sticker on the boxes face as well. Inquiries have been made into our retail partners and the investigation hasyielded no findings that any of our loyal customers have been charged the 256-bit price for the 128-bit part. SAPPHIRE encourages any of our customers who purchased a 128-bit part under theassumption that it was 256-bit part to exercise your right to return your product. Should you have
difficulty finding satisfaction with your retailer, SAPPHIRE continues to stand firmly behind ourproducts and asks you to contact SAPPHIRE directly.


Please make sure you have the correct part# for upgrade and that it did not come in the box pictured below. 128MB Model: Part#1024-1C47-00-SA 256MB Model: Part#1024-2C47-00-SA For end users in the U.S. who can not return the product to the supplier feel free to contact 909-594- 3128. You will need to present the product, sales receipt and provide the discounted retail price difference of US$25. For end users in Europe please mail request for upgrades to 9800pro@sapphiretech.de For end users in Asia contact +852-2687-8888 and request the procedure for upgrade. SAPPHIRE welcomes any and all inquiries into this matter in keeping with our commitment to our customers and welcomes the opportunity to continue to help outfit the gaming community with the industries most widely respected and innovative products." North American Press contact e-mails to: stephen@blue-alien.com"

With this we consider the issue closed and the affected users have responded very positive to the solution we have offered.


CDRinfo : Has this issue changed Sapphire's future goals and way of thinking with
regard to consumers?
D. Forster : Yes, this has made us aware of how easy it is to overlook some issues and we will make sure that such misunderstandings will be avoided in the future.



CDRinfo : Speaking of the future, what are Sapphire's future goals and what will it's contribution be regarding the VGA card market?
D. Forster : We have great plans for new products for the future. We are looking into new designs that tweak performance as well as offer new solutions that have not been used in the past (LCD front panels, special Utility Tools). A board that focuses on high quality 2D image filters for professional users would be a new option.


CDRinfo : Thanks you for conducting this interview with us, are there any comments you would like to add?
D. Forster : Yes, we would appreciate any feedback on new innovations that our users would like to see in the future. The more ideas we have to work with the more we can achieve!