Intel Reports Fourth-Quarter and Full-Year 2019 Financial Results
Intel today announced record Q4 revenue and full year revenue as a result of big data-center sales, and also provided an outlook that topped Wall Street estimates.
The chip maker's fourth-quarter revenue set an all-time quarterly record of $20.2 billion, which was $1 billion higher than the guidance the company provided in October, led by record data-centric revenue, up 15 percent YoY. The company reported fourth-quarter net income of $6.91 billion, or $1.58 a share, compared with $5.2 billion, or $1.12 a share, in the year-ago period. Adjusted earnings were $1.52 a share.
Intel's PC-centric business (CCG) was up 2 percent to $10 billion on higher modem sales and desktop platform volumes. Intel saaid that major PC manufacturers have introduced 44 systems featuring the new, 10nm-based 10th Gen Intel Core processors (previously referred to as "Ice Lake"), and that momentum continues to build for Project Athena. Project Athena-verified devices have been tuned, tested and verified to deliver benefits spanning battery life, responsiveness, instant wake, application compatibility and more. Intel has verified 26 Project Athena designs to date.
Intel's collection of data-centric businesses also achieved record revenue in the fourth quarter, led by record Data CenterGroup (DCG) revenue. DCG revenue grew 19 percent YoY to $7.2 billion in the fourth quarter, driven by demand from Intel's cloud service provider customers and a continued strong mix of high-performance 2nd-Generation Intel Xeon Scalable processors.
Other Q4 results:
Internet of Things Group (IOTG) revenue was up 13 percent on strength in retail and transportation.
Mobileye achieved record revenue, up 31 percent YoY on increasing ADAS adoption.
Intel's memory business (NSG) was up 10 percent YoY on continued NAND and Intel Optane bit growth.
PSG fourth-quarter revenue was down 17 percent YoY.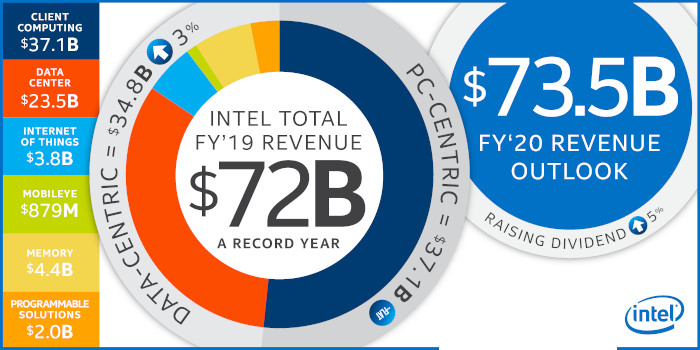 Intel's full-year revenue also set an all-time record of $72.0 billion, up 2 percent YoY on data-centric growth. The company achieved record revenue while investing $13.4 billion in research and development and reducing spending to 27 percent of total revenue. In 2019, Intel generated a record $33.1 billion cash from operations and $16.9 billion of free cash flow, andreturned approximately $19.2 billion to shareholders.
The company expects record 2020 revenue of approximately $73.5 billion and first-quarter revenue of approximately $19.0 billion.
"In 2019, we gained share in an expanded addressable market that demands more performance to process, move and store data," said Bob Swan, Intel CEO. "One year into our long-term financial plan, we have outperformed our revenue and EPS expectations. Looking ahead, we are investing to win the technology inflections of the future, play a bigger role in the success of our customers and increase shareholder returns.
The biggest thing Intel needs to do to keep this going is to get out it's next generation 10-nm designs out and in-market. For more than a year, Intel has struggled to roll out its 10-nm chips while Advanced Micro Devices Inc. has released its 7-nm chips. Intel said that the 10nm chip manufacturing yield has been "ahead of expectations," with the company to accelerate transition with nine product releases in 2020, including the company's next-gen mobile CPU, a 5G base station SoC, an AI inference accelerator, its first discrete GPU and Xeon for server, storage and networking. Intel also said it is on track to deliver 10-nanometer+ this year, the company's first performance upgrade on 10-nanometer.
Among Intel's priorities for 2020 is to add 25% 2020 wafer capacity to support high-single digit PC unit volume growth. In addition, Intel said that its 7nm lead product, Ponte Vecchio, is on-track for Q4'21, with CPU products to follow in 2022.
At CES, Intel provided a first look at its next-gen Intel Core mobile processors, code name Tiger Lake, which is designed to offer advancements when it ships later this year. Tiger Lake, built on Intel's 10-nanometer+ process, promises to deliver significant gains in computes, AI, graphics and interconnect over the prior generation. Intel will also deliver initial production shipments on its first 10-nanometer based Xeon scalable product Ice Lake in the latter part of 2020.
In terms of the product roadmap, Intel has launched Ice Lake for client in the fourth quarter. The company launched FPGAs Agilex products on 10-nanometer in the fourth quarter and then through the course of this year, Intel is going to have successive products as AI inference accelerator, 5G SoC.