G.Skill Trident RGB 3200 CL14
5. Overclocking results
- 3200MHz (CL14-13 @ 1.35V)
We made an improvement to the "stock" 3200 CL14-14-14-34 timings with CL14-13-13-13-28 and several other adjustments as suggested from the DRAM Ryzen Calculator. The memory voltage kept at 1.35V.
There is performance gain with the above settings, compared with the stock 3200XMS profile, ..however can we go even higher?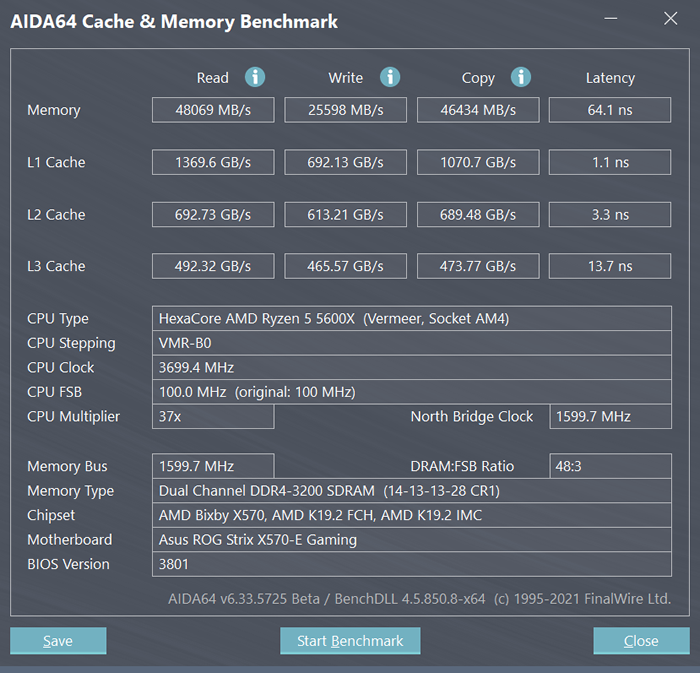 - 3400MHz (CL14 @ 1.35V)
With the exact same specs/voltages the memory will run at 3400MHz!
More performance gains from this memory kit! But can we go even higher? The answer is yes but from this point you need to increase memory voltage from 1.35V->1.45V to be able to system post/boot/be stable.
- 3600MHz (CL14 @ 1.45V)
The G.Skill memory was able to run at 3600MHz with 1.45V (1.42V was also possible but not 100% stable). Keep in mind that Samsung B-Die chipsets are rated for even higher voltages so you may be able to run at such high voltages, however use proper cooling for the memory kits.
With the 3600Mhz and CL14 we got up to 53535MB/s reading and 28799 MB/Sec writing and under 60ns latency!
- 3600MHz (CL16 @ 1.35V)
In case you don't want to increase voltage, you need to relax timing and we were able to get CL16-15-15-15-58 @ 1.35V without any issues. Keep in mind we didn't optimize much this setting but in general you might even get tighter timings from the listed below if you keep experimenting.
Performance as was expected isn't as good as with the previous CL14. Let's now proceed even higher at 3866MHz
- 3866MHz (CL16 @ 1.45V)
Yes, this memory can boot to 3866MHz if you relax timing to CL16 and use 1.45V.
The memory performance was very good with 57008MB/sec and 58.1ns latency...Can this memory go even higher?
- 4000MHz (CL20 @ 1.50V)
Reaching 4000MHz stable was possible after relaxing timings up to CL20 and pumping up voltage to 1.50V, which we don't recommend for high period of usage, unless you need such high memory frequency for a reason.