Google Adds Home Mini and Max to the Google Home family
Google today added two new products to the Google Home family: Google Home Mini is small for hands-free help in every room. And Google Home Max is Google's biggest and best-sounding Google Home ever.
Google Mini was designed it to fit naturally in any room. It's sleek and smooth, with no corners or edges, and about the size of a donut. Its fabric enclosure is transparent enough to let through both light and sound. The LEDs under the fabric light up to show you when your Assistant hears you. And it projects 360-degree sound. With far-field microphones, Mini can hear you even when there's music playing or there's other noise in the background. Mini comes in three colors-Chalk, Charcoal and Coral.
Google Home Mini is $49 and will be available in stores starting October 19. You can pre-order yours online today at the Google Store, Best Buy, Walmart, Target, Verizon and more. Mini will also be available in the U.K., Canada, Germany, France, Australia, and soon Japan. Voice Match is now available in those countries as well.
Google promises that the Max will redefine audio with AI. Responible for its high-fidelity sound are the dual 4.5-inch high-excursion woofers. According to Google, Max is 20 times more powerful than the original Google Home.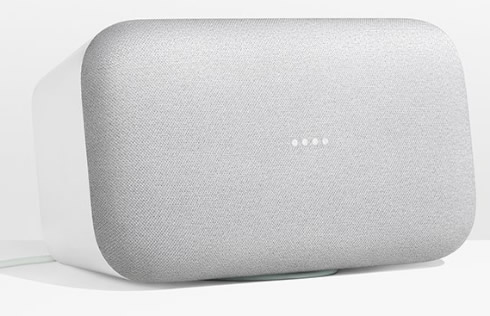 Max is Google's first speaker with Smart Sound. Powered Google's artificial intelligence, it allows Max to adapt to you-your environment, your context, and your preferences. Smart Sound automatically adjusts for where you place Max in a room, so if you decide to move your speaker a few feet, it will dynamically tune itself within seconds.
Max works with a wide range of music services and supports Bluetooth and auxiliary port . And Max was made to fit your space and style; it can be placed vertically or horizontally and comes in two colors-Chalk and Charcoal.
Google Home Max will launch in the U.S. for $399 and comes with 12 months of ad-free YouTube Music-this offer is for new subscribers only and you have until February to claim it. Starting November 13, you can pre-order online from the Google Store, Best Buy and other retailers.
The entire Google Home family has the Assistant built in, so you can get answers from Google, tackle your day, enjoy your entertainment, and control your smart home. The Google Assistant recognizes your voice, and up to five others in your home. Today Google introduced new features for the Assistant:
You can already say "Hey Google, good morning" to hear about your day, including your personalized schedule, commute time, the weather and news. Soon your Assistant will be even more helpful. With a single command, you can control multiple smart home devices plus get information you need in the moment. So "Hey Google, goodnight!" can turn off your lights, turn down the temperature, and let you know tomorrow's first meeting. You can also broadcast a message to let the family know when it's time to get a move on. Just say "Hey Google, broadcast it's time to leave for soccer practice!" and it'll play on the other Google Home devices around the house.
Google is making Google Home more fun for the whole family, with 50+ new experiences. Learn something new, or imagine with storytime. There are also fun activities; go on an adventure with Mickey Mouse, identify your alter ego with the Justice League D.C. Super heroes, or play Freeze Dance in your living room. These experiences will be supported by Family Link accounts on the Assistant, letting parents create accounts for their children under 13.
Google says that you can control more than 1,000 smart home products from 100+ brands, with just your voice. Starting today, Google is also introducing new ways to control your Nest products. If you have a Chromecast, you can keep an eye on your home with just your voice. Say "Hey Google, show me the the backyard" to see a live feed, right on your TV.
Google Max tech specs
Width: 13.2 in (336.6 mm)
Height: 7.4 in (190.0 mm)
Depth: 6.0 in (154.4 mm)
Power cable: 6.56 ft (2 m)
Weight: 11.7 lbs (5300 g)
Colors

Materials

Acoustically transparent fabric
Rigid polycarbonate housing
Silicone base

Supported Audio Formats

HE-AAC
LC-AAC+
MP3
Vorbis
WAV (LPCM)
FLAC
Opus

Wireless

802.11b/g/n/ac (2.4GHz/5Ghz) Wi-Fi for high-performance streaming
Chromecast and Chromecast Audio built-in
Bluetooth 4.2

Speaker

Two 4.5 in (114 mm) high-excursion (+/- 11 mm) dual voice-coil woofers
Two 0.7 in (18 mm) custom tweeters
Sealed rigid housing
Acoustically transparent fabric

Mics: Far-field voice recognition supports hands-free use
Processor: 1.5GHz 64-bit quad-core ARM? Cortex? A53

Sensors

Ambient light sensor
Orientation sensor

Power: AC Power 100-240 V, 50/60 Hz
USB-C1
3.5 mm jack with analog audio input
AC power

Supported Operating Systems

Android 4.2 and higher
iOS 9.1 and higher

Other

Multi-room audio
Wireless stereo pairing
Google Home Mini tech specs
Dimensions

Diameter: 3.86 in (98 mm)
Height: 1.65 in (42 mm)
Power cable: 4.92 ft (1.5 m)

Weight

Device: 6.10 oz (173 g)
Power adapter and cable: approximately 2.65 oz (75 g)

Colors

Chalk
Charcoal
Coral - Google Store exclusive

Materials

Durable fabric top
Plastic housings created using recycled material
Non-skid silicone base

Supported Audio Formats: HE-AAC, LC-AAC+, MP3, Vorbis, WAV (LPCM), FLAC

Wireless

802.11b/g/n/ac (2.4GHz/5Ghz) Wi-Fi
Chromecast and Chromecast Audio built-in
Bluetooth support

Speaker: 360 sound with 40mm driver
Mics: Far-field voice recognition supports hands-free use
Power: 5V, 1.8A
Ports & Connectors: Micro USB port

Supported Operating Systems