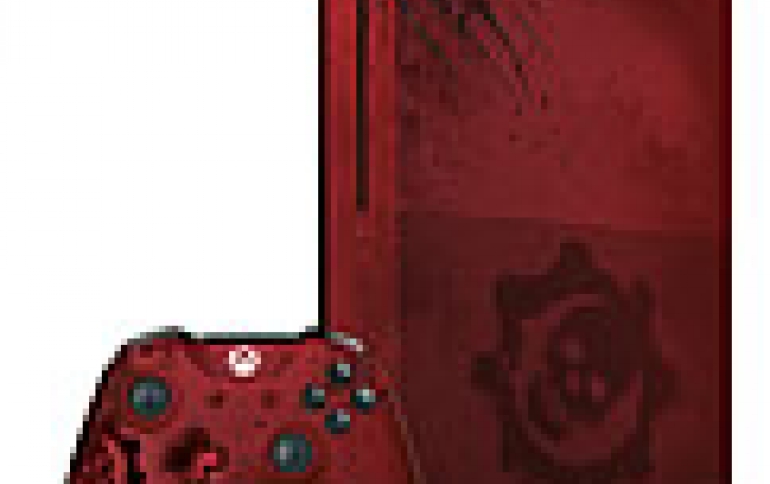 Gears of War 4 Limited Edition 2TB Bundle Is The First Custom Xbox One S
Microsoft is expanding the collection of hardware and accessories for the Xbox One S with the introduction of the the Xbox One S Gears of War 4 Limited Edition 2TB Bundle. The first custom-designed Xbox One S bundle is available for pre-order today.
Designed in collaboration with The Coalition, the studio developing Gears of War 4, and the Xbox design team, the new console looks as if it were lifted right out of the game: it bears the battle marks of surviving a desperate fight against Gears of War 4's ferocious new enemies - the Swarm. The device has laser-etched scratches, a bloody thumbprint on the controller's red metallic D-pad and the Crimson Omen.
The Xbox One S Gears of War 4 Limited Edition 2TB Bundle will include the following:
The custom Xbox One S console with a 2TB hard drive
New Xbox Wireless Controller - Gears of War 4 Crimson Omen Limited Edition, featuring a textured grip; reliable wireless signal, with up to two times the wireless range compared to previous controllers when used with Xbox One S; and Bluetooth radio
4K Ultra HD video and Blu-ray player, custom system sounds, and a vertical stand
High Dynamic Range support for video and games
Full game download of Gears of War 4: Ultimate Edition for both Xbox One and Windows 10 (featuring cross-play support in all co-op modes)- a $99 value
Early access to the game on Oct. 7
Gears of War 4 Season Pass, featuring the exclusive Vintage VIP Pack, permanent access to future multiplayer maps for private games, six additional Gear Packs including the Vintage JD Gear Pack, early previews to upcoming modes
Beyond that, fans will also receive in-game content, starting with the exclusive Vintage Oscar Elite Gear Pack, which features Vintage Oscar, the Vintage Retro Lancer, Vintage Boomshot and more.
The Xbox One S Gears of War 4 Limited Edition 2TB Bundle will be available for $449 in the following markets at launch: United States, Canada, United Kingdom, Ireland, Italy, Australia, New Zealand, Austria, Belgium, Denmark, Finland, France, Germany, Netherlands, Norway, Portugal, Spain, Sweden, Switzerland, Czech Republic, Greece, Hungary, Poland, Slovakia, and Turkey.
Alongside this new bundle, Microsoft is also debuting another Gears of War 4 custom controller, sold separately. The new Xbox Wireless Controller - Gears of War 4 JD Fenix Limited Edition is designed after JD Fenix's armor and features metallic blue accents and textured grip for enhanced controls, as well as the COG logo – the Phoenix Omen. Both controllers come with three Gear Packs containing in-game items and an exclusive multiplayer lobby emblem – a different one for each controller. The Crimson Omen and JD Fenix Limited Edition Xbox Wireless Controllers will be available for $74.99 USD starting September 13 for individual purchase in all major markets where Gears of War 4 will be sold.
The bundle is available for preorder starting today, so check Xbox.com, Microsoftstore.com, and retailers. The controllers will be available for preorder starting on Aug. 1, and in the U.S., the JD Fenix controller will be sold exclusively at the Microsoft Store and GameStop.
Now for a limited time, you can also get the entire Xbox 360 Gears of War collection for download on Xbox One at no additional cost.