Dell Shows Home Entertainment Suite
Dell, the world's second-largest personal computer maker, on Tuesday unveiled a digital home entertainment suite that sends high- definition video to wide-screen Dell TV monitors, as the corporate-focused company expands into consumer electronics. Dell founder and Chairman Michael Dell, in a speech at the Consumer Electronics Show in Las Vegas, also unveiled a $5,499 gaming computer featuring a liquid-and-ceramic cooling system to prevent overheating, a nod to the importance and profits of high-end video games, which demand power and graphics.
The XPS 710 H2Ceramic (H2C) Edition desktop comes in a black chassis and its Intel Core Extreme QX6700 quad-core processor is factory overclocked to 3.2 GHz for extreme gaming and video editing. Graphics are powered by two NVIDIA GeForce 8800 GTX graphics cards with quad scalable link interface technology. The system is also equipped with 4 GB2 667MHz DDR2 memory, dual 160 GB3 10,000 RPM hard drives and Dual optical drives. It comes with Dell UltraSharp 2007WFP 20-inch widescreen flat-panel monitor with Dell AS501 flat-panel mount speakers, the Razer Tarantula gaming keyboard and Razer Copperhead gaming mouse. last, the system runs Microsoft's Windows XP Media Center Edition 2005 operating system and comes with an one-year limited warranty.
Round Rock, Texas-based Dell is competing with Hewlett- Packard Co. in the lucrative market for high-end consumer electronics.
Dell last year lost its top ranking in global PC unit sales to HP, which has been expanding in consumer electronics, printers and notebook computers, while Dell tries to reverse a trend of slowing revenue growth.
HP gets a much larger share of its revenue from consumers than does Dell, which receives about 85 percent of its revenue from corporate customers.
HP this week announced its own digital home, including a PC that serves as a digital home organizer and television, at the Las Vegas electronics show, the industry's largest U.S. trade event.
Dell's presence at the show was more low-key than HP, which built two model homes in the parking lot of the Las Vegas Convention Center to showcase its entertainment technology. Visitors lined up outside one of the makeshift houses on Monday to catch a glimpse of what some said looked like the futuristic, high-tech homes in the 1960s U.S. cartoon series "The Jetsons."
Michael Dell said Dell had installed its digital entertainment system in a home in Austin, Texas, as part of a renovation that will be featured on the ABC show "Extreme Makeover: Home Edition" in February. The home had been near foreclosure, Dell said.
Dell geared up the home with six notebooks and a desktop computer, plus software, wireless routers and other technology, Michael Dell said.
Dell's digital home bundle includes a Dell XPS 410 desktop (core 2 duo, 2GB memory, 1 terabatye RAID disk array, DVD/RW), Microsoft's new Windows Vista operating system and a digital TV tuner. It also has a 27-inch flat panel monitor, speakers, entertainment software, a Dell printer and a router for streaming video.
The bundle will be available in the United States after the introduction of Microsoft's Vista operating system later this month.
The backup system, available in the United States later this year, allows users to migrate their software and personal data from their existing computer to a new one after delivery, Dell said.
Customers buying new Dell computers will be able to send data on their existing PCs to an online storage system while they await arrival of the machines, which can then be programmed with the stored data,
Stored data also can be programmed into a new computer as it is being manufactured.
Dell 2707WFP 27-Inch Widescreen Flat Panel Monitor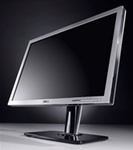 Dell's first 27-inch monitor features an aluminum bezel atop and a black glass stand that can also tilt and swivel. The monitor?s Dell TrueColor technology provides 92 percent color gamut coverage of the NTSC color space to gamers and professionals.
Its maximum resolution is 1920 x 1200 (WUXGA) and it features a 6 ms response time with a 1,000:1 contrast ratio.
The HDCP-ready monitor is available immediately in the U.S. and starts at $1,399.