Computex 2017: Samsung Introduces the new Notebook 9 Pro with Embedded S Pen
Today at Computex, Samsung announced the Samsung Notebook 9 Pro, a and flexible laptop that brings the built-in S Pen to Samsung's notebook line.
Available in both 13.3-inch and 15-inch, this PC offers an embedded S Pen, a 360-degree touchscreen display, fast charging capabilities, a digital canvas for writing and drawing with Windows Ink, and the option to login quickly with facial recognition using Windows Hello.
The Notebook 9 Pro has a built-in S Pen. With a 0.7mm tip, it can detect more than 4,000 levels of pressure. The S Pen, combined with the touchscreen, allows you to draw in the Photos app or add notes to your map with Windows Ink, or highlight and markup webpages in Microsoft Edge.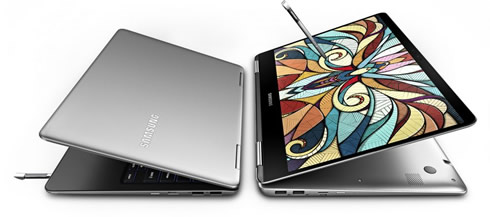 With a 360-degree touchscreen display, this PC can be rotated to use in both notebook and tablet mode with ease. The Notebook 9 Pro also has a Full-HD touch screen equipped with RealView Display. It delivers professional grade color accuracy and brightness. The wide viewing angle on the Notebook 9 Pro provides viewing clarity for up to 178 degrees.
The device is driven by a 7th Generation Intel Core i7 processor. The 13.3-inch model comes with 8GB RAM while the 15-inch model comes with 16GB RAM, and both featuring 256GB solid state storage. The 15-inch model also features a Radeon 540 graphics card.
Notebook 9 Pro (13-inch)
 
 
 
Notebook 9 Pro (15-inch)
Operating System
 
 
 
Windows 10 Home
Processor
 
 
 
IntelCore i7 Processor 7500U (2.70GHz up to 3.50GHz 4MB L3 Cache)
Display
 
 
 
13.3" FHD LED Display (1920 x 1080) with Touch Screen Panel
 
 
 
15.0" FHD LED Display (1920 x 1080) with Touch Screen Panel
Graphics
 
 
 
Intel HD Graphics 620
 
 
 
AMD Radeon 540 Graphics with 2GB GDDR5 Graphic Memory
Memory
 
 
 
8GB DDR4 Memory (8GB on board)
 
 
 
16GB DDR4 Memory (16GB on board)
Storage
 
 
 
256GB SSD
Wireless
 
 
 
802.11 ac 2x2
Bluetooth
 
 
 
Bluetooth 4.1
Sound
 
 
 
1.5 W x 2 Stereo Speakers, SoundAlive
Integrated Camera
 
 
 
720p HD Camera (IR Camera)
Mic
 
 
 
Internal Dual Array Digital Music
Keyboard
 
 
 
Island-type keyboard, backlit, clickpad, stroke 1.5mm
Other Input
 
 
 
Touchscreen, Built-in S Pen
I/O Ports
 
 
 
2XUSB 3.0, 1XUSB-C, HDMI, MicroSD, HP/Mic, DC-in
AC Adapter
 
 
 
40W AC Adapter
 
 
 
60W AC Adapter
Dimensions
 
 
 
12.21" x 8.54" x 0.63'
 
 
 
13.67" x 9.41" x 0.67"
Weight
 
 
 
2.91lbs
 
 
 
3.79lbs
Battery
 
 
 
54Wh, Fast Charging, External Battery Charging
Color
 
 
 
Titan Silver
Software
 
 
 
Wi-Fi Transfer, Wi-Fi Camera, Simple Sharing, PC Message, PC Gallery, Samsung Recovery, Samsung SideSync
Energy Star
 
 
 
Yes