CES: Sharp Comes With A 80-inch AQUOS 3D LED TV, 8K and 4K Displays, New Blu-ray Players And LED TVs
Introducing more than 20 large screen 60-inch plus class TVs, Sharp today announced its new line of AQUOS LED TVs along with new Blu-ray disc players and projectors at CES 2012. Sharp will expand upon its selection of large-screen LED TVs in 2012 by more than 20 models in screen size classes of 60-inches or larger, many featuring 3D in 120Hz or 240Hz panel options. The AQUOS Quattron models will feature the new Quad Pixel Plus II technology. All Sharp AQUOS LED TVs meet or exceed ENERGY STAR version 5.3 standards, drawing a relatively small amount of power for their screen sizes. According to Sharp, the 80" class LC-80LE632U is the most energy-efficient flat-panel TV available today, as measured by power consumption per square inch. On average, it costs just $22 per year in electricity use to operate.
In September 2011, Sharp launched the industry's largest LED TV with its 80-inch class LC-80LE632U, providing more than twice the screen area of a 55-inch TV. Today, Sharp is taking the 80-inch class TV to a new dimension with the launch of the new LC-80LE844U. Available in April, the full HD 1080p LC-80LE844U features a clear 3D image, employing Sharp's Quattron technology with full array LED backlighting and a newly developed 240Hz AQUOS LCD panel to eliminate blur during fast-moving video. The LC-80LE844U also boasts built-in WiFi, 4 HDMI inputs and the new SmartCentral user interface.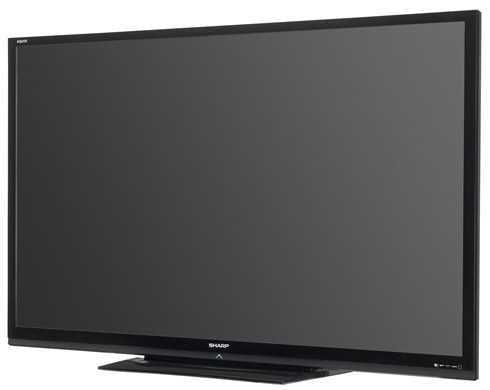 Sharp is also introducing Quad Pixel Plus II, available on the 60-inch (60 1/32" diagonal) and 70-inch (69 ½" diagonal) classes Sharp AQUOS Quattron 8 and 9 series LED TVs. The technology promises to offer even greater detail, smoother lines and color transitions. Sharp is improving picture quality even more in the 9 Series with the introduction of full array LED backlighting with local dimming, which provides deep black levels and an optimal contrast ratio, while reducing energy consumption. Local dimming allows specific groups of LEDs to be dimmed for greater control of brightness and darkness in different areas of the screen.
AQUOS connected TV owners have access to AQUOS Advantage LIVE, Sharp's complimentary customer support program. AQUOS Advantage Live allows trained advisors to remotely connect via the Internet to AQUOS TVs to assist with setup, troubleshooting and picture optimization. And with LIVE answer, Sharp?s experts are available to customers through a dedicated line, providing remote access to representatives. SmartCentral will be integrated in most of Sharp's new 2012 LED TVs, including the 6, 7, 8 and 9 Series.
SmartCentral, a newly designed and customizable user interface, give consumers the ability to search for content, browse the web and access many popular applications, including Netflix, Hulu, Facebook, CinemaNow and YouTube among others.
Another smart feature is Sharp AQUOS Beamzit, a free media-sharing app that allows users to wirelessly send photos, music and video to a Sharp AQUOS Wi-Fi enabled television from their IOS or Android smart phone or tablet.
Sharp AQUOS Quattron 9 Series 3D LED TVs
Sharp's full HD 1080p 9 Series AQUOS Quattron 3D LED TVs in screen size classes of 60- and 70-inches (LC-60LE945U and LC-70LE945U) offer advanced LED technology with Sharp's brightest Full HD Active 3D panel. They incorporate Quattron Quad Pixel Plus II and full array LED backlighting with local dimming. The 240Hz panel improves picture quality further by eliminating blur and artifacts from fast-moving video.
The 9 Series features Sharp's new SmartCentral, built-in WiFi and five HDMI inputs.
The 9 Series AQUOS Quattron 3D LED TVs will be introduced in the U.S. next summer.
Sharp AQUOS Quattron 8 Series 3D LED TVs
Sharp?s 8 Series AQUOS Quattron 3D LED TVs in screen size classes of 60-, 70- and 80-inches (LC-60LE847U, LC-70LE847U and LC-80LE844U) offer a sleeker look with a newly designed ultra-slim bezel with a black brushed aluminum finish. The 80-inch class model features full array LED, and the 60- and 70-inch class models are edge-lit LED, all with Quattron Quad Pixel Plus II technology and 240Hz.
Like the 9 Series, the 8 series offers full HD 1080p with built-in WiFi and SmartCentral. The 8 Series includes four HDMI inputs.
Sharp's 8 Series AQUOS Quattron 3D LED TVs series will be introduced in April.
MSRP: LC-60LE847U, $3,199; LC-70LE847U, $4,199; LC-80LE844U, $6,499
Sharp AQUOS 7 Series 3D LED TVs
Sharp's new 7 Series AQUOS 3D TVs models in screen size classes of 60- and 70-inches (LC-60LE745U and LC-70LE745U) also feature a newly designed ultra-slim bezel design with a black-brushed aluminum finish. These Full HD Active 3D edge-lit LED TVs feature Sharp's AQUOS LCD Panel, full HD 1080p and 120Hz refresh rate. The 7 Series also features built-in WiFi, SmartCentral and four HDMI inputs. They will reach the U.S. market in March.
MSRP: LC-60LE745U, $2,699; LC-70LE745U, $3,599
Sharp AQUOS 6/5 Series LED TVs
Sharp's 6/5 series comprises five different models in screen size classes of 42-, 46-, 52-, 60- and 70-inches (LC-42LE540U, LC-46LE540U, LC-52LE640U, LC-60LE640U, LC-70LE640U) and includes an AQUOS LCD Panel, edge lit LED backlighting, 120Hz Fine Motion Enhanced, and a new narrow bezel design. Like other Sharp series, these models offer built-in WiFi and access to Sharp?s newly designed SmartCentral user interface (docking layout), access to the apps and AQUOS Advantage Live (LE640 Series only). Four HDMI inputs offer multiple ports to connect to your favorite devices.
The AQUOS 6/5 Series will be introduced in February (LE640) and March (LE540).
MSRP: LC-52LE640U, $1,699; LC-60LE640U, $2,699; LC-70LE640U, $3,299
Seeing is Believing with ICC-4K
Sharp is also unveiled its ICC-4K LED TV. Developed jointly with I-cubed Research Center Inc, ICC-4K provides four times 1080p resolution, resulting in a much higher picture quality. ICC, Integrated Cognitive Creation Technology, presents a clearer more lifelike image. Sharp claims that the ICC-4K technology achieves not only intelligently up-scales from HD to 4K but also real-viewing equivalent to the natural world.
8K Technology
Sharp is also presenting a next generation technological breakthrough through the demonstration of 8K resolution on an 85-inch (85 1/25" diagonal) screen size class display. The world?s first 8K ultra high definition capable display, with an astounding 7680 x 4320 resolution, the equivalent of 16x the resolution of HDTV, presents an unprecedented level of incredibly detailed, high quality images.
3D High Definition DLP Home Theater Projector
Sharp's latest 3D capable high-definition DLP home theater projector - the XV-Z30000 - is providing 3D visuals, it features 50000:1 contrast ratio and 1600 ANSI lumens
All Sharp front projectors incorporate mirror-based components that use light more efficiently by bringing more light from lamp to screen. In addition, with Sharp's proprietary digital image ICs, the XV-Z30000 reproduces high quality 3D picture with low cross talk and flicker.
The projector also features flexible installation with center lens and lens shift; the center lens design allows for easy adjustment; and the wide range horizontal and vertical lens shift function allows for flexible installation. In addition, with the motorized lens shift function, users can select their preferable setting position. The projector also has control function with Creston, Control 4, AMX, and RS 232C port and LAN control via network.
Other features include an 2x optical zoom and a resize function (V-stretch) that allows users to choose a 2.35:1 wide aspect image (Cinema scope). It also includes a One Touch Play function, which automatically turns on the projector when the user pushes the playback button of the playback equipment. Also, the System Standby function places the playback equipment into standby mode when the projector is turned off.
Connectivity options include two HDMI inputs.
Two sets of 3-D glasses are bundled with the projector, which will be available in March 2012 at a Manufacturer's Suggested List Price (MSLP) of $4,999.99.
Multi-Functional Blu-ray Disc Players and Sound Systems
Sharp also today unveiled two new multi-function Blu-ray Disc players as well as a line of sound bars and audio systems. These new products will be available in spring of 2012.
At CES Sharp is showcasing two new Blu-ray Disc players, the BD-AMS10U and BD-AMS20U. Both models incorporate features from the new SmartCentral interface; the "super picture" setting which "improves image resolution by integrating pixel information from lower resolution video from a DVD source or streaming content and restores missing image information while enhancing image details", according to Sharp; DLNA interface; and AQUOS Pure mode which creates an optimized color pallet for AQUOS TVs.
The BD-AMS10U player includes a USB interface and it is wireless LAN ready for streaming content including Netflix, VUDU and YouTube. It will be available in March at an MSRP of $179.99.
The BD-AMS20U features a wireless LAN to easily connect with the web and access online content, USB interface for external hard drive ports, and a smart phone interface via Mobile High-definition Link (MHL). Via MHL, Android users can access and engage their mobile apps and content (i.e. music and videos) via their home entertainment system. While connected with the system, the mobile device also receives power and is charged. The player will be available in April for $199.99 (MSRP)
Sound Bar Family
The new sound bar products for 2012 are offering flexibility for any horizontal, vertical, or wall mounted set-up:
HT-SL75: 2.1 system with a 1" (h) speaker bar that matches the AQUOS TV line 60" ? 70" Horizontal / Vertical. It also includes an auto on/circuit, HDMI input 1.4a 3D Pass Thru and an active RMS 100W subwoofer. Wall mounting hardware, vertical stands and a HDMI cable are packaged with the unit. The HT-SL75 is currently available in the U.S. for $329.99.
HT-SL77: 2.1 system with a 1" (h) center speaker for a low profile design that is adjustable to match the AQUOS TV line 46"/52"/60"/70" Horizontal and 60" / 70" Vertical. It also incorporates a wireless subwoofer that can be setup in any location, within a 25' range. Wall mounting hardware, vertical stands, and a HDMI cable are supplied with the model. It will be available in April for about $450.