CES: Razer Project Linda Transorms the Razer Phone into an Android Laptop
Razer today revealed at CES "Project Linda," a 13.3-inch laptop design powered by the Android-based Razer Phone. The company also announced the Nommo speaker line and the Razer HyperFlux Wireless Power Technology.
Project Linda
"Project Linda" is a smartphone and laptop hybrid concept that blends the familiar Android environment with the ease-of-use of a laptop.
The laptop docks the Razer Phone inside its chassis where a touchpad would normally reside, and connects with the press of a button. The phone's Qualcomm Snapdragon 835 mobile platform and 8 GB of RAM deliver performance, transforming Project Linda into an Android laptop. The Razer Phone 5.7-inch display can be used as a touchpad, or as a second screen for access to apps, tools, and more.
A full-size, built-in keyboard adds to the capabilities of Project Linda. There are dedicated keys for navigation, search and app selection. The Razer Chroma backlighting can be personalized with millions of color options. A user may also use the docked phone as a touchpad, or a mouse may be connected for precision control in games and apps.
The unibody CNC aluminum chassis of Razer Project Linda is just 0.59-inch (15 mm) thin and weighs under three pounds (1.25 kg) including the docked phone. Its 13.3-inch Quad HD touchscreen extends the 120 Hz experience available on the Razer Phone to a larger display. The concept also features a 53.6 Wh internal battery that can charge the docked phone to full capacity over three times while away from AC power. Inside the laptop is 200 GB of storage, allowing for offline backups and additional local media and app storage. Connectivity afforded via Project Linda includes a built in 3.5-millimeter audio jack, a USB-A port, a USB-C charging port, 720p webcam, and a dual-array microphone.
Nommo Speaker Line
Razer also today announced a new speaker line for PCs, the Razer Nommo and Nommo Pro. The Nommo Pro is a THX Certified, 2.1 speaker system with Dolby Virtual Speaker technology. The Razer Nommo a 2.0 speaker system is a price-performing alternative for balanced, full-range sound.
The entire range features accurate positional audio using true left and right stereo imaging to help ensure gamers know exactly where sounds are coming. Additionally the Nommo Pro features Independent Tweeters for enhanced highs.
The Razer Nommo Pro is a 2.1 speaker system that includes Dolby Virtual Speaker technology for an added layer of immersion with simulated 5.1 surround sound. It has Dupont Kevlar coated driver's project solid mids, while independent silk-woven tweeters per satellite produce smooth highs. A cylindrical downward firing subwoofer promotes airflow for deep tones.
The Razer Nommo Pro features a USB, Optical, Bluetooth and 3.5-millimeter jack and control pod that places volume, source controls and a headphone jack within reach.
EQ settings and bass levels can be customized with Razer Synapse 3 (beta), and a dedicated "Nommo Pro" mobile app is available on Android and iOS. Users can fire-up Spotify and other music apps on their mobile device to listen through the speakers via Bluetooth.
The Razer Nommo Pro is powered by Razer Chroma, affording a palette of 16.8 million color choices.
The Razer Nommo is an everyday 2.0 speaker system featuring Custom Woven Glass Fiber 3 Inch drivers and elongated rear-firing bass ports.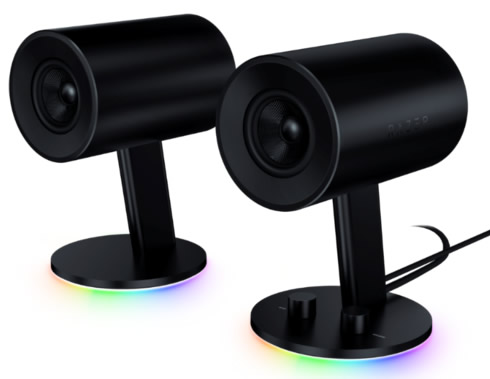 The Razer Nommo also features bass control with Automatic Gain Control to help maintain integrity of bass. Additionally this helps to adjust EQ settings for boosted clarity at lower bass levels and balanced highs and lows at higher bass levels.
A Chroma variation with USB connectivity and an inbuilt DAC is available too.
Both new speakers are available now, at the following prices:
Razer Nommo USD$99.99
Razer Nommo Chroma USD$149.99
Razer Nommo Pro USD$499.99
Razer's New HyperFlux Wireless Power Technology
Razer debuts a battery-less wireless gaming mouse with the Razer Mamba HyperFlux and Razer Firefly HyperFlux power mat.
The new Razer HyperFlux technology allows the mouse mat to create a magnetic field that efficiently transfers power directly to its companion mouse instead of charging a heavy battery. The technology is the first to provide power directly to the mouse and eliminates the need for a battery. The result is an ultra-lightweight wireless gaming mouse with a weight that's traditionally only achieved by wired mice.
The Razer Mamba HyperFlux is also equipped with Razer's proprietary Adaptive Frequency Technology (AFT) for higher signal strength. This ensures wireless signal stability between the mouse and computer by adaptively scanning and switching to the strongest signal within the 2.4 GHz frequency band. Combined with a 16,000 dots-per-inch (DPI) 5G optical sensor, the Razer Mamba HyperFlux is a top-tier wireless gaming mouse.
The Razer Firefly HyperFlux is the latest evolution in Razer's RGB mouse mat line. It features a dual-sided hard and cloth surface that allows for flexible playstyles. Gamers can opt to use the hard side for speedy mouse actions or the cloth side for control and precision aiming. When connected, the mat supplies indefinite power to the mouse.
Powered by Razer Chroma lighting technology, both devices have access to 16.8 million color options and are capable of customizable lighting profiles and in-game effects.
The Razer HyperFlux wireless hardware combo is available on RazerStore.com and select retailers in Q1 2018, priced at $249.99.
Razer Mamba HyperFlux
Razer HyperFlux Wireless Power Technology
Razer Adaptive Frequency Technology
Mouse cable for use in wired mode without power mat
Razer 5G optical sensor with true 16,000 DPI
Up to 450 in. per sec. (IPS) / 50 G acceleration
Nine independently programmable Hyperesponse buttons
Razer Mechanical Mouse Switches
Gaming-grade tactile scroll wheel
Ergonomic right-handed design with enhanced rubber side grips
Razer Chroma lighting with 16.8 million customizable color options
1000 Hz Ultrapolling
Razer Synapse 3 (Beta) enabled
Approximate size: 124.7 mm / 4.90 in. (Length) X 70.1 mm / 2.75 in (Width) X 43.2 mm / 1.70in. (Height)
Approximate weight (excluding cable): 96 g / 0.211 lbs.
Cable length: 2.1 m / 6.89 ft. (for use of mouse in wired mode when away from Razer HyperFlux enabled wireless power mat)
Razer Firefly HyperFlux
Razer HyperFlux Wireless Power Technology
Dual hard and cloth mat surfaces
Optimized surface coating for highly responsive tracking
Razer Chroma lighting with 16.8 million customizable color options
Non-slip rubber base
Razer Synapse 3 (Beta) enabled
Approximate size: 355 mm / 13.97 in. (Length) X 282.5 mm / 11.12 in. (Width) X 12.9 mm / 0.50 in. (Height)
Approximate weight (excluding cable): 643 g / 1.41 lbs.
Approximate weight (including cable): 685 g / 1.51 lbs.
Cable length: 2.1 m / 6.89 ft.