CES: HD DVD Proposes 51GB Disc
The HD DVD camp announced plans for commercialization of a new triple-layer HD DVD disc for recording, offering a capacity of 51GB. The HD DVD promotion group organized a press conference at the CES show late Sunday and presented the latest information and developments related to the HD DVD format.
In an effort to bridge the capacity gap between the HD DVD and the rival Blu-Ray format, the Toshiba announced plans to release a triple-layer HD DVD-ROM disc, offering 17GB of capacity per layer. The disc prototype is capable of holding approximately 7 hours of high-definition video (17Mbps, broadcast). The new disc will be proposed to the DVD Forum for standardization in 2007 and it is expected to appear on the market by the end of the year.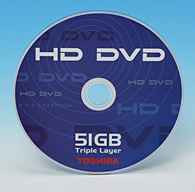 According to Toshiba, the new disc will be able to store information at smaller pits compared to the current 15GB HD DVD media. As a result, each layer of the disc can hold 17GB of information.
The HD DVD camp also presented the sales figures for the format. An estimated 175,000 HD-DVD players (Standalone, XBOX 360 Add-on and Laptops) have been sold from the formats launch until January 5th 2007. When it comes to sold titles the figure reaches 28 titles per sold player.
They also used the event to promise new titles in 2007. The format has 41 studios behind it world wide and they will release more than 300 titles during 2007. The list included acclaimed hits such as: "The Departed," "The Good Shepherd," "Flags of Our Fathers," "Babel," the entire "Harry Potter" series, "The Matrix" trilogy and "Blade Runner". Hit TV series will also appear on HD DVD, including "Battlestar Galactica," "The Sopranos", and the original episodes of "Star Trek," which have been digitally remastered.
Lastly, more hardware vendors are expected to release players in 2007 including Japanese Onkyo, Chinese Shinco and Meridian. Alpine Electronics also demonstrated an HD DVD system for automotive.