CES: Dell Adds Convertible XPS 13 model, Unveils 8K Monitor
At the annual Consumer Electronics Show (CES), Dell unveiled a new products including the Dell Canvas; a 13-inch 2-in-1; XPS and Precision All-in-Ones; the Dell UltraSharp 32 Ultra HD 8K Monitor and Dell 27 Ultrathin Monitor, and more.
The Dell Canvas takes advantage of Windows 10 and the upcoming Windows 10 Creators Update into a new category of smart workspace technology. The 27-inch QHD smart workspace expands productivity for content developers and designers so you can create, communicate and express your ideas as naturally as you do with pen on paper. Through the use of touch, digital pen and totems or dials, the Dell Canvas allows you to turn drawings into part of the digital workflow with Windows Ink or by marking up webpages in Microsoft Edge. Powered by virtually any Windows 10 PC, Dell Canvas also plugs into software solutions from Adobe, Autodesk, AVID, Dassault Systems, SolidWorks and Microsoft.
The Dell Canvas will be available March 30 on Dell.com in the U.S. starting at $1,799.
Dell also introduced a new XPS 13 2-in-1 that offers a 360-degree hinge for multiple productivity and viewing options, so you can use it as a laptop or flip the display to use it as a tablet. It also features up to 15 hours of battery life and clarity with a QHD+ (5.7M pixels) InfinityEdge touch display. The fanless design keeps it silent and it can be configured with 7th Gen Intel Core vPro processors and Dell BIOS and manageability software - all backed by Dell's global ProSupport services.
Other features include:
The internal and external surface temperatures of the system ensure the XPS 13 2-in-1 keeps its cool
Durable machined aluminum, carbon fiber, bonded Gorilla Glass NBT and steel hinges wrapped in machined aluminum
Connectivity with all USB Type C with one Thunderbolt 3 connector
Standard backlit keyboard and precision touchpad, as well as a fingerprint reader
Dell has also updated the XPS 15, which offers powerhouse performance and a 15-inch display, with 7th Gen Intel Core processors, NVIDIA Pascal architecture - GeForce GTX 100 graphics and a fingerprint reader.
The Dell XPS 13 2-in-1 is available exclusively on Dell.com and at Best Buy in the U.S. starting at $999.99. The Dell XPS 15 notebook is available on Dell.com in the U.S. starting at $999.99.
The new XPS 27 AIO takes sound to a whole new level. With full-frequency range high-fidelity audio built in, they deliver the best sound available in an AIO with 10 speakers pumping out sound at 50W per channel. The viewing experience is equally impressive with a 4K Ultra HD (3840 x 2160) edge-to-edge touch display supporting 100 percent Adobe RGB color gamut.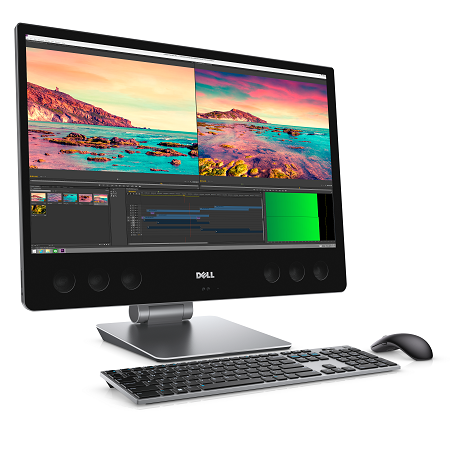 The Precision AIO delivers more performance options with Intel Xeon processors, AMD Radeon Pro graphics, as well as security and manageability software.
Dell XPS 27 AIO is available on Dell.com in the U.S. starting at $1,499.99. The Dell Precision AIO (5720) will be available April 6 on Dell.com in the U.S. starting at $1,599.
Enter the Dell Precision 7720 mobile workstation-Dell's first VR-ready mobile workstation designed specifically for VR content creation. It's Dell's most powerful mobile workstation, thanks to the latest 7th Gen Intel Core and Intel Xeon processors and NVIDIA Pascal Quadro professional graphics. Like all Dell Precision workstations, it's developed specifically to work with and optimize the latest software suites, and - since it's a mobile workstation - you can now develop VR content from anywhere you find inspiration.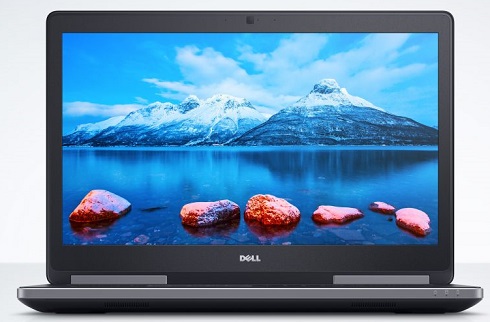 Dell Precision 7720 VR-ready mobile workstation will be available on Dell.com in the U.S. starting at $1,699.
The Dell UltraSharp 32 Ultra HD 8K Monitor is a near-borderless 32-inch 8K resolution display. With more than 1 billion colors, 33.2M pixels of resolution, 100 percent Adobe RGB and sRGB color gamut and 280 ppi, the Dell UltraSharp 32 Ultra HD 8K monitor delivers four times more content than Ultra HD 4K resolution and 16 times more content than Full HD.
Additionally, Dell announced several new monitors with its new HDR feature: the Dell 27 Ultrathin Monitor featuring an ultra-thin profile, a modern design aesthetic, Quad HD technology and USB Type-C connectivity as well as the Dell 24 and 27 InfinityEdge Monitors, which also feature dual 6W external speakers professionally tuned by Waves Maxx Audio.
Available March 23 on Dell.com in the U.S., the Dell 27 Ultrathin Monitor (S2718D) starts at $699.99, and the Dell UltraSharp 32 Ultra HD 8K Monitor (UP3218K) starts at $4,999. Available Feb. 23 on Dell.com in the United States, the Dell 24 InfinityEdge Monitor (S2418HX) starts at $289.99, and the Dell 27 InfinityEdge Monitor (S2718HX) starts at $379.99.
With WiTricity magnetic resonance wireless charging technology, Dell will deliver a wireless experience in the 12-inch Latitude 7285 2-in-1, available later this year. When combined with a charging mat and WiGig wireless dock, you can take the Latitude 2-in-1 with you without disengaging any wires or a physical dock. And when you get back to your desk and set the 2-in-1 on the charging mat, it begins charging, automatically reconnects to the WiGig dock and content appears on the external display.
The Latitude 7285 2-in-1 featuring wireless charging capabilities will be available summer of 2017. Pricing will be announced during Dell EMC World in May.
Dell's line of XPS, Inspiron and Alienware consumer devices and OptiPlex, Latitude and Precision commercial products are being upgraded with performance enhancements, thanks to 7th Gen Intel Core processors, USB-C with Thunderbolt 3 connectivity options and updated professional graphics from NVIDIA and AMD.
Precision and Latitude products built for business also feature 7th Gen Intel Core vPro and Xeon processors and new ultrathin notebook and 2-in-1 designs. The Latitude 7000 Series Ultrabooks and a 12-inch Latitude 5000 Series 2-in-1 are also added to the lineup. The detachable Latitude 5285 2-in-1 weighs less than two lbs, features an auto-deploy kickstand that extends up to 150 degrees for multiple viewing angles and has multiple connectivity options.
For desktop lovers looking for space-saving designs, Dell is offering the new OptiPlex 5250 AIO and an updated line of OptiPlex small and micro form factor desktops. New monitors also include the Dell 24 Monitor for Video Conferencing, which features a two megapixel Full HD IR camera with privacy shutter, noise-canceling microphone and dual 5W speakers built in, and the Dell 24 Touch Monitor, which features 10-point touch with an anti-glare touch screen and height-adjustment, tilt and swivel capabilities.
New Latitude notebooks, including the Dell Latitude 5285 2-in-1, will be available on Dell.com in the U.S. The Latitude 5285 2-in-1 starts at $899. Available Feb. 7 on Dell.com in the U.S., the OptiPlex 5050 Micro starts at $599 and the OptiPlex 5250 AIO starts at $879. Available Jan. 12 on Dell.com in the U.S., the Dell 24 Touch Monitor (P2418HT) starts at $399.99, and the Dell 24 Monitor for Video Conferencing (P2418HZ) starts at $329.99