2. Performance Tests
Since there is no way to accurately monitor VGA card temperatures, we decided to use one fan to cool our standard AMD 3500+ CPU (Newcastle). We should point out that temperature values shown in these tests are not related in any way to temperature you might get with your VGA cards. We also compared the results we got with a patented 120mm fan that rotates at the same speed.
But first, we had to see the rotation speed of the Card Cooler XT fan. As you can see below, the fan is clocked at just under 1855RPM maximum. As already mentioned, there is no way to control the fan's rotation speed.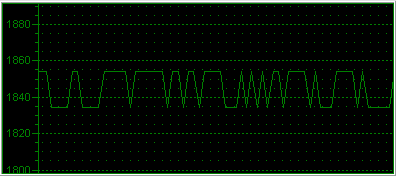 We then installed the Card Cooler XT fan on the CPU heatsink, turned on our PC and measured the temperature at CPU idle. The temperature was also measured with the standard 120mm fan clocked at around the same rotation speed (1840RPM~1850RPM).
As you can see, the standard fan reported 37°C at 1850RPM...

normal fan - 1850RPM
... while the Card Cooler XT gave us 36°C at the same rotation speed.
Card Cooler XT
We had a 1°C drop in temperature and although this might not sound like a lot for a CPU fan, imagine both of these fans working together in a PC case. We should comment a little bit on the test procedure. The Card Cooler XT in not intended to replace your CPU fan or your VGA cooler. However, in this test, we simply wanted to compare a standard 120mm that we had against the Card Cooler XT fan.
When we finally installed these fans in our PC case for the job they were meant to do, we were impressed with the 138 CFM of air flow. There is also another big advantage with this design. It can cool multiple cards at the same time. Because of their combined size, the fans can help cool almost all PCI or AGP cards installed in a PC. About the only problem we can see is determining if these fans can both fit in your system.