Buffalo And IO Data Release First 14x Blu-ray Disc Burners
Japanese Buffalo and IO Data will release later this month in Japan their first 14X Blu-ray disc burners, the fastest drives in the industry.
IO Data's BRD-UT14X model is an external USB 3.0 Blu-ray disc burner that supports burning on single-layer BD-R media at 14X. This means that a full 25GB BD-R will be recorded in less than 9 minutes. Of course, this high speed is achieved with select BD-Rs, and IO Data has achived it using the Sony BD-R SL discs. Still, such a high burning speed could result to low quality burns, considering what we have experienced with 12X BD-R recordings so far.
The drive is also compatible with BDXL media and is rated for 6x burning with BD-R XL/TL, 12x for BD-R DL, 6x with BD-RE DL, 14x for BD-R SL, 8x with BD-RE SL, 12x BD-ROM SL and 8x with BD-ROM SL. Compatible with DVDs, the drive burns DVD+R/-R DL at 12x, DVD+R/-R SL at 16x, DVD+RW/-RW at 12x, DVD-RAM at 5x abd reads DVD-ROM SL at 16x and DVD-ROM DL at 12x. Last but not least, it is a 48x/40x/48x CD-RW burner.
The drive will retail in Japan in the end of April for JYen 19,845 ($246).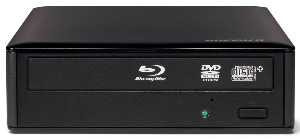 Buffallo's version of the drive dubbed BRXL-14U3 shared the same technical specifications with IO Data's model and will be also released in Japan for JYen 22,100 ($274).
Designed for both data storage and TV Video recording, the BRXL-14U3 comes with the DiXiM BD Burner software from DiXiM, which lets users burn any DRM recorded digital TV stored on their PC, Network and recorded via a Digital Tuner to any BD or BDXL blank disc. Buffalo will also bundle its burner with CyberLink PowerDVD 10 BD edition.