Asus ZenFone 3 Deluxe 5.7" Is Rolling Out In N. America
Asus' new ZenFone 3 smartphones are finally rolling out in the U.S. and Canada, with the flagship ZenFone 3 Deluxe 5.7" to be faster and more luxurious than its predecessor. Thanks to narrow bezels and a 79% screen-to-body ratio, the 5.7' 1080p anel dominates the smartphone's face. The underlying Super AMOLED technology produces picture that's richer than typical IPS alternatives.
Everything looks even better when the Super Color mode is enabled. This optional profile saturates colors to generate an almost candy-coated picture that resembles reality. You can tweak and switch display profiles easily via the settings menu or configure a custom profile tailored to your tastes. There's also an adjustable blue light filter that's perfect for tired eyes and late-night reading.
The screen is coated it with a protective layer of Gorilla Glass 4 that's up to 2X stronger than the previous generation.
At 7.5 mm thick and 192 grams, the ZenFone 3 Deluxe 5.7" is both thinner and lighter than its forebear. The body is milled from a single piece and then sand-blasted to create a smooth finish.
The phone offers fast wireless connectivity, including support for GSM-based 4G LTE networks up to Cat 12 speeds, dual-band 802.11ac Wi-Fi and Bluetooth.
The Android 6.0 ZenFone 3 Deluxe is powered by Qualcomm's Snapdragon 820 processor, so you get quad cores based on Qualcomm's proprietary Kryo architecture, plus a Hexagon 680 DSP and Adreno 530 graphics.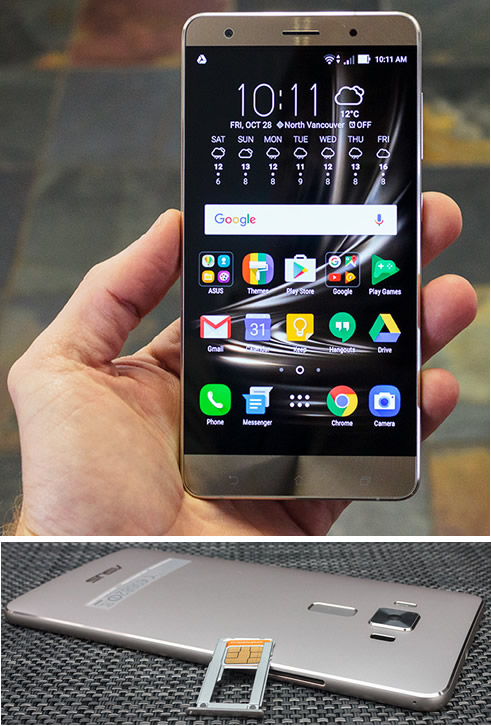 It is also armed with 6GB DDR4 memory, 64GB UFS 2.0 storage, or even more by adding a Micro SD.
Support for USB 3.0 enables higher transfer rates, while compatibility with Quick Charge 3.0 lets you fill the 3000-mAh battery to 60% in just 39 minutes.
The other small-but-significant detail is the integrated fingerprint reader, located on the back. You can scan up to five digits and touch the scanner in any orientation, making it easy to authenticate in portrait and landscape modes alike.
The 3.5-mm audio jack didn't seem like a big deal when we first announced the ZenFone 3, but it's worth pointing out that the standard port works with all the headphones everyone already owns. The sound quality is high, and audiophiles will appreciate the certification for Hi-Res Audio content up to 24 bits and 192kHz.
While the integrated speaker obviously doesn't sound as good as quality headphones, it's loud. It speaker uses five tiny magnets driven by an NXP Smart AMP to produce louder volume, lower frequencies, and less distortion than the ZenFone 2.
Cameras are an integral part of every smartphone, so Asus put extra effort into the ones on the ZenFone 3 Deluxe. The rear PixelMaster 3.0 shooter uses Sony's latest Exmor RS IMX318 sensor, whose 23MP resolution trounces even my DSLR. It has an f/2.0 aperture and fast TriTech autofocus that automatically choose between laser, phase-detection, and continuous modes depending on the scene. Photography geeks get full manual controls, including shutter options up to 32 seconds, and there are loads of pre-baked modes for everything from HDR to animated GIFs.
Keeping a steady hand is key to getting good shots, so the ZenFone 3 has four-axis optical image stabilization for photos and 3-axis stabilization for video. You can record Ultra HD movies at 4K resolution, and there's a 1080p60 mode that's perfect for sports and action-filled scenes that can benefit from a higher frame rate. The front-facing camera tops out at 1080p for video and 8MP for stills.
The ZenFone 3 Deluxe Special Edition packed with 256GB of integrated storage is available for $799 USD.
The ZenFone 3 Deluxe 5.7" isn't the only Deluxe in the family. Asus also has a 5.5" version with a slightly smaller IPS display, a slower Snapdragon 625 processor, 4GB of memory, and a 16MP rear camera. That configuration comes with 64GB of storage and sells for $399 in the US. The 5.7-incher also starts at 64GB of storage, but for $499 in the US and $669 in Canada.