ASUS ROG Hosts Event at Gamescom 2019
ASUS Republic of Gamers (ROG) today opened the doors on its Intelligent Evolution press event at Gamescom 2019 to demonstrate new products including new ROG and ROG Strix gaming motherboards, ROG Strix gaming monitors, ROG Chakram gaming mouse and ROG Strix Go 2.4 gaming headset.
This year ROG unveiled the ROG Rampage VI Extreme Encore motherboard for dream PC rigs and the ROG Strix X299-E Gaming II motherboard for overclocking without extravagance. Three new gaming monitors were also revealed, including the 43-inch ROG Strix XG43UQ and 27-inch ROG Strix XG27UQ, both supporting Display Stream Compression (DSC) technology for native 4K resolution with 144 Hz refresh rates, and the 17.3-inch ROG Strix XG17 with a 240Hz IPS panel and ROG Tripod for serious on-the-go gamers.
Asus also took the wraps off ROG Chakram, a new 16,000-dpi gaming mouse with a built-in joystick; and ROG Strix Go 2.4, a wireless gaming headset with a USB-C 2.4GHz and an AI-powered noise-canceling mic.
ROG Rampage VI Extreme Encore gaming motherboard
The ROG Rampage VI Extreme Encore follows the pedigree of the ROG Rampage Extreme and Omega motherboards. This latest board offers intelligent tuning, robust power design and ROG technology. It includes 16 power stages and a comprehensive thermal design that comprises an active heatsink with two integrated VRM fans, a PCIe-zone M.2 aluminum heatsink and a one-piece aluminum backplate.
It also benefits from all the latest connectivity, including USB 3.2 Gen 2x2 (Type-C), Intel Wi-Fi 6 AX200, onboard Aquantia 10Gbps LAN and Intel Ethernet, plus personalization with a 1.77-inch LiveDash color OLED, and second-generation addressable RGB headers.
ROG Strix X299-E Gaming II motherboard
The ROG Strix X299-E Gaming II features 12 power stages and a pre-installed 40mm fan, plus an I/O cover that has a dual-layer design to display a laser-engraved ROG logo against a lighted backdrop of cybertext patterns. ROG Strix X299-E Gaming II offers three M.2 slots, Intel Wi-Fi 6 AX200 and both Realtek 2.5Gbps and Intel Ethernet on board. It also has a 1.3-inch LiveDash OLED, a second-generation addressable RGB header and DIY-friendly designs that include FlexKey and BIOS Flashback.
ROG Strix XG43UQ DSC gaming monitor
Display Stream Compression (DSC) technology is an industry-wide compression standard for transporting ultra-high definition video streams across a single interface at high speed with no perceptible loss of visual quality. It also allows support for variable refresh rate (VRR) and high dynamic range (HDR) from the single connection. With DSC technology, the ROG Strix XG43UQ is able to display detailed and smooth visuals at native 4K resolution with a 144 Hz refresh rate via a single DisplayPort 1.4 connection without chroma sub-sampling, and without the need to use dual DisplayPort.
Strix XG43UQ's 43-inch non-glare HDR display has achieved DisplayHDR 1000 compliance and supports 90% DCI-P3 professional color gamut, and also works with AMD Radeon FreeSync 2 HDR technology.
ROG Strix XG27UQ DSC gaming monitor
ROG Strix XG27UQ is a 4K UHD gaming monitor with a 144Hz refresh rate for smooth gameplay. This 27-inch IPS display with quantum-dot technology provides a wide 90% DCI-P3 color gamut and DisplayHDR 400 compliance and offers the same DSC support as its Strix XG43UQ stablemate.
ROG Strix XG17 portable gaming monitor with ROG tripod
Designed for competitive gamers, ROG Strix XG17 is a 17.3-inch IPS Full HD portable gaming panel that delivers a 240Hz refresh rate and 3ms response time. It weighs just 1 kg and has a built-in battery that supports up to 3 hours of 240Hz operation off a single charge. Thanks to its fast-charging system, a one-hour charge will power the panel for 2.7 hours. Other salient features include adaptive-sync that operates between 48-240Hz. There's also a built-in speaker, for those times when a headset just won't do.
ROG Strix XG17 also comes with a ROG tripod accessory that enables the gamer to set ROG Strix XG17 at various angles and heights. For example, ROG Tripod makes it easy to position Strix XG17 directly above a gaming notebook, effectively creating an expansive extended screen and play area. It also serves to support XG17 as an on-the-go monitor for console gamers, or as an extended display for mobile gaming.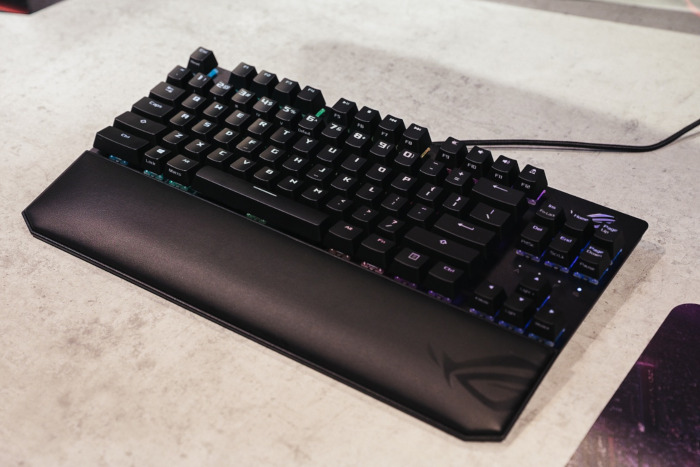 ROG Chakram wireless gaming mouse
ROG Chakram is a new ergonomic, optical gaming mouse with Qi wireless charging and an integrated joystick for ultimate control. In addition to Qi, charging Chakram by wire for just 15 minutes provides enough power for up to 12 hours of gameplay. The joystick is both programmable, enabling personalized settings and control, and removable for when it's not needed. The new mouse also packs a 16,000-dpi, 400-ips sensor, and offers three connectivity methods — wired, 2.4GHz and Bluetooth (BLE). It also features detachable magnetic covers, an exclusive push-fit switch-socket design and a customizable badge for effortless DIY.
ROG Chakram also features an one-touch button for switching DPI on the go, a pivoted button mechanism for rapid response and accurate performance with a tactile feel, and integrated Aura Sync lighting for instead illuminated style.
ROG Strix Go 2.4 wireless gaming headset
ROG Strix Go 2.4 is the first wireless gaming headset that can be used with Nintendo Switch in handheld mode and also works with mobile phones and PCs. The headset connects via an included USB-C 2.4GHz wireless adapter that provides a more stable connection with less latency than Bluetooth. ROG Strix Go 2.4 features an integrated AI-powered noise-cancelling microphone and Hi-Res Audio-certified 40mm drivers with a ROG-exclusive airtight-chamber design, all in a lightweight, foldable design that tips the scales at a mere 290 grams.