ASUS Presents Zennovation at CES 2017
ASUS Chairman Jonney Shih today unveiled the ASUS ZenFone AR and ZenFone 3 Zoom smartphones during the Zennovation press event at Caesars Palace in Las Vegas.
ZenFone AR will be the first smartphone that is both Tango enabled and Daydream-ready. Tango is a set of sensors and computer-vision software by Google that enables smartphone augmented reality. Daydream is Google's platform for high-quality, mobile virtual reality and supports Daydream VR apps. ZenFone AR is the thinnest and lightest Tango enabled device. This small size and weight were made possible by the ASUS TriCam system, a three-camera system consisting of a 23MP main camera, motion-tracking camera, and depth-sensing camera. Unlike three-camera systems in other devices, the design of the ASUS TriCam system clusters its array of cameras to reduce their footprint within the phone, enabling the entire phone to be thinner and lighter.
ZenFone AR features a powerful Qualcomm Snapdragon 821 processor that is optimized for Tango, and is the world's first smartphone with 8GB of RAM.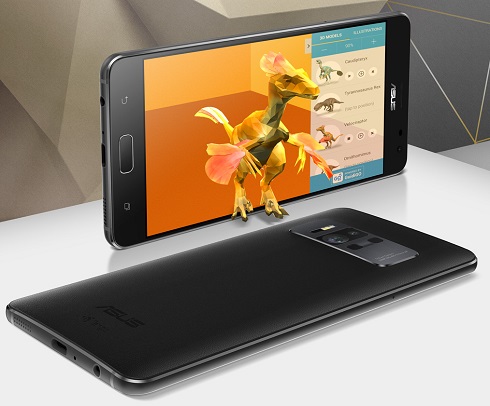 ZenFone AR's performance and camera work in conjunction with Tango to enable smooth and compelling smartphone AR experiences. A 5.7-inch WQHD Super AMOLED display and a new five-magnet speaker makes Daydream VR apps, games, and videos more immersive. The smartphone runs on Android 7.0 'Nougat' OS.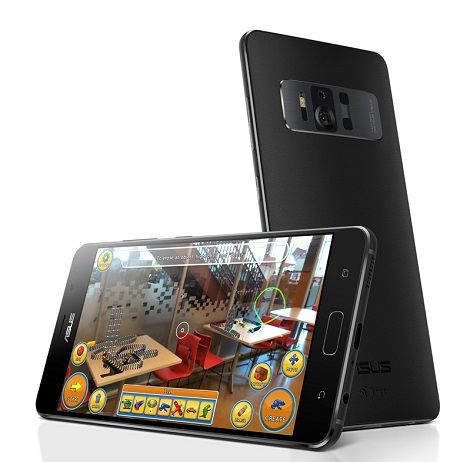 ZenFone 3 Zoom is built for photography and extended use and a large, 5000mAh battery. It is a 5.5-inch smartphone armed with with a dual-camera system. It is also the world's slimmest smartphone with a high-capacity, 5000mAh battery.
ZenFone 3 Zoom's dual-camera system comprises two 12MP cameras, one with a f/1.7-aperture, 25mm wide-angle lens and a second with a 59mm lens. Users can instantly switch from the 25mm primary camera to the 59mm camera, giving them a 2.3X optical zoom. An improved TriTech+ autofocus system automatically chooses among three autofocus technologies - Dual Pixel PDAF, subject tracking autofocus, and second-generation laser focus - depending on the situation to achieve accurate focus in just 0.03 seconds, even when photographing moving subjects.
ZenFone 3 Zoom is also the first ASUS smartphone with SuperPixel camera technology that enables it to focus quickly and capture photos at night or in low-light environments. ASUS-exclusive hardware and software enhancements boost sensor light-sensitivity by up to four times by intelligently adjusting ISO levels while shooting and applying noise reduction in post-shot processing. SuperPixel technology enables the camera on ZenFone 3 Zoom to have 2.5-times (2.5X) greater light sensitivity than Apple iPhone 7 Plus and 10-times (10X) that of an average smartphone, according to Asus.
ZenFone 3 Zoom has a high-capacity 5000mAh battery that is sculpted to fit in the phone's 7.9mm full-metal body. The phone weighs just 170 grams, yet with its large battery and powerful, efficient Qualcomm Snapdragon 625 processor it provides users with up to 42 days of standby time. The high-capacity battery also complements ZenFone 3 Zoom's photographic capabilities, allowing users to shoot more photos, enjoy operations like time-lapse photography, and capture up to 6.4 hours of continuous 4K UHD video on a single charge. ZenFone 3 Zoom can also double as a high-speed power bank for charging other devices.
Following the announcements, ASUS hosted a demo area showcasing ZenFone AR, ZenFone 3 Zoom, and the latest lineup of lifestyle, business, and Republic of Gamers (ROG) gaming products. New lifestyle and business products include the ZenBook UX490 laptop, VivoPC X desktop PC, ProArt PA32U monitor, and ASUSPRO B9440 business laptop. New gaming products include the ROG Maximus IX Extreme motherboard, ROG Gladius II mouse, ROG GR8 II gaming PC, ROG Rapture GT-AC5300 router, and ROG Strix Magnus gaming microphone. Additionally, several desktop and laptop PCs updated with the latest 7th Generation (Kaby Lake) Intel Core processors were also shown, including the Zen AiO ZN270 desktop, ROG GT51CH gaming desktop, and the ROG GX800VH and G752 gaming laptops.
The 32-inch ASUS ProArt PA32U is a professional direct-lit LED 4K UHD HDR monitor. It has a full-array LED backlight with the all-new ASUS LED-driving technology, featuring 384 LED zones and capable of a peak brightness of 1,000cd/m2, which offers a wide range of dynamic luminance. The use of quantum dot technology provides a wide color gamut, enabling ProArt PA32U to deliver 99.5% Adobe RGB, 85% Rec. 2020, 100% sRGB and 95% DCI-P3 color-space performance for high-end video editing and production.
ProArt PA32U has a 40Gbps Thunderbolt 3-enabled USB 3.1 Gen 2 port that supports DisplayPort 1.2 connections. This port also enables display daisy-chaining, which allows users to connect two 4K UHD displays.
ASUS VivoPC X is a compact desktop PC powered by a 7th Generation Intel Core processor with NVIDIA GeForce GTX 10 series graphics, and is designed for general consumers who are looking for a VR-ready PC that meets the hardware demands of VR tasks and entertainment. Its compact 5-liter chassis can be placed anywhere in the home; and offers extensive connectivity features including four USB 3.1 Gen 1 and two USB 2.0 ports for VR peripherals and controllers.
The 27-inch ASUS Zen AiO ZN270 has a large Full HD display, driven by NVIDIA GeForce 940MX graphics. With its up to 7th Generation Intel Core i7 processor, up to 16GB of DDR4 RAM and a powerful quad-speaker Harman Kardon-certified audio system, it offers performance and entertainment capabilities in an elegant design with a Quartz Grey finish.
The all-aluminum ASUS ZenBook 3 Deluxe is an enhanced version of the ZenBook 3 laptop, and has a 12.9mm-slim and 1.1kg-light 13-inch-class chassis that incorporates a 14-inch ultra-narrow-bezel display. It is powered by the latest 7th Generation Intel Core processors, up to 16GB of 2133MHz LPDDR3 RAM and up 1TB PCI Express (PCIe) SSD. Expansion capabilities are provided by the two USB Type-C (USB-C) ports, which are Thunderbolt 3-enabled with support for 40Gbps data transfers, dual 4K UHD external displays, and power delivery.
ASUSPRO B9440 is a lightweight 14-inch business notebook. Designed for discerning on-the-go professionals and weighing just 1kg.

The ROG GX800VH features the unique Hydro Overclocking liquid-cooling system for extreme overclocking performance, plus NVIDIA GeForce GTX 1080 in 2-way SLI for desktop-like performance. GX800VH is also the first gaming laptop with an 18-inch panel and NVIDIA G-SYNC technology for 4K UHD gaming visuals. It also has the MechTAG mechanical-switch keyboard, which features anti-ghosting with 30-key rollover, and customizable ROG Aura RGB LED effects for each key.
The ROG G752 is built to win with performance, driven by an unlocked Intel Core i7 processor and a VR-ready NVIDIA GeForce GTX 1070 GPU. G752's high-speed DDR4 DRAM is overclocked to run at 2800MHz. It also offers HyperDrive RAID 0 and the latest NVM Express (NVMe) and PCI Express technologies, ROG-exclusive 3D Vapor Chamber for effective and efficient cooling for up to 7°C-cooler GPU temperatures, and a 120Hz panel with NVIDIA G-SYNC technology for 120Hz refresh rates on its wide-view panel. The first backlit anti-ghosting keyboard with 30-key rollover complete G752's roster of headline features.
Tailored for water-cooling enthusiasts and gamers who demand cutting-edge technologies, the Maximus IX Extreme is the first motherboard with an integrated monoblock, manufactured by Bitspower. Maximus IX Extreme is packed with ROG innovations: the monoblock detects the flow rate of the water coolant, and has dedicated circuitry to detect both the inlet and outlet temperatures as well as leakage. The monoblock also integrates the neighboring M.2 heatsink for heat-dissipation to eliminate throttling.

ROG Gladius II is an optical gaming mouse optimized for FPS games, with customizable Aura Sync RGB lighting and 50-million click Omron switches. Featuring the easy-swap switch socket design, ROG Gladius II gives gamers the freedom to customize click-resistance and extend the life-span of the mouse. Gladius II also has a DPI button to toggle sensitivity and a DPI target thumb button for short bursts of instant precision.
ROG GR8 II is the smallest gaming PC built for VR, and has the most advanced graphics in its class - offering full-on performance with a desktop-grade ASUS-customized NVIDIA GeForce 1060 GPU, 7th Generation Intel Core i7 processor, and 32GB DDR4 memory. The PC is housed in a tiny 4-liter chassis and includes Aura Sync for stunning RGB light shows that can be synchronized with a variety of ROG peripherals, and with 10 different effects. GR8 II can be specified with M.2 PCIe SSDs and a 2.5-inch SSD/HDD storage. Two VR-friendly HDMI ports enable simultaneous connection of both a VR headset and a gaming display.
ROG GR8 II has a specially-tuned cooling system with an optimized airflow design, copper heat pipes and dual fans to purge heat from the system. Vents and dedicated chambers for the processor and graphics card ensure the right amount of airflow to each component to provide you with stable performance. GR8 II also comes with audio performance with ROG SupremeFX, Sonic Studio III, and Sonic Radar III.
ROG GT51CH is a very powerful gaming desktop PC featuring an overclocked 4.8GHz Intel Core i7-7700K processor, NVIDIA GeForce GTX 1080 2-way SLI graphics, and 64GB of fast DDR4 2800MHz memory and 4K UHD visuals. Exclusive Aegis III three-way overclocking technology enables easy and safe CPU, GPU, and memory overclocking for even better gaming performance and also provides the ability to monitor system stats in real-time. ROG GT51CH features dynamic ASUS Aura lighting effects for its central air intake and motherboard-mounted LEDs. Gamers can customize Aura with different lighting colors and effects.
ROG Rapture GT-AC5300 is the first ROG router, designed specifically for gaming and featuring tri-band Wi Fi, eight-port gigabit-LAN, and its own powerful PC-grade, 1.8GHz 64bit quad-core CPU to enable fast network gaming. GT-AC5300 also includes two USB 3.0 ports. The new router benefits from a number of features to make gaming easier, and gameplay faster and smoother. It has the Gaming Center for an instant overview of the gaming network, Game Boost to prioritize gaming traffic for the best networking speeds and Game Intrusion Prevention System (Game IPS) to offer integrated security based on Trend Micro technology to provide front-line protection for gaming networks.
ROG Strix Magnus is an all-new gaming microphone with three studio-grade condenser capsules for enhanced clarity and sensitivity - and the very first mic from ROG. Designed for live-streamers and avid gamers, Strix Magnus is both compact and stylish, and is also the first gaming microphone to offer both environmental-noise cancellation (ENC) and customizable Aura RGB lighting effects. The new gaming mic has an auxiliary port for recording audio from a musical instrument or smartphone, and comes with an external USB hub for connecting additional devices.
The latest generation of ASUS Designo Curve MX Series includes the ASUS Designo Curve MX38VQ, a 37.5-inch curved monitor with a frameless 2300R curvature and an ultra-wide QHD (3840 x 1600) IPS panel. In addition, MX38VQ features 8-watt stereo speakers incorporating Harman Kardon and ASUS SonicMaster audio technologies, as well as a Qi wireless charging pad on its stand for Qi-enabled devices.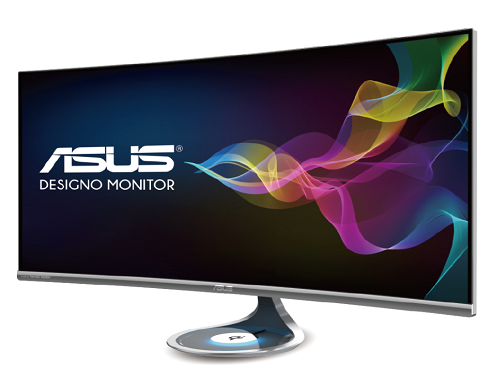 ASUS VivoMini UN65U is designed to deliver fully functional computing for the home or the office. It has rounded edges, a Zen-inspired spun-metal-effect finish and weighs under 700g. VivoMini UN65U is powered by the latest 7th Generation Intel Core (Kaby Lake) processors and comes with DDR4 RAM. This ultra-compact mini PC, in a 131 x 131 x 52mm chassis, features a dual-storage-bay design, which users can specify with up to a 1TB 2.5-inch hard disk drive (HDD), up to a 512GB M.2 solid-state drive (SSD), or a combination of both for added flexibility. M.2 support for a PCI Express SSD enables fast data transfer speeds of up to 10Gbit/s.
With 4K UHD, 802.11ac Wi-Fi and the ASUS-exclusive Media Streamer and Remote Go!, VivoMini can be used for home theatre set ups and for connecting to a HDTV. It comes with an extensive array of connectivity options, and two front panel USB ports. UN65U can also be VESA-mounted on the back of a display.
ASUS VivoMini VM65 Series is designed to provide faster performance and 4K UHD visuals while taking up as little space as possible. The higher-specification VivoMini VM65 is powered by up to a 7th Generation Intel Core i7 (Kaby Lake) processor and features discrete NVIDIA GeForce 930M Optimus graphics. ASUS SonicMaster-enhanced audio and DDR4 memory make the VivoMini VM65 Series a good choice for a daily computing platform or a powerful home entertainment hub. These mini PCs feature Vivo DualBay for flexible storage options. Users can choose 2.5-inch solid-state disks or hard disk drives to speed up the operating system or to provide plenty of storage for movie and music libraries. VivoMini VM65 Series also deliver USB 3.1 Gen 2and 802.11ac Wi-Fi connctivity.
The ASUS VivoMini VC66 Series mini PCs are designed for a wide range of computing tasks for the office. They are powered by desktop-grade 7th Generation Intel Core processors with DDR4 RAM.
VC66 Series utilize a 5x5in mini-STX motherboard design with support for up to three storage devices and optical drive configurations. The design can accommodate up to a single M.2 SSD and two 2.5-inch SSDs and HDDs to give users the flexibility to mix and match storage options to suit their needs. Built-in RAID support also makes them ideally suited as NAS devices or mini server systems.
These mini PCs are compatible with any monitor, HDMI-equipped TV, or projector. Their connectivity features include four USB 3.0 ports on the front panel for added convenience as well as HDMI, DisplayPort++ and DVI ports. They also come with ASUS-exclusive LANGuard protection, which employs signal-coupling technology to protect the device against lightning strikes and static-electric discharges.