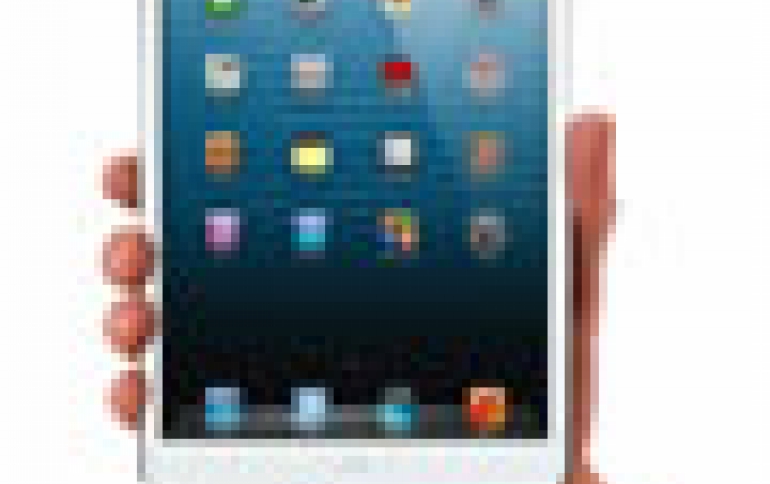 Apple Sells Three Million iPads
Apple has sold three million iPads in three days since the launch of its new iPad mini and fourth generation iPad - double the previous first weekend milestone of 1.5 million Wi-Fi only models sold for the third generation iPad in March. Apple said the Wi-Fi + Cellular versions of both iPad mini and fourth generation iPad would ship in a few weeks in the US and in many more countries later in 2012.

"Customers around the world love the new iPad mini and fourth generation iPad," said Tim Cook, Apple?s CEO. 'We set a new launch weekend record and practically sold out of iPad minis. We're working hard to build more quickly to meet the incredible demand."

The new iPad mini features a stunning 7.9-inch Multi-Touch display, FaceTime HD and iSight cameras, wireless connectivity and 10 hours of battery life. The new fourth generation iPad features a 9.7-inch Retina display, new Apple-designed A6X chip, FaceTime HD camera and fast wireless performance.

Both iPad mini and the new fourth generation iPad with Retina display are available in 34 countries including the US, Australia, Canada, France, Germany, Hong Kong, Japan, South Korea and the UK, and will be available in many more countries later this year, including mainland China. Apple says that demand for iPad mini exceeded the initial supply and while many of the pre-orders have been shipped to its customers, some are scheduled to be shipped later this month.

In the third quarter, Apple's share of the tablet market slipped to about 50 percent from about 66 percent in the prior three-month period as demand surged for competing products from Amazon and Samsung.

Worldwide tablet shipments totaled 27.8 million in the period, an increase of 50 percent from a year earlier, researcher IDC said in a report today. Samsung shipped 5.1 million devices in the third quarter, more than double the number from the previous period. Amazon?s market share increased to 9 percent from 4.8 percent.