Apple Retakes the Lead in the Wearable Band Market in Q3 2017
Apple retook the lead in the wearable band market in Q3 2017, with shipments of 3.9 million, according to Canalys.
Apple posted its strongest quarter so far in 2017, thanks to the release of the Apple Watch Series 3. Xiaomi and Fitbit, which shipped 3.6 million and 3.5 million wearable bands respectively, have also bucked the trend of the traditionally weaker Q3 by posting quarter-on-quarter growth. But despite the increase in smartwatch shipments, waning demand for basic bands meant the overall wearable band market fell 2% to reach 17.3 million units.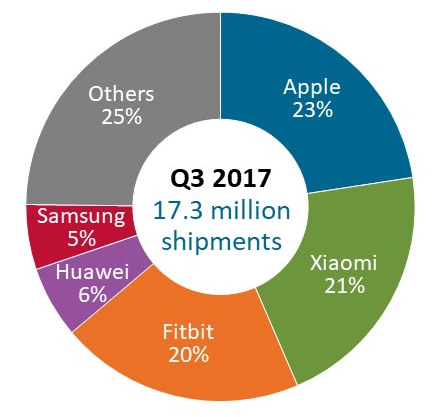 Samsung, Apple and Huawei, the top three smartphone vendors by volume in Q3 2017, have positioned smartwatches to complement their premium smartphones.