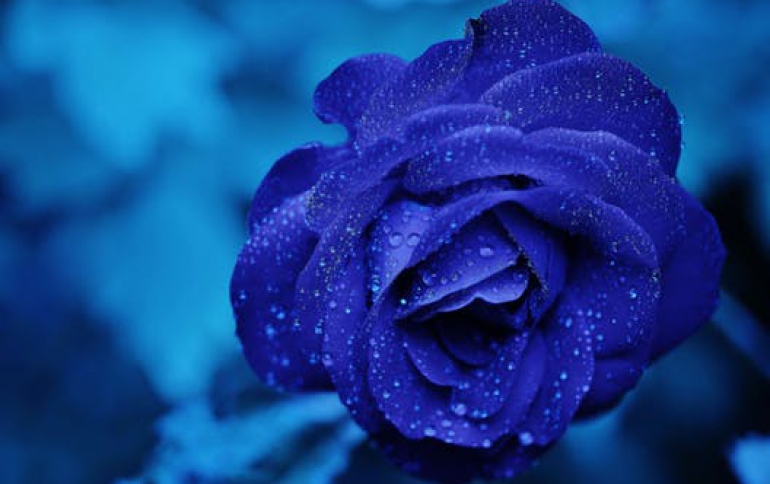 AMD Claims Zacate APU Offers 2x Faster GPU Performance Than Intel's Core i5
AMD unveilled the first North America public demonstrations of its AMD Fusion Accelerated Processing Unit (APU) codenamed "Zacate," a new dual-core, 18-watt TDP processor containing discrete-level graphics capabilities on die. The new APU is targeting value and mainstream notebooks and desktops, schedulled to appear on the market early in 2011.
Mainstream notebook and desktop PCs based on the AMD Fusion APU will support multitasking multimedia tasks such as full HD streaming of online video and online DirectX 11 gaming with high image-quality settings.
AMD previewed accelerated Internet browsing, showing how "Zacate" APU-based platforms support the future of GPU-enabled web browsing today and how these platforms perform side-by-side against currently available AMD- and Intel processor-based notebooks.
AMD demontrated the accelerated cloud gaming experience via APU-based browser acceleration. The company compared an AMD "Zacate" system with anoterh one based on Intel's Core i5 M 520 2.4GHz system. Both systems run AMD's "Space Command" game that shows the graphics acceleration of Direct2D technology in the Internet Explorer 9 browser. The game is built in HTML 5 language, which has been designed to leverage the GPU in a PC to improve the performance of graphics-intensive apps. According to the test, the AMD system runs about 10 Frames Per Second (FPS) faster than the Intel system.
AMD also setup a Core i5 notebook and a Zacate test platform running "City of Heroes" at the same settings (1024 x 768, low quality). The Core i5 notebook managed 14 - 19 fps. The Zacate platform did much better, with a performance in the 27 - 34 fps range.
AMD also ran some IE9 benchmarks on the two platforms. The IE9 book reading/page flipping test showed more than a 2x performance improvement.
Systems based on AMD's low-power Fusion APU are expected in Q1 2011.
"Brazos" is the codename for the notebook, netbook and desktop platforms that will be built from the APU. But the APU itself comes in two flavors based on performance and (low) power draw:
- The 18-watt TDP APU codenamed Zacate for ultrathin, mainstream, and value notebooks as well as desktops and all-in-ones.
- And a 9-watt APU codenamed Ontario for netbooks and small form factor desktops and devices.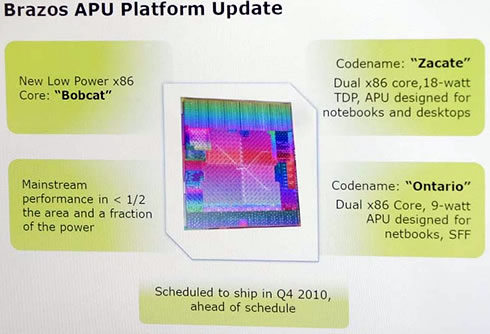 Both low-power APU versions feature two "Bobcat" x86 cores and fully support DirectX11, DirectCompute (Microsoft programming interface for GPU computing) and OpenCL (cross-platform programming interface standard for multi-core x86 and accelerated GPU computing). Both also include UVD dedicated hardware acceleration for HD video including 1080p resolutions.
AMD also compared the "Zacate" APU with Intel's dual-core Pentium and Atom processors: