Amazon Unveils New Drone For Prime Air Delivery
Amazon.com on Sunday unveiled its newest drone prototype can fly 15 miles and reach an altitude of 400 feet. The revealed a new prototype for its Amazon Prime Air drone delivery program, which the company said is able to fly up to 15 miles and reach altitudes of 400 feet.
Amazon Prime Air is a future service that will deliver packages up to five pounds in 30 minutes or less using small drones. Weighing less than 55 pounds, Prime Air vehicles will take advantage of sophisticated "sense and avoid" technology, as well as a high degree of automation, to operate beyond the line of sight to distances.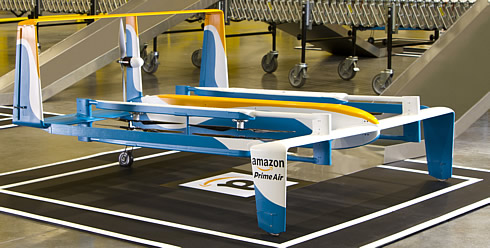 The prototype unveiled on Sunday represents only the second design Amazon has shown to the public after displaying an eight-propeller device when the company first announced the program in Dec. 2013.
"We are testing many different vehicle designs and delivery mechanisms to discover how best to deliver packages in a variety of environments," read the company's website. "We have more than a dozen prototypes that we've developed in our research and development labs."
"We will deploy when and where we have the regulatory support needed to safely realize our vision." Amazon says.
Amazon is competing with the likes of Google and Walmart to launch viable drone programs.