ACER Unveils 2016 Back-to-School Product Line New York Event
This morning Acer unveiled a lineup of Windows 10 devices at their next@acer event in NYC. These devices offer users a wide variety of form factors - including a fanless liquid-cooled 2-in-1 and an ultra-slim PC; to new gaming PCs that deliver premium gaming and virtual reality experiences. Acer is pursuing multiple growth engines of its core business, while exploring new market domains to broaden its business boundaries as it transforms to become a hardware + software + services company.
Acer announced the expansion across its high-octane Predator gaming series, new consumer notebooks including 2-in-1s and convertibles, commercial portfolio, Chromebook, and more for the back-to-school season.
The liquid-cooled Switch Alpha 12 2-in-1 notebook with Windows 10 delivers a heightened level of mobility with an ultra-slim, flexible notebook-to-tablet design. It featurea a kickstand and an attachable keyboard.
Users can also enjoy 10-point touch controls on the display and use the optional Acer Active Pen for a more intuitive writing and drawing experience. The Acer Active Pen will enable people to better take advantage of Windows Ink, which will come in the Windows 10 Anniversary Update this summer.
The notebook uses a 6th Generation Intel Core i7, Core i5 or Core i3 processor to performance and 8-hour battery life.
It 12 features a 12 inch display with 2160 x1440 resolution and measures at 11.5 x 7.93 x 0.62 inches and weighs just 2.76 pounds, with the tablet and keyboard connected.
The Acer Switch Alpha 12 will be available in the United States and Canada this June starting at $599.99USD.
One of the most exciting things showcased today was Acer's lineup of Predator gaming notebooks and desktops, the Predator 17 X notebook, the Predator G1 desktop and the new Predator Z1 series monitor. These gaming PCs are ready for virtual reality (VR) devices from four major vendors: Oculus, HTC Vive, OSVR and StarVR.
The Predator 17 X notebook is powered by a 6th Generation Intel Core i7-6820HK processor, NVIDIA GeForce GTX 980 graphics, a 17.3-inch G-SYNC panel (supporting resolutions up to 3840x2160), DDR4-2133 memory, and enterprise-level solid-state drives in a three-SATA-SSD RAID 0 array. All of this killer hardware- along with a custom triple-fan cooling system - delivers a combination of power and portability. And with overclocking, gamers will enjoy class-leading turbo speeds of up to 4.0GHz for the CPU; up to 1310MHz for the GPU; and up to 3.7GHz for VRAM.
The Predator 17 X notebooks will be available at retailers in North America in June with prices starting at $2,799; in Europe in June with prices starting at €2,499; and in China in May with prices starting at ¥39,999.
The small but powerful Predator G1 desktop supports full-sized NVIDIA GeForce GTX graphics (up to Titan X), 6th Generation Intel Core processors, up to 64GB DDR4 memory, and 4K2K Ultra High Definition visuals - and it fits under one arm, so it's perfect for taking to LAN parties. The Predator G1 also offers massive storage, including up to a 4TB (7200 RPM) hard disk drive or a 512GB solid state drive. Finally, for gamers interested in virtual reality: You can just plug in a VR headset and get ready to explore new worlds.
The Predator G1 desktops will be available in North America in July with prices starting at $2,299; in Europe in June with prices starting at €1,199; and in China in July with prices starting at ¥10,999.
The new Predator Z1 series monitor is Acer's first curved 27-inch gaming monitor featuring NVIDIA G-SYNC technology and a host of other top gaming features.
The Z1's 1800R curve enhances the sense of depth, and provides a wide field of view and a broad viewing angle.
The Z1 monitor also includes other gaming features such as AcerVisionCare and BlueLightShield to lessen eye fatigue, as well as GameView, which enables special settings such as dark boost (which fine-tunes visuals for more details in darker scenes), and aim point assistance to help get the jump on opponents and land those perfect shots.
The Predator Z1 monitors will be available in North America in June with prices starting at $599; in Europe in June with prices starting at €599; and in China in May with prices starting at ¥4,999.
Acer announced new additions to its Aspire notebook series with the convertible Aspire R 15, all new Aspire F Series with premium metal covers, and the Aspire E Series and Aspire ES 15 for everyday computing, powered by Windows 10.
The Aspire R 15 features 6th Generation Intel Core processors, up to 12GB DDR4 memory with faster speed and lower power consumption, up to NVIDIA GeForce 940MX graphics and a reversible USB 3.1 Type-C port.
The new Aspire F Series features premium-finish metal covers in five colors and 6th Generation Intel Core processors.
The 2016 Acer Aspire E Series is refreshed with seven color options. Equipped with 6th Generation Intel Core processors, up to NVIDIA GeForce GTX950M graphics with GDDR5 VRAM, and DDR4 RAM, and the Aspire E series provide ample power for everyday use.
The 2016 Aspire ES 15 is refreshed with the latest 6th Generation Intel Core processors and comes in three new colors: Midnight Black, Rosewood Red, and Cotton White.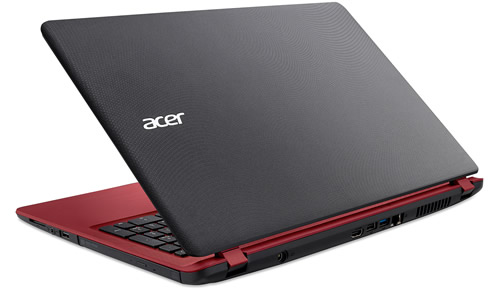 The additions to the Aspire notebook series will be available in North America in May: the Acer Aspire R 15 with prices starting at $699, the Acer Aspire F Series with prices starting at $499, and the Acer Aspire E Series with prices starting at $399.
The latest addition to Acer's ultra-slim S series notebooks is the Aspire S 13, a thin and powerful Windows 10 notebook for design-conscious users. Running Windows 10 with the option of a 10-point touch display, the Aspire S 13 is powered by 6th Generation Intel Core processors and up to 8 GB of LPDDR3 system memory.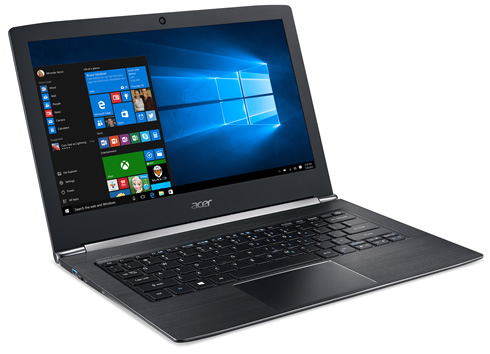 The optional 54 Wh 3-cell Li-ion battery lasts up to 13 hours, enabling users to get the most out of their machine every day.
Available in Obsidian Black or Pearl White, the unit is housed in an immaculate chassis featuring a chamfer diamond-cut on the edges and the touchpad, with Acer nano-imprint patterning on the top cover and a blend of premium finishes.
The Acer Aspire S 13 will be available in North America in May with prices starting at $699.
Expansion across the commercial line-up
Acer also showcased its new commercial line-up across notebooks, desktops, and monitors, including the new 15-inch TravelMate P658, the latest member of the P6 commercial notebook family.
It features the latest 802.11ad gigabit Wi-Fi technology from Qualcomm Atheros, Inc. which can deliver speeds up to 4.6 Gbps and enable a wired-equivalent productivity environment, connecting the notebook to multiple displays, networking and other I/O ports, through the Acer ProDock Wireless.
The Veriton N series is refreshed with the new N6640G and N4640G commercial desktops, combining flexibility, security, and manageability in a compact 1-liter form factor. It is expandable with a modular design with graphics card, optical drive, and I/O expansion options available. It works alongside the new Acer BE0 series commercial monitors, which features a ZeroFrame design with a narrow frame on all four sides of the display.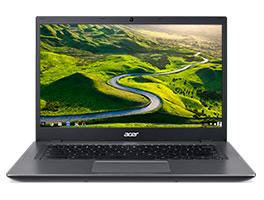 In addition, Acer debuted its new Chromebook 14 for Work, the first Chromebook with 6th Generation Intel Core processors.
The device provides performance and long battery life of up to 12 hours. It is also the first notebook to feature Vibrant Corning Gorilla Glass, providing Acer's corporate customers with the flexibility to design the top cover with photorealistic images that are highly durable and scratch-resistant.
The new Chromebook is compliant with Google's Chrome for Work initiative, providing business-class security, manageability and durability. The Acer Chromebook 14 for Work is easy to deploy and manage over a wide range of employees and offices. Also, IT administrators will find it easy to make updates, configure apps, utilize extensions and more. Plus, Chromebooks protect company employee and company data with the latest security protocols and auto-updates.
Acer will be offering models with 14-inch HD and Full HD displays. Two keyboard options are available: standard and backlit models for improved efficiency in low-light areas.
The Chromebook 14 weighs 3.2 pounds (1.45kg) and measuring 13.03W x 8.94D x 0.88H inches (330.9 x 227 x 22.4 mm) thin.
Other features inculde an 720p webcam with 1280 x 720 resolution, HD audio, a USB 3.0 Type-C port, an HDMI port, dual-band 802.11ac6 Wi-Fi featuring 2x2 MIMO technology, Bluetooth 4.2.
It will be available in several configurations, either with 32GB or 16GB eMMC storage and either 8GB, 4GB or 2GB of dual channel LPDDR3 SDRAM.
Several models in the Acer Chromebook 14 for Work line (CP5-471) will be available in May through Acer authorized resellers starting at $349 in the United States and €249 in EMEA.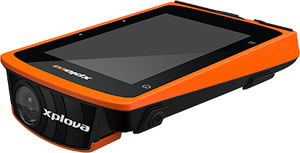 On course in its transformation into a hardware + software + services company, Acer announced the first cycling computer with video recording capabilities, the Xplova X5, an integrated hardware, software and services solution designed for the cycling enthusiast market and community. Acer acquired the GPS cycling computer brand, Xplova, last September as part of its plan to explore and expand business boundaries and into sports services. The Xplova X5 records cyclists' journeys and allows them to sync, store, and share favorite cycling routes, places of interests in the cloud and on social media.