24x CD-RW Slim Combo Roundup Vol1 (Asus SCB-2408 & LiteOn LSC-24081MX)
1. Asus SCB-2408 - Features, Installation
24x Slim CD-RW Combo Roundup Vol.1- Page 1
ASUS SCB-2408-D and LiteOn LSC-24081MX are 4-in-1 external slim combo drives supporting 24x CD-R, 12x CD-RW, 24x CD-ROM, and 8x DVD-ROM.
Featuring lightweight design and high-speed interfaces, the drives mainly address the needs of notebook users, capable, however, of replacing your internal ATAPI combo in your desktop PC.
- Asus SCB-2408 features
FlextraLink™ Anti-buffer Under Run Error Technology prevents users from buffer underrun problems caused by an empty data buffer, thereby eliminating the creation of unusable discs. Throughout the recording process, FlextraLink™ consistently monitors the data buffer status to ensure best recording quality. Once the available data drops below 1% of the total buffer capacity, FlextraLink™ suspends recording and sets a marker at the last written position to avoid recording of subsequent blocks. As soon as enough cache data is refilled in, the pickup head repositions itself to the marker and restarts the recording.
2nd Generation Double Dynamic Suspension System (DDSS II)
The DDSS II is an enhanced follow-up to the first generation Double Dynamic Suspension System developed by ASUS. The DDSS technology is designed to minimize the vibration caused by the spindle motor and resonance between components as well as the drive and PC cases.DDSS II makes tracking and focusing even more precise, and successfully reduces the vibration and noise caused by high revolution of the spindle motor.

FlextraSpeed™ (Flexible and Strategic Speed Switch Tech.) for optimal recording speed. FlextraSpeed™ enhances accuracy and reliability when writing/re-writing across a broad base of certified media. It continuously monitors the recording media and sets the optimal writing speeds to ensure best recording quality.
Built-in Proprietary AI Auto Speed Adjustment Technology helps the drive achieve the best possible readability when coming across a broad base of certified media in different formats. It not only continuously monitors the reading speed of the media but also sets the optimal speeds as well. The latter greatly saves power and prolongs the drive's life.
- Specifications
| | |
| --- | --- |
| Data Transfer Rate: | P-CAV Write/ P-CAV ReWrite/ CAV Read |
| Sustained Transfer Rate: | DVD-ROM: 8X Max. 10820 KB/sec (CAV) |
| | CD-ROM: 24X Max. 3600 KB/sec (CAV) |
| | DAE: 24X Max. 3600KB/sec (CAV) |
| | CD-Write: 24X, 20X, 16X, 10X, 8X, 4X |
| | CD-ReWrite: 12X, 10X, 8X, 4X |
| Random Access Time: | DVD: 120 ms typical |
| | CD: 100 ms typical |
| Writing Mode: | TAO (Track-At-Once) |
| | DAO (Disc-At-Once) |
| | SAO (Session-At-Once) |
| | Packet Write, Multi-Session, DAO-RAW |
| Interface: | USB2.0 and IEEE1394 |
| Data Buffer: | 2 MB |
| Disc Formats: | DVD: DVD-ROM, DVD-R/RW, DVD-Video, DVD+R/RW |
| | CD: CD-Audio, CD-ROM, CD-ROM/XA, CD-I, Mixed Mode CD-ROM, Photo CD, CD-Extra, Video CD, CD-Text, DVCD, Bootable CD |
| Configurations: | Dimensions (W/H/D): 129x16x142 mm |
| | Weight: 250g (0.55 lb) |
The Asus SCB-2408 drive supports 24x P-CAV writing, 24x CAV CD-R/ROM reading and 12x rewriting. The drive is also able to read DVD-ROM at 8x CAV.
Nero Info Tool confirms the specifications of the drive, reporting also that the supported writing methods are the Disc At Once, Track At Once, Session At Once, Packet Writing, Raw Mode Burning & Over-Burn.
Mount Rainier compliance is not included in the drive's specification list, and the user is able to change the region of the drive 5 times in total (RPCII).
- The package
The retail package is complete and includes the external Asus SCB-2408 combo drive, a manual in English and Traditional Chinese languages, a quick installation guide in 12 languages and a S/W CD.
This includes Nero Burning Rom software, DVD playback software and USB 2.0 drivers for Win 98SE and Mac OS.
The package also offers one blank CD-R and one CD-RW disc. In the accessories we should also mention the stylish drive bag (jacket), fitting exactly to the drive's small dimensions, very handy when you travel or carry the drive.
Last, the retail package includes a complete cable set of USB 2.0 and IEEE 1394 connection cables, and a power adapter.
The ASUS SCB-2408-D features a lightweight and very stylish design. Its dimensions are only 129x16x142 mm (W / H / D) and its weight is approximately 250g, offering high portability.
The eject button is placed on the top of the drive, and the top-opened CD lid is accurate and steady. The user-oriented design includes a play/skip key and open/stop buttons, allowing full control of the drive when playing an audio / MP3 CD.
A headphone jack and a volume control switch are available in the rear panel of the drive. Here you can also find the dual interface inputs.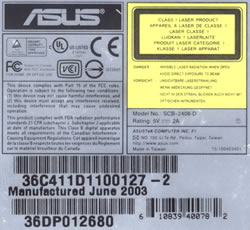 - Installation
The Asus drive was connected via the USB 2.0 interface and was recognized as "ASUS SCB-2408" under WinXp. The firmware we used for all the tests was v1.20.