Toshiba Canvio Wireless Adapter Transforms External Hard Drives Into NAS Devices
Toshiba today introduced the Canvio Wireless Adapter, a simple device that adds wireless networking capabilities to any traditional external hard drive.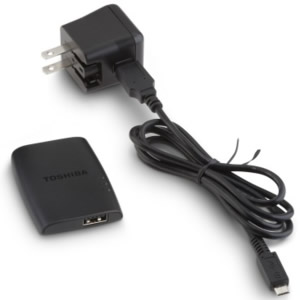 The adapter makes it simple to add storage to a smartphone or tablet by wirelessly uploading pictures, videos and documents to an external hard drive instead of taking up space on the mobile device. The Canvio Wireless Adapter also makes it easy to share content to up to eight other devices at once. Users can also play their entire digital media library stored on an external hard drive by streaming them to a tablet or smartphone.
The compact device is easily connected to an external hard drive and a USB power source, allowing tablet or smartphone users to wirelessly access the drive. Both Android and iOS apps are available.
Plus, the device includes an Internet pass-through mode, allowing users to simultaneously maintain their connection to the web and the Canvio Wireless Adapter when connected.
The Canvio Wireless Adapter is available for purchase at for $79.99 MSRP.