Sony's Blu-ray Disc at IFA
Sony will showcase its wide range of Blu-ray products at IFA, Berlin, from disc players to high-end audio-visual systems, VAIO notebook PCs and PLAYSTATION3.
Blu-ray Disc Players BDP-S350 and BDP-S550
These next-generation Blu-ray players are brimming with advanced features not found on conventional DVD players. Both players can exactly reproduce the 24 frames per second of the cinematic original. The BDP-S550 even has support for DTS-HD Master Audio Decoder and 7.1 Ch analogue audio output which means that it can be connected directly to a legacy home-theatre receiver without HDMI.
These Blu-ray disc players also feature Precision Cinema HD Upscale, which can increase the resolution of standard DVDs (480i) to 1080p. Furthermore, the BDP-S550 comes with BD Live. The BDP-S350 is BD Live-ready, and customers can download the software upgrade directly to the player from October onwards.
Both players are easy to use thanks to their XcrossMediaBar interface, and BRAVIA Sync technology makes connecting and operating them together with BRAVIA televisions and Home Theatre systems as simple as it can be.
High-End Blu-ray Player BDP-S5000ES
Engineered to meet the most demanding requirements of the serious Home Theatre devotee, the BDP-S5000ES will push the High Definition experience to the limit.
The player combines high picture quality with the very best audio. Advanced 14-bit video processing technologies like HD Reality Enhancer and Super Bit Mapping selectively sharpen detail, enrich colour and disguise imperfections in the original source. Analogue output is assured by the high performance 14-bit/297MHz digital/analogue converter (DAC).

When it comes to audio, the BDP-S5000ES offers decoding for the latest High Definition audio formats including Dolby TrueHD and DTS-HD, with 7.1 channel Linear PCM output as well as Dolby TrueHD and DTS-HD bitstream audio output to external AV receivers or decoders.
A high-stability Precision Drive HD transport mechanism and rigid frame and beam chassis construction suppress vibration and yield near-silent operation.
To make the most of the extra features becoming available on Blu-ray title releases, the S5000ES is compatible with BD-Live, enabling it to access exciting online services and extra content, such as commentaries and special features, which can be downloaded from the Internet and saved on the included 1GB USB flash storage device.
In addition, that Internet connection, via the player?s Ethernet port, will allow future firmware enhancements.
VAIO FW-Series Notebook with integrated Blu-ray Disc drive
Surprisingly compact, yet with a 16.4-inch display the Blu-ray equipped VAIO FW has everything you need to make HD editing a reality. The FW-Series is based on the new Intel Centrino 2 platform, boosting everything from multitasking and memory speed to battery life.
With the ability to write as well as read Blu-ray Discs on selected models, the VAIO FW lets you edit and store up to 50GB of personal HD video content on a single disc. An combination of software including Adobe Premiere Elements 4.0, VAIO Movie Story and Click to Disc/Editor is pre-installed so you have the tools you need to handle HD video right out of the box.
The WXGA++ (1600 x 900) resolution means masses of workspace as well as perfectly reproduced 16:9 widescreen HD format movies or personal HD video content. In addition, Sony?s exclusive X-black LCD screen enhancement boosts contrast. Selected models feature double lamp technology for extra brightness.
In order to make sure that HD movies sound as good as they look, the range uses Dolby Sound Room technology.
BRAVIA Theatre BDV-IT1000
This Blu-ray home theatre uses ultra-slim drive units developed by Sony inside an array of stylishly thin speakers. Sony?s S-Master digital amplification delivers a 700W total power through the 5.1 setup, which features wireless rear speakers for maximum convenience and flexibility. The main control unit incorporates a Blu-ray drive, and the system can also upscale DVDs to 1080p quality. What?s more it?s BD-Live Ready, able to be upgraded with a simple download via its Ethernet port and the addition of a USB flash memory device.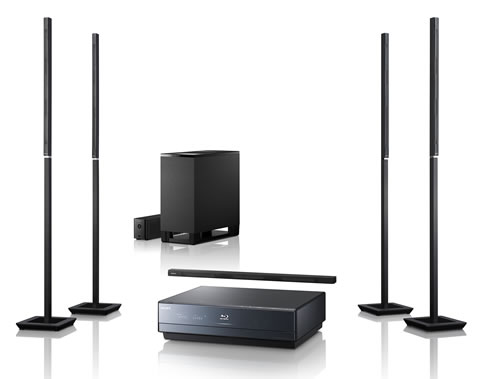 With Blu-ray titles the BDV-IT1000 can deliver the full cinema experience, with 1080/24p picture resolution, Deep Color and x.v.Colour, and it will also decode and play the latest High-Definition audio formats ? Dolby Digital Plus, Dolby TrueHD and DTS-HD Master Audio ? for better than CD quality sound to match its amazing pictures.