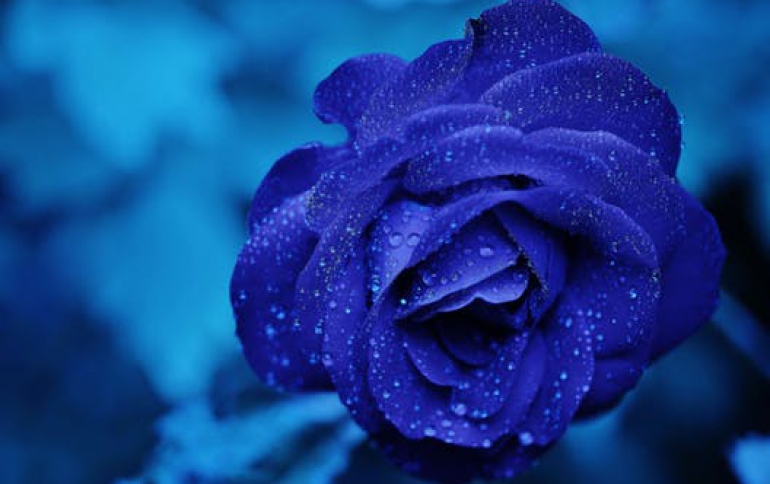 Sony Releases New Cyber-shot RX100 Camera, New Waterproof Handycam
Sony today released its new flagship compact camera, the Cyber-shot DSC-RX100, along with the waterproof HDR-GW77V camcorder.
Sony Cyber-shot DSC-RX100
The aluminium-built RX100 camera inherits many imaging features from Sony's a range of A-mount and E-mount cameras, shooting still images, full HD videos and offering many manual controls.
At the heart of the Cyber-shot RX100 is the first 1.0-inch type Exmor CMOS sensor with a resolution of 20.2 effective megapixels. Specially developed by Sony, the sensor has an area that's approximately four times larger than the 1/2.3-type sensors in traditional point-and-shoot cameras. The sensor's larger area takes in more light while capturing content, resulting in detail-packed images and low-noise Full HD movie clips.
The larger sensor is partnered with a Carl Zeiss Vario-Sonnar T fixed lens with 3.6x optical zoom range. In contrast to standard point-and-shoot cameras, it has a wide F1.8 maximum aperture to let in additional light and complement the resolving power of the larger sensor.
Similar to high-performance DSLR optics, the lens features seven- bladed circular aperture. This makes it easy to produce images with subjects in sharp focus against a smoothly-blurred, defocused background. The lens also features an Advanced Aspherical (AA) lens element that contributes to the camera's compact dimensions.
Newly optimized to complement the 1.0-inch type sensor and lens, the camera's BIONZ image processor maximizes shooting response times while helping assure clean images. It also extends sensitivity right up to ISO 25600 (using Multi Frame Noise Reduction), allowing for clear handheld images in low light conditions. To capture fast-moving subjects, the RX100 camera can also shoot at up to 10 frames per second (in full resolution) and has high-speed autofocus that locks onto a subject in as quickly as 0.13 seconds (depends on scene and lighting conditions).
The new RX100 camera features a high-resolution 3-inch 1,229k dot Xtra Fine LCD display and also adds a new feature: WhiteMagic technology. This uses additional white pixels to boost screen brightness, allowing users to see subtle details and tones on the screen in all types of shooting environments, including outdoors in bright sunlight.
For making manual adjustments while shooting both still images and movies, the new camera has a smooth control ring around the lens body, which can be used to alter exposure, zoom, creative picture effects and a variety of other customizable functions. Additionally, frequently used functions can be assigned to the Fn (function) button for instant access, and the Memory Recall feature can store up to three groups of customized shooting settings based on user preference.
Similar to a DSLR-style interface, there's a choice of auto and manual focus modes on the Cyber-shot RX100 camera for image control. For those that prefer focusing manually, MF Assist magnifies images to simplify fine adjustments, and there's also a pro-style peaking function that highlights sharply-focused areas of the image on screen.
The RX100 camera also includes the option for six different creative styles and a variety of popular picture effects including Toy Camera, Partial Color, HDR Painting and several others, most of which can be previewed directly on screen before shooting.
The new Cyber-shot features Auto Portrait Framing - a feature found on Sony's latest a range of A-mount and E-mount cameras -- making it simple to create framed portraits. This eature automatically detects faces in a scene, crops the picture accordingly creates a tighter composition at full resolution. Both the original and cropped photo are saved for review.
The Cyber-shot DSC-RX100 digital camera will be available this July for about $650.
Sony HDR-GW77V camcorder
The new HDR-GW77V camcorder can capture full HD video and 20.4-megapixel photos in extreme conditions, so that indoors or out. Waterproof down to 16 feet, the camcorder's 3.0" (16:9) Xtra Fine LCD touch screen (921K) remains fully operational when submerged and it also has an "Underwater Mode" which adjusts the white balance for underwater conditions to make colors appear natural.
Sony's latest camcorder is also shockproof and dustproof making it durable enough to withstand an accidental drop from up to approximately 5 feet and suitable for just about any situation.
The waterproof camcorder uses a back-illuminated Exmor R CMOS sensor along with a built-in flash.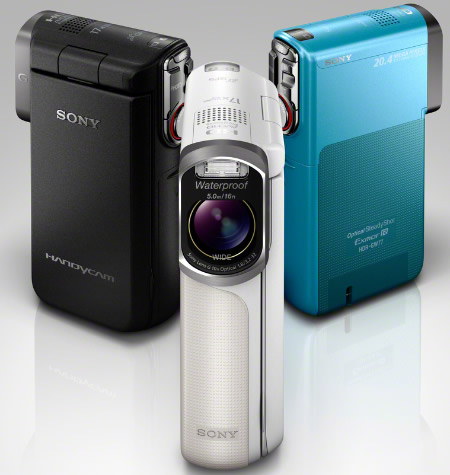 For the first time, Sony introduces Intelligent Sweep Panorama mode for still photo into the camcorder family. The feature found in Sony Cyber-shot cameras reaches beyond the traditional wide angle lens and lets you capture expansive shots of landscapes or cityscapes just by pressing the shutter button and panning the scene with a sweeping movement.
The Extended Zoom feature digitally boosts the camcorder's 10x optical zoom range to a 17x maximum magnification. And with 16GB of embedded Flash memory, it can record and store up to 4 hours of high definition video content (HD LP mode).
Another standout feature is Optical SteadyShot image stabilization with Active Mode which compensates for greater degrees of camera shake. To further balance movement, 3-Way Shake-Canceling adds electronic roll stability for even smoother video capture.
Along with these features, the camcorder uses Sony's professional-quality G Lens. In addition, the 29.8mm focal length in Photo Mode and Video Modes offers a broader perspective for enhanced wide angle shooting.
The HDR-GW77V camcorder also employs a built-in GPS receiver and NAVTEQ maps. The receiver gives you the ability to view your current location on the LCD map display, automatically "geotag" your shooting locations, and view the geotagged content using a Map Index function on the camcorder or once downloaded to a computer using the supplied PlayMemories Home software.
The camcorder also includes the following technologies:
- iAUTO - automatic selection of optimal camcorder settings in different environments; up to 99 scene combinations possible
- Tracking Focus - extension of Face Detection to choose an object by touching the LCD panel and having the focus follow the selected object
- Self Portrait Timer - setting that ensures properly framed arms-length photos of you and your friends
- Highlight Playback ? mode to identify and compile key scenes into short, entertaining movies complete with music and transitions
- Event Browse - groups your images and videos together for easier viewing; can be used with Highlight Playback to create and share a highlight reel from your event
Sony's new camcorder can record video and still images directly to Memory Stick PRO Duo media, Secure Digital (SD), or SDHC media card (all sold separately) in addition to 16GB of embedded memory.
The camcorder is compatible with both PC and Mac computers. Mac users can transfer AVCHD content and edit video clips in HD quality using iMovie software. For PC users, the PlayMemories Home software enables viewing, editing, organizing and uploading images to many major video and photo sharing Web sites.
The HDR-GW77V Waterproof Handycam camcorder will be available later this month for about $700.