Sony Introduces New Portable DAC/Amplifier And ES Series Integrated Stereo Amplifier
Sony extends its new line of High Resolution Audio products by introducing the PHA-2 portable headphone DAC/amplifier and TA-A1ES integrated stereo amplifier. Both products have been specifically designed to support the latest high-resolution music sources. The PHA-2 portable headphone amplifier is the first portable DAC/amplifier to be compatible with virtually every high-resolution digital file format, including up to 192 kHz/24-bit PCM and both DSD (2.8MHz) and Double DSD (5.6MHz).
It features an Asynchronous Transport Mode which utilizes a dedicated signal generator to reduce timing errors for more accurate, jitter-free converter performance. It also incorporates a high precision D/A converter, along with such devices as a custom headphone amplifier IC with high slew rate, ultra-low distortion operation; OCL (output capacitor-less) current feedback architecture; plus a dual power supply operation for more stable and accurate reproduction.
All of these select components are enclosed in an aluminum chassis which is fully protected from external interference. The PHA-2 headphone amplifier also has a variable gain headphone input that supports a wide range of impedances; as well as Zinc die-cast bumpers to protect the volume control and headphone connector from external shock and vibration.
The PHA-2 can be connected to both PC and Mac computers via its USB 2.0 interface, and also includes a dedicated digital input for iPod, iPhone and iPad products. Other portable audio sources such as Android smartphones and digital music players can be connected via the analog audio input. The PHA-2 comes with a built-in Lithium-ion battery which runs up to 6.5 hours with a digital connection and up to 17 hours with an analog connection on a single charge.
The TA-A1ES integrated stereo amplifier is the latest offering in Sony's Elevated Standard Series and has been specifically designed to complement the company's new HAP-Z1ES reference standard Hi-Res Music Player.
The A1ES stereo amplifier utilizes a frame/beam/base chassis that was originally developed for Sony's R-Series components. Employing FET input and buffer circuits that enhance performance, the amplifier's optimum gain volume control combines electronic volume with a discrete buffer amplifier, allowing it to reduce gain error and according to Sony, produce sound quality superior to conventional volume controls.
The TA-A1ES has a power amp stage featuring Smart Bias Control for Class-A operation and Single Push-Pull Hi-Current Amplifier. It is designed with a single pair of transistors to eliminate variations in each channel at the source, as well as variation controlling emitter resistance, allowing the transistors to drive the speakers directly. Sony's toroidal transformer packs a 300VA rating, as well as a capacitor delivering 24000μF per channel.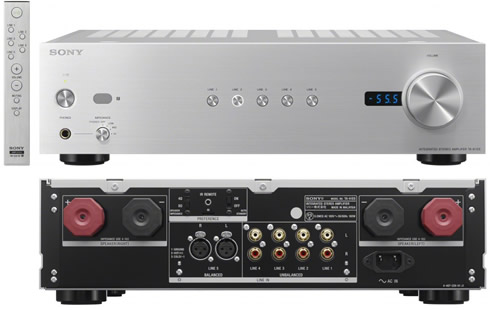 Each of these devices is capable of playing back virtually any file format available, whether it's MP3s or the latest Double DSD files. With the growth of audio technologies, including high-resolution formats like PCM (44.1kHz/ 48kHz/ 88.2kHz/ 96kHz/ 176.4kHz/ 192kHz in 24 bit depth) and DSD (DSF, DSDIFF); plus MP3, WAV, WMA, AAC, FLAC, ALAC, ATRAC, ATRAC Advanced Lossless and AIFF; there are an increasing number of digital music files to choose from. The new Sony Hi-Res audio products simplify this process and make transferring these files more convenient. Further, all of the controls, including the user interfaces, have been designed to make storing, organizing and accessing digital music easy.
The PHA-2 portable headphones amplifier will be available next March for $599 at Sony Stores and other national electronics retailers. The TA-A1ES stereo amplifier will be available in November at select Sony Stores and authorized ES dealers nationwide for $1,999.
Sony PHA-2 Portable High Resolution DAC/Amplifier
- Full Hi-Res audio: PCM 192kHz/24 bit, DSD 2.8/5.6MHz
- Direct Digital Connection for PC and Apple devices
- Enhances non hi-res music sources (via analog input)
- Asynchronous, precision USB clock
- DAC with separate operational and headphone amps
- Aluminum enclosure with protective alloy bumper
- Selectable gain supports impedances from 8 to 600 Ohm
- Lithium-ion battery for up to 17 hours battery life
- Line-out to connect external amp or active speaker
- Mounting straps, protection sheet and cables included
- Available in March 2014 for $599.99
Sony TA-A1ES Integrated Stereo Amplifier
- Integrated stereo amplifier (80 Watts x 2)
- Class-A operation with Smart Bias Control
- Single Push-Pull Hi-Current Amplifier
- Inputs include balanced (XLR x 1), unbalanced (RCA x 4), and (IR x 1)
- Outputs include SP (IMP4~, 8~) and Headphone (High, Mid and Low Impedance)
- Available in October for $1,999, in silver