Sony Introduces New Blu-ray Player, HD TVs at CEDIA
Sony is showcasing its BDP-N460 networked Blu-ray Disc player, the new XBR10 LCDs, two new audio/video receivers as well as new BRAVIA full HD home theater projectors at the CEDIA show.
Sony BDP-N460 Blu-ray player
Sony today introduced the BDP-N460 networked Blu-ray Disc player. Beside playing Blu-ray Discs and DVDs, the device instantly streams premium and free on-demand entertainment from the BRAVIA Internet Video platform including movies, TV programs, and music from YouTube, Slacker, and, later this fall, Netflix.
The BDP-N460 Blu-ray Disc/DVD/CD player delivers full HD 1080/60p and 24p True Cinema output, decodes the latest audio codecs, and is BD-LIVE capable using broadband internet connection and an external memory (sold seperately).
The BDP-N460 also features built-in software specially designed for use with the Linksys by Cisco Wireless-N Ethernet Bridge with Dual-Band (WET610N, sold separately). The bridge helps ease the connection between the Ethernet?enabled player and a wireless router in either the 2.4GHz or 5GHz radio band for optimal streaming.
The model also features a cross search function to make finding Internet content on the BRAVIA Internet Video platform easier.
The BDP-N460 also incorporates Sony?s Precision Cinema HD Upscale technology that converts standard-definition signals (480i) to near HD quality.
Additionally, the model features Sony?s Precision Drive technology, which helps to detect and correct wobbling discs from three directions, supporting stabilization of warped or scratched Blu-ray Discs and DVDs during playback.
The BDP-N460 can decode the latest advanced audio codecs including 7.1 channel Dolby TrueHD and Dolby Digital Plus, DTS-HD High Resolution Audio, DTS-HD Master Audio. The model can also output 7.1 channel L-PCM via HDMI after decoding.
It supports Deep Color video output and x.v.Color (xvYCC) technology. The model is compatible with an array of video formats, including BD-R/RE (BDMV and BDAV modes), AVCHD, DVD+R/+RW, DVD-R/-RW, CD, CD-R/RW (CD-DA format), and JPEG on BD/DVD/CD recordable media.
The model features an external port for local storage so users can add a USB flash storage device required for BD-LIVE content. A front USB port can be used to display digital photos.
Available in October, the BDP-N460 will be offered at Sony Style stores for about $250.
Slim Edge-lit Led BRAVIA HDTV Line
Sony also today introduced a new line of ultra-thin BRAVIA LCD HDTVs featuring an advanced edge-lit LED backlight and contrast ratio of over 1,000,000:1.
The XBR10-series models also deliver full 1080p wireless transmission of high definition signals from a separate media box to a receiver embedded in the TV, allowing source components to be placed out of sight.
The XBR10 models also feature an Ethernet connection allowing them to directly access Sony BRAVIA Internet Video content using an existing broadband network.
Bravia Internet Widgets, powered by the Yahoo Widget Engine, also expand and personalize the TV experience by adding on-screen applications that provide such information as weather reports, stock information, financial news, Twitter, and additional content.
The full HD 1920 x 1080 progressive (1080p) models also feature Sony?s Motionflow 240Hz technology. The Motionflow algorithm goes beyond traditional 120Hz technology by quadrupling the frame rate of conventional LCD TVs and interpolating three new frames.
The models are Digital Living Network Alliance (DLNA) compliant, enabling easy access to digital photos, music, and video stored on a PC or other DLNA server using the XMB interface and the TV?s remote control. They also offer a USB input for displaying digital photos or playing digital video and music files from a USB storage device.
Other features include the BRAVIA Engine 3, 24p True Cinema, xross media bar (XMB) with enhanced 3D favorites Menu, Internet powered TV Guide Onscreen, BRAVIA Sync, 4 HDMI inputs, RS232C and single PC, component, composite and component/composite selectable inputs.
The KDL-52XBR10 and KDL-46XBR10 models will be available this October across the United States, for about $5,000 and $4,500, respectively.
New AV Receivers
At the same event, Sony today introduced two new "Elevated Standard" (ES) audio/video receivers, including their first to offer control over an IP network, the STR-DA5500ES.
Both the STR-DA5500ES and new STR-DA3500ES are designed as easy-to-use solutions for expanding high-definition entertainment to multiple rooms of the home.
The new STR-DA5500ES model features IP network control, allowing installers to easily integrate into Control4 home automation systems. It will also support special Control4 developed and certified IP network applications, such as advanced configuration and diagnostic tools for dealers, email and text alerts, and more.
Additionally, the receiver is the company?s first to feature Automatic Phase Matching (APM), which corrects for phase differentiation between front, center, and surround speakers.
Also new, the STR-DA5500ES A/V receiver features Sony?s new HD Digital Cinema Sound. Developed together with Sony Pictures Entertainment, the new technology was designed to transform and replicate both the sound quality and acoustics of a movie theater in the home environment.
The network capabilities of the STR-DA5500ES model also allow users to view photos and access digital music and videos from a Digital Life Network Alliance (DLNA) compliant source within a home broadband network when connected via an Ethernet cable. Additionally, the connection provides access to both Shoutcast Internet Radio and Rhapsody Music Service and functions as the source for easy firmware upgrades.
The STR-DA5500ES model offers a 120-watt power amplifier x 7 (8 ohms, 20 Hz ? 20 kHz, .09 percent THD) and a variety of high definition connections, including six HDMI inputs (five rear, one front) and two HDMI outputs.
The model supports 1080/24p video signals and x.v.Color and Deep Color video codecs, as well as all the latest audio formats (Dolby Digital Plus, Dolby TrueHD, DTS HD, DTS ES, Dolby Digital EX, Dolby Pro Logic IIx and 8 channel Linear PCM).
The STR-DA5500ES also offers Faroudja chip up-scaling of all sources to 1080p in the main zone and 1080i in a second zone. Further, each connected video zone has a high-grade, icon-driven menu system that allows for simple device and content navigation. Audio can also be expanded into a third zone.
The model features Sony?s Digital Media Port for simple connection to iPod and other digital music players, and is both XM and Sirius? ready.
The STR-DA5500ES will be available next month for about $2,000.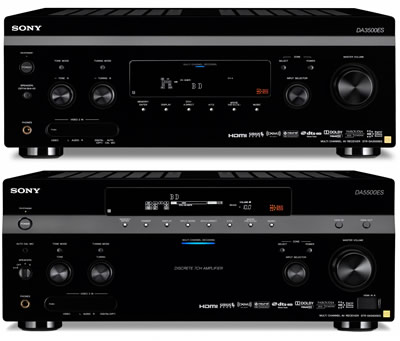 Sony also announced the new STR-DA3500ES 7.1 channel A/V receiver featuring a 100-watt amplifier x 7 (8 ohms, 20Hz ? 20 kHz, .09 percent THD) and four HDMI inputs. The model is compatible with the latest audio codecs (Dolby Digital Plus, Dolby TrueHD, DTS HD, DTS ES, Dolby Digital EX, Dolby Pro Logic IIx and 8 channel Linear PCM) and supports HD Digital Cinema Sound, 1080/24p video output as well as Deep Color and x.v.Color.
The STR-DA3500ES receiver also features 1080p up-scaling with Faroudja processing in the main room, and in total can support two zones of high-definition video and a third zone of audio. It is fully compatible with Control 4 applications, and utilizes an icon-driven menu system for content navigation and a Digital Media Port connection for easy connection to iPod. This new receiver is also both XM and Sirius radio ready.
The STR-DA3500ES will be available next month for about $1,000.
Both ES receivers are supported by a five-year limited manufacturer warranty.
New BRAVIA SXRD projector
Finally Sony today announced a new high-contrast, high-definition projector.
The new VPL-VW85 projector features a full HD 1920 x 1080 progressive Silicon X-tal Reflective Display (SXRD) and 24p True Cinema technology. The model also has a high dynamic contrast of 120,000:1 and brightness of 800 ANSI lumens.
Specifically designed with the custom installation market in mind, the VPL-VW85 has a motorized, fully adjustable, 'lens shift' function that offers more options in terms of installation and projector placement, without any image distortion. Additionally, the lens offers a 1.6x motorized zoom with horizontal and vertical adjustment, making it easy to set up in a variety of environments.
The VPL-VW85 projector also adds Sony?s Motionflow 120Hz with black frame insertion technology.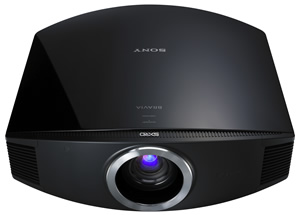 The new projector also offer RS-232C control, as well as two HDMI inputs, single component and composite inputs, and a PC input. In addition, the VPL-VW85 includes access to a dedicated CEDIA certified technical support hotline for all troubleshooting and is eligible for Sony?s Advance Exchange program.
The VPL-VW85 will be available in October for about $8,000.
For those looking to upgrade their home theater at a value, Sony also introduced the VPL-HW15 SXRD projector. The full HD 1080p model features 24p True Cinema technology, a 60,000:1 dynamic contrast ratio and a brightness of 1,000 ANSI lumens. It offers RS-232 control, two HDMI inputs and single component and composite inputs, as well as a PC input.
This VPL-HW15 projector will also be available October for about $3,000.