Sony Debuts New Cyber-shot RX1, α99 And αNEX-6 Cameras
Sony today introduced a series of new digital cameras: the new pocket-sized mirrorless Sony NEX-6, the full-frame compact Cyber-shot DSC-RX1 and the flagship α99 DSLR. The company also announced the first consumer 35mm full-frame interchangeable lens camcorder - the new NEX-VG900 Handycam camcorder.
Cyber-shot RX1
The new Sony Cyber-shot DSC-RX1 digital camera packs a 35mm full-frame 24.3 MP Exmor CMOS sensor and Carl Zeiss T*t 35mm f/2.0 fixed lens into a portable, lightweight camera body. Measuring approximately 4.5 inches wide by 3 inches tall and weighing just over a pound, it's significantly smaller and lighter than any full-frame DSLR.
The camera's Carl Zeiss lens promise to deliver spectacular image quality all the way to the edges of each frame and incorporates a near-silent in-lens shutter. The camera also features full manual control options, it has an effective resolution of 24.3 megapixels, while the large sensor size also boosts the camera's sensitivity range to ISO 100 – 25600, with the option to shoot as low as ISO 50 in expanded sensitivity mode. Similarly, ISO settings as high as 102400 can be achieved using Multi Frame Noise Reduction.
The lens' wide F2 maximum, 9-bladed circular aperture enable background defocus ('bokeh') effects to rival or exceed professional-class DSLR camera lenses. Additionally, it features a macro switching ring on the lens barrel which instantly shortens the minimum focusing distance to approximately 20cm (from image plane), allowing the camera to capture small, close-up subjects with exquisite detail.
The Cyber-shot RX1 camera also features an enhanced BIONZ processing engine that handles data from the Exmor CMOS sensor and also powers full-resolution burst shooting at up to five frames per second. The processor can output image data in 14-bit RAW format.
Dedicated lens rings allow for fingertip control of focus and aperture, while a DSLR-style Focus mode dial on the front of the camera enables easy switching between focus modes. Top-mounted exposure compensation and mode dials are placed for simple access and operation, while custom function and AEL buttons on the back panel are also easily accessible.
The new camera features a Quick Navi mode for fast adjustment of camera settings. Other refinements include a MF Assist function that magnifies a portion of the image while framing to simplify fine focus adjustments, as well as a Peaking function that highlights sharply-focused areas of the image on screen.
Additionally, the RX1 camera features By Pixel Super Resolution digital zoom technology, which allows for magnification of image size without sacrificing pixel count.
A Smart Teleconverter function crops a central portion of the image sensor, boosting effective magnification by 1.4x or 2x realizing an effective 49mm or 70mm focal length.
The Cyber-shot RX1 compact camera can capture Full HD movie footage in all lighting conditions at a choice of 60p or 24p (progressive) frame rates. There's a full complement of P/A/S/M exposure modes during video shooting.
The Cyber-shot RX1 compact, fixed lens camera will be available this November for about $2800.
Sony α99
Sony's α99 digital camera is a professional-class DSLR, combining all of the benefits of full-frame imaging with the speed of Translucent Mirror Technology.
The successor to Sony's flagship α900 DSLR, the α99 camera features a new 24.3 MP full-frame image sensor, a dual phase-detect AF system and a host of other technologies.
The flagship α99 model combines its new 24.3 effective megapixel Exmor CMOS sensor with a BIONZ image processing engine. The full frame sensor is enhanced by a newly-developed separate multi-segment optional low-pass filter, increasing its resolving power. Assisted by an all-new front-end LSI, the BIONZ engine can process massive amounts of image signal data from the sensor at very high speeds. Together with a new area-specific noise reduction (NR) algorithm, it allows to the camera to achieve 14-bit RAW output.
The evolved BIONZ processor also gives the α99 model a maximum sensitivity range (in expanded sensitivity mode) as wide as ISO50 – 25600 – a range of nine stops. Its processing power enables the camera to shoot a burst of images at up to six frames per second at full resolution or up to 10 fps in Tele-zoom high speed shooting mode.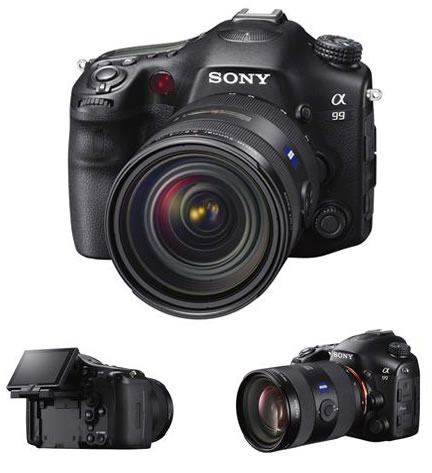 The new α99 digital camera features a dual AF system, a world's first for digital cameras. This camera's main focusing system – a 19-point AF system with 11 cross sensors - is complemented by a 102-point focal plane phase-detection AF sensor overlaying the main image sensor. Harnessing the power of Translucent Mirror Technology, light is passed to both phase-detection AF sensors simultaneously and continually, measuring subject distance and position more completely than other cameras. This Dual AF System permits fast autofocusing that maintains tracking focus even if a subject temporarily leaves the frame.
The AF-D (depth) continuous autofocus mode utilizes the Dual AF system for wider and more dense coverage of the frame, improving AF performance with fast or erratically moving subjects against complex backgrounds. Additionally, during movie shooting, AF Duration control provides reliable depth focusing information and ensures that the camera maintains proper focus on its subject when objects or people cross the focal plane.
A new AF range control allows photographers to manually select foreground and background distance to which the AF system will not respond, especially useful for shooting fast moving sports or animals through a nearby wire mesh or in front of a complex background that commonly distracts camera AF systems.
The flagship α99 model is the first full-frame DSLR to offer Full HD 60p/24p progressive video recording to meet AVCHD Version 2.0 specifications and Full-time Continuous AF Movie mode. Other enhancements include real-time Full HD video output via HDMI, and 'dual-card' recording using both of the camera's media slots.
An audio level display and adjustable audio record levels are joined by a headphone jack for in-the-field monitoring.
The camera's XGA OLED Tru-Finder viewfinder offers 100% frame coverage on the viewfinder screen with brightness, contrast, clarity and resolution. The electronic viewfinder will also maintain a 100% field of view with DT lenses that are optimized for APS-C sensor cameras, converting the angle of view automatically for image recording and display.
Complementing the Tru-Finder EVF is a three-way tiltable 1229k-dot (VGA equivalent) XtraFine LCD display with WhiteMagic technology to boost screen brightness.
Constructed of high-rigidity magnesium alloy panels, the camera weighs in at just 733g (without lens and battery).
Additionally, the camera is weather-sealed and all buttons and controls have been ruggedized.
The α99 full-frame digital system camera will be available this October as body-only for about $2800.
Sony α NEX-6M
The newest addition to Sony's E-mount camera line-up includes Fast Hybrid AF, Wi-Fi capabilities and the Play Memories Camera Apps platform recently introduced on Sony's new NEX-5R model, as well as the same high-resolution XGA OLED Tru-Finder viewfinder found on the flagship NEX-7 model. Additionally, the NEX-6 adds a standard DSLR-style mode dial for simple navigation between settings.
The camera's Exmor APS HD CMOS sensor offers 16.1 effective megapixels. It's teamed with a BIONZ image processor that promises low-noise images at extended sensitivity settings up to ISO 25600.
The Fast Hybrid AF system combines phase- and contrast-detect AF methods. It uses 99 phase-detection AF points arrayed on the image sensor to detect a subject's distance and direction to quickly lock focus on it, and then utilizes contrast-detection AF to confirm fine focus detail. In Speed Priority Continuous shooting mode, the camera automatically switches to phase detection tracking AF to track fast-moving action in each frame at up to 10 frames per second.
The high-quality OLED Tru-Finder EVF is complemented by a 3.0" Xtra Fine LCD display that can be angled up to 90° up or 45° down (approx.) for easy viewing.
New for the NEX-6 camera is a strategically-positioned mode dial on its top, similar to those found on traditional DSLR cameras, giving photographers easy access to commonly used shooting modes including P/A/S/M and Sweep Panorama mode. The camera also has mode-dependent control dial (located underneath the mode dial) plus a separate control wheel on the camera back for fine adjustments of exposure, ISO, white balance and other settings.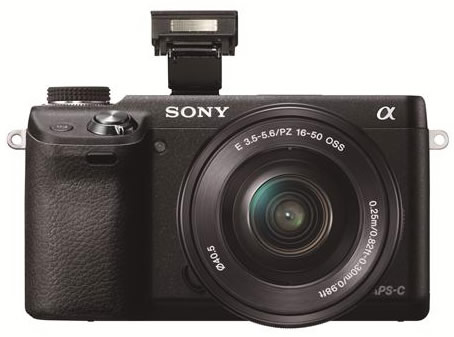 Full HD movie shooting is enhanced on the NEX-6 camera with a new Auto Slow Shutter feature that adds extra detail to low-light clips.
Shared with the NEX-5R model, integrated Wi-Fi on the NEX-6 camera allows photos to be transferred wirelessly to a smartphone or tablet running Sony's free PlayMemories Mobile app (free of charge), available on both Android and Apple iOS platforms. Additionally, content can be directly uploaded from the camera to Facebook using a Wi-Fi connection and the new "Direct Upload" application, part of Sony's new PlayMemories Camera Apps platform.
The NEX-6 compact system camera will be available this November in a kit with the SELP1650 power zoom lens for about $1,000. It will also be offered as body-only for about $850.
First 35mm Full-Frame Handycam Camcorder
Sony also today unveiled the first consumer 35mm full-frame interchangeable lens camcorder - the new NEX-VG900 Handycam camcorder.
Sony's NEX-VG900 is the first Handycam camcorder with a 35mm sensor to fully exploit the potential of interchangeable lenses. With a resolution of 24.3 effective megapixels, the camcorder's Exmor CMOS sensor is around 40 times larger than its equivalent in standard consumer camcorders and more than twice the size of the APS-C sensor found in other interchangeable lens Handycam models. It captures full-frame, 24 megapixel still photos, with RAW format support. The sensor also allows the creation of distinctive 'bokeh' (defocus) effects; high sensitivity for low-noise images; and reproduction of true tonal gradation.
Film-like results can be achieved by shooting video in 24p progressive mode with CinemaTone Gamma and CinemaTone Color presets to control cinematic grading effects. Additionally, AVCHD version 2.0 standard 60p recording maximizes the range of creative options for movie-makers to explore. Even greater flexibility is provided by a choice of new Picture Effect modes.
A convenient seesaw lever allows slow, smooth zoom capability that is almost impossible to achieve when zooming manually. The lever adjusts optical zoom when using compatible E-mount lenses that feature a built-in zoom drive and controls electronic zoom when using the camcorder with fixed focal lenses. As an extra refinement, the NEX-VG900 camcorder switches automatically from full-frame operation to APS-C mode when an E-mount or A-mount DT lens is attached.
Aperture priority, shutter speed priority and manual exposure are all customizable while white balance can be adjusted to suit any scene. Similarly, iris, shutter speed, and gain adjustments can easily be made via direct access keys.
Serious video makers will welcome the XGA OLED Tru-Finder EVF. Complementing the Tru-Finder EVF, an adjustable three-inch Xtra Fine LCD touch-panel monitor with LED backlighting offers Sony's technology for high contrast images with deep blacks.
A Quad Capsule Spatial Array Microphone features four omnidirectional capsules that supports stereo or 5.1 channel surround. Recording levels are adjustable, with accurate visual confirmation provided by an audio level meter on the LCD display. There's also a headphone jack for direct monitoring of sounds being recorded.
The Handycam NEX-VG900 35mm full-frame camcorder (body-only) with LA-EA3 adaptor will be available in November for about $3,300.