Sharp Introduces 100GB Blu-ray Disc, BDXL BD Recorders
Sharp will introduce a triple-layer Blu-ray Disc media that conforms to the BDXL format specification, as well as the wordl's first AQUOS Blu-ray Disc BDXL recorders next month. The Japanese company will release the word's first VR-100BR1 triple-layer Blu-ray Disc media (write-once) that conforms to the
BDXL format specification
, the new multi-layer recordable Blu-ray Disc format. These new Blu-ray Discs will be available in Japan beginning July 30, 2010. The new discs will be compatible with the company's new AQUOS Blu-ray Disc recorders, which will enable recording and playback of triple- and quadruple-layer Blu-ray Discs. The new BD-HDW700/BD-HDW70 Blu-ray Disc Recorders will be also available in Japan beginning July 30, 2010.
This new triple-layer BD-R media extends the storage capacity of Blu-ray Discs to 100GB, twice the 50GB storage capacity of existing dual-layer discs. This new format enables recording approximately 12 hours of terrestrial digital TV broadcasts or approximately 8.6 hours of BS digital TV broadcasts.
This disc media is the first in the world to conform to the new BDXL format specification. The dual-layer structure used up to now has been augmented with an additional layer where image data can be recorded to create a new triple-layer structure. This design doubles the recording storage capacity (to 100GB) compared to existing dual-layer discs (50GB).
The discs feature a hard coating surface essential for protecting the stored data from scratches and fingerprints. In addition, their printable surface (24 mm) allow color labeling over nearly the entire disc and oil-based or water-based marker pens can be used to hand-write labels on these discs.
The VR-100BR1 triple-layer BD-R is expected to retail for about 5,000 Yen ($57). Sharp also plans to release three-layer BD-RE (100GB) discs in the future.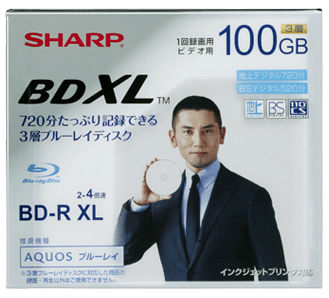 Sharp's new
BD-HDW700 and BD-HDW70 Blu-ray Disc Recorders
will be the word's first in the world to support recording and playback of BDXL conformant media and was developed by Pioneer Digital Design and Manufacturing Corporation, a joint venture of Sharp and Pioneer in the optical disc business. The company describes the development of the new recorders as an evolution of optical disc technologies, specifically for the optical pick-up head and the disc drive.
The BD-HDW700 (2TB HDD) and BD-HDW70 (1TB HDD) Blu-ray Disc Recorders also support playback of Blu-ray 3D discs. In addition, these units feature a stereo headphone jack that supports Surround Sound Audio Output, Sharp's New Transcoder, a proprietary video compression scheme that enables extended recording of video data with high image quality and recording of two programs simultaneously in approximately (maximum) 10X extended record mode.
Beyond this, these units also feature a full suite of functions to enable linking with peripheral devices, including support for recording HD video from SKY PerfecTV! HD and cable TV (CATV), as well as home network functions that enable viewers to enjoy content recorded on these units on an AQUOS TV located in another room via a local area network.