Samsung's Fastest 970 PRO and EVO NVMe SSDs Are Launching Worldwide
Samsung is releasing a couple of new NVMe SSDs -- the 970 Pro and 970 Evo -- that are based on the compact M.2 design and the latest PCIe Gen 3x4 lane interface. The first benchmarks show top sequential speeds but not much improvement in random speeds.
The 970 PRO promises sequential read speeds of up to 3,500 MB/s and sequential write speed of up to 2,700 MB/s, while the EVO features sequential read speed of up to 3,500 MB/s and sequential write speed of up to 2,500 MB/s.
Compared to its predecessor, the 970 EVO promises a small improvement in sequential read speed, and a more substantial boost to sequential write speed for all but the smallest 250GB model. Peak random access performance is also substantially improved, according to the drive's specs, but again the 250GB model gets left out, and is actually rated as slower than the 960 EVO 250GB.
The 970 PRO's performance specs aren't too different from the 970 EVO. Many of the ratings are the same, and the ones that differ are mostly better by 10% for the PRO. However, the the PRO doesn't rely on SLC write caching so it can maintain its write speed far longer than the EVO. In addition, the rated write endurance of the 970 PRO is twice that of the EVO, going from just over 0.3 Drive Writes Per Day to 0.6 DWPD.
The 970 PRO's improvements over the 960 PRO are mostly for random I/O performance, where both drives are now rated to hit 500k IOPS for random writes, given sufficient queue depth. As with the EVO, rated write endurance has been increased by 50%, but the PRO's warranty remains at 5 years.
The sequential write speeds an enhancement over the previous generation thanks to Samsung's fourth-generation 3D NAND (V-NAND) technology and the newly designed Phoenix PM981 controller. This generation of NAND includes a 512Gb TLC die that allows for 1TB in a single BGA package, so offering 2TB onto a single-sided M.2 2280 card is no longer a challenge. The 970 EVO, in particular, utilizes the Intelligent TurboWrite technology, which uses a large buffer size of up to 78GB to enable faster write speeds.
As we previously said, the drives are built to last featuring a five-year warranty, or up to 1,200 terabytes written - 50 percent higher than those provided for the previous generation. The Dynamic Thermal Guard technology safeguards against overheating by automatically monitoring and maintaining optimal operating temperatures, while a heat spreader and new nickel-coated controller further lower the SSD temperatures.
The 970 EVO will be offered in 250GB, 500GB, 1TB and 2TB8 capacities, and the 970 PRO in 512GB and 1TB capacities. The 970 PRO and EVO will be available for purchase worldwide starting May 7, 2018, with manufacturer's suggested retail prices starting at $329.99 and $119.99 USD, respectively.
Key Specifications
Category
970 PRO
970 EVO
Interface
PCIe Gen 3.0 x4, NVMe 1.3
Form Factor
M.2 (2280)
Storage Memory
Samsung 64L V-NAND 2-bit MLC
Samsung 64L V-NAND 3-bit MLC
Controller
Samsung Phoenix Controller
Cache Memory

1GB LPDDR4 DRAM (1TB)

512MB LPDDR4 DRAM (512GB)

2GB LPDDR4 DRAM (2TB)

1GB LPDDR4 DRAM (1TB)

512MB LPDDR4 DRAM (250GB/500GB)

Capacity
512GB and 1TB
250GB, 500GB, 1TB and 2TB
Sequential Read/Write Speed
Up to 3,500/2,700 MB/s
Up to 3,500/2,500 MB/s
Random Read/Write Speed
Up to 500,000/500,000 IOPS
Up to 500,000/480,000 IOPS
Device Sleep
5mW
Management Software
Samsung Magician Software
Data Encryption
Class 0 (AES 256), TCG/Opal v2.0, MS eDrive (IEEE1667)
Total Byte Written

1,200TB (1TB)

600TB (512GB)

1,200TB (2TB)

600TB (1TB)

300TB (500GB)

150TB (250GB)

Warranty
Five-year Limited Warranty
Quick benchmarks
We had the chance to run some quick benchmarks with the new 1TB 970 PRO and 2TB 970 EVO SSDs in the following PC:
ASUS PRIME Z370-A
Intel Core i5-8400
DDR4-2666 8GB x 2
Samsung SSD 840 PRO 256GB
Windows 10 Pro 64bit
We tested the 970 EVO and PRO SSDs with the Samsung's new NVMe 3.0.1802 driver, so this could be the reason behind some lower-than-expected performance of the new drives in the random write tests.
Samsung 2TB 970 EVO
Samsung 1TB 970 PRO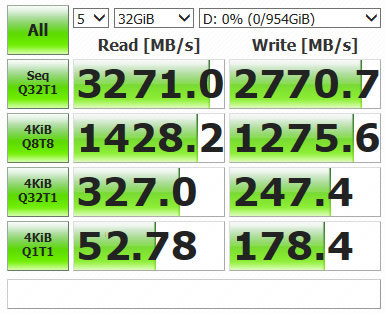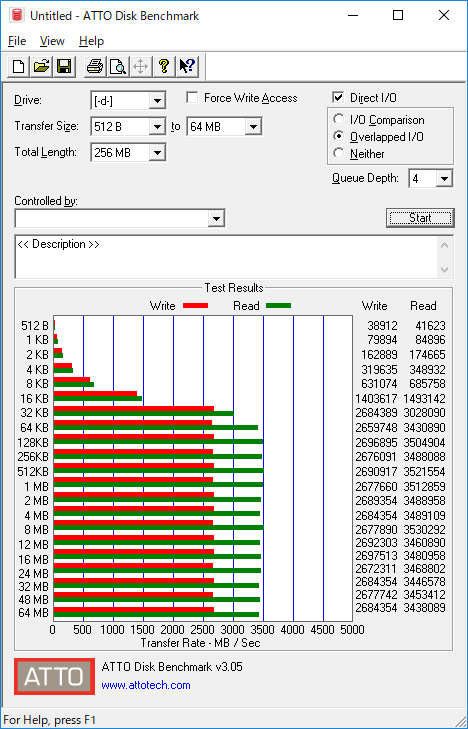 The good performance for the new drives was also confirmed by the ATTO Disk Benchmark results. The 970 PRO reached the 3,500MB/s read and 2,700MB/s write speeds.
The results of the CrystalDiskMark 6.0.0 benchmark confirmed figures quote by Samsung in terms of sequential access and speed. The improvement compared to the previous generation 960 PRO and EVO models was significant, mainly in the write part. However, the drive hardly marginally reached the 4K random write speeds of the 960 PRO in large QDs.
The 970 EVO also hit the 3,500MB/s and 2,500MB/s in the sequential read and write tests, respectively. In the random 4K tests, expect the same performance levels of a 960 EVO.
The 2TB 970 EVO SSD is the highest-capacity TLC NVMe SSD on the market. It offers solid performance, a great software package and an endurance rating typically met in workstation drives. However, it is expensive.
The Samsung 970 Pro is the only consumer NVMe SSD still shipping with MLC flash, and it seems to solidify its position at the top of the NAND-based SSD market. But again its premium pricing means that only professional users that truly need the sustained performance will opt for this series.