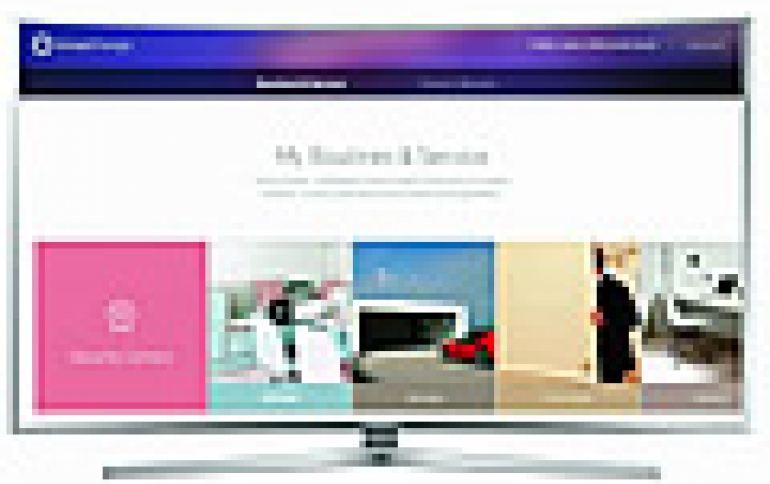 Samsung's 2016 Smart TV Line-Up Will Be IoT Ready, Company Releases Bio-Processor
Samsung's entire 2016 Smart TV line-up will be Internet of Things (IoT) ready and connected with the company's SmartThings platform. Seperately, the Korean company today announced a logic chip for the health-oriented wearables market. Samsung's SmartThings is an open platform that allows users to connect, manage and control smart devices and IoT services.
Among the 2016 Smart TVs, all Samsung's 2016 SUHD TVs will apply IoT hub technology, allowing the TV itself to act as the controller for the entire smart home. Samsung developed its own IoT hub technology with SmartThings for 2016 SUHD TVs.
SUHD TVs can connect with and control Samsung devices and SmartThings sensors, as well as more than 200 other SmartThings compatible devices. These include everything from connected lights and locks to thermostats and cameras, from a wide range of high quality third party manufacturers.
At CES 2016, Samsung will showcase how its Smart TVs are at the center of the IoT ecosystem.

SmartThings allows consumers to access all of their smart devices directly from their smartphone and SUHD TV, rather than having to control individual devices with a multitude of separate apps. With the SmartThings application, people can connect and manage all of their smart home devices and services through a single, simple user interface.
With an outdoor camera connected to their Samsung Smart TV, customers can check when visitors arrive and choose to open their front door, directly from their sofa. Motion sensor alerts can also pop-up directly on the TV screen, if movement outside the home is picked up, providing more security and peace of mind, whether at home or away.
The SmartThings application's Cinema Mood also makes it easier than ever to create the perfect home theater environment. It enables consumers to automatically adjust everything from ambient lighting to surround sound.
While each 2016 SUHD TV will be enabled with this SmartThings technology, the functionality will be activated regionally as SmartThings expands its platform availability.
Samsung also announced an all-in-one advanced system logic chip for the health-oriented wearables market, the Bio-Processor.
The Samsung Bio-Processor, now in mass production, is specifically designed to allow accelerated development of wearable products for consumers who are monitoring their health and fitness on a daily basis.
Samsung's Bio-Processor is the first all-in-one health solution chip. By integrating not only Analog Front Ends (AFE), but also microcontroller unit (MCU), power management integrated circuit (PMIC), digital signal processor (DSP), and eFlash memory, it is able to process the bio-signals it measures without the need of external processing parts. Even with its integrated design, the Bio-Processor is particularly innovative thanks to its small size. When compared to the total area of the discrete parts, the Bio-Processor is only about one fourth of the total combined size, which is ideal for small wearable devices, offering a bounty of options when designing new devices.
While heart rate monitoring alone may have been compelling in the past, the ability to measure a variety of fitness data is expected in today's wearable products. To meet such demands, Samsung has designed its Bio-Processor to integrate five AFEs including bioelectrical impedance analysis (BIA), photoplethysmogram (PPG), electrocardiogram (ECG), skin temperature, and galvanic skin response (GSR) into a single chip solution that measures body fat, and skeletal muscle mass, heart rate, heart rhythm, skin temperature and stress level, respectively. In addition, combinations of these fitness inputs can be considered for a variety of new use cases.
To speed product development and better understand Samsung's new Bio-Processor, several wearable reference platforms are now available to demonstrate various use cases. For example, wrist band, board and patch type reference devices exhibit the Bio-Processor's potential by demonstrating its ability to measure multiple fitness variables on an extremely small device.
Samsung Bio-Processor is currently in mass production and will be available in fitness/health devices within the first half of 2016.