6. DAE Tests
Samsung TS-H552U Burner - Page 6
DAE Tests
- Pressed and CDR AudioCD results
The drive supports up to 48X CAV DAE speed. The following results were reported when using Nero CD/DVD Speed.
The Samsung TS-H552U performed well in this test, beating the other two drives in speed and confirming the 40X reading speed as indicated in the drives specs.
- Advanced DAE Quality
The drive received a perfect quality score of 100. As you can see on the graph, the Average Speed low. Strange indeed, as the same low speed was reported by the previous version of this drive, the TS-H552B. A double check has been made and the results were more or less, the same.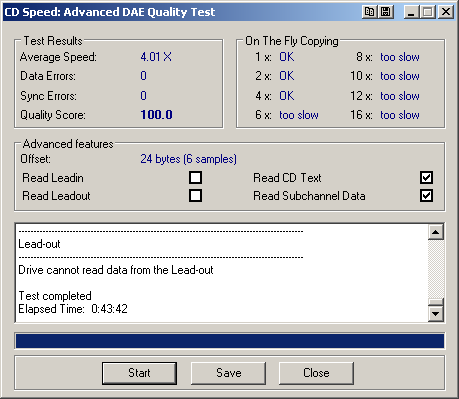 - Ripping 90mins AudioCDs
- Ripping 99mins AudioCDs
Both 90min and 99min AudioCDs were ripped successfully.