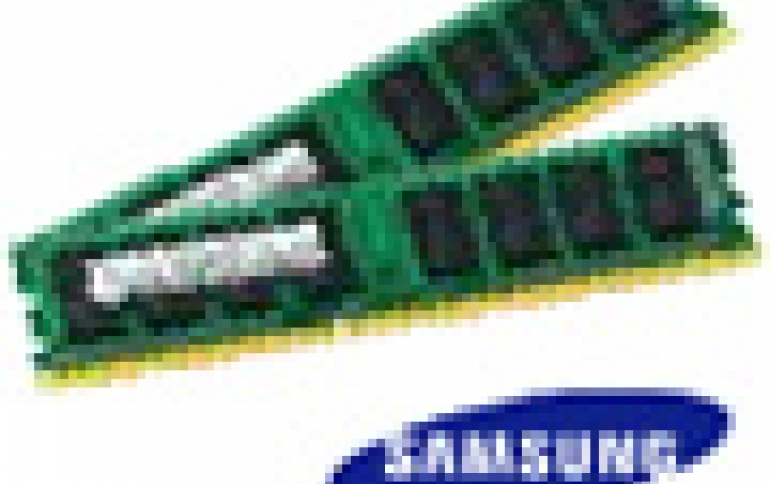 Samsung Samples 2 Gigabit DDR3 Modules
Samsung announced today that it is sampling the 50nm 2Gb DDR3 devices, which enable use of up to 16 gigabyte (GB) of registered in-line memory modules. By using 50 nanometer (nm) class circuit technology, productivity of the new devices is 60 percent higher than DDR2 devices of an equivalent density, according to the company. The new 2Gb DDR3-based modules, which enable use of up to 16 gigabyte (GB) RIMMs (registered in-line memory modules), will save over 40 percent of the power of 1Gb DDR3 memory modules.

"We have focused on maximizing density alternatives and power savings to make our 2Gb DDR3 solution as flexible as possible for designers," said Jim Elliott, Vice President, Memory, Samsung Semiconductor, Inc.

The new device?s small form factor enables the use of up to 8GB of memory chips for RIMMs (registered in-line memory modules), as well as 4GBs for SODIMMs (small outline dual in-line memory modules) and UDIMMs (unregistered in-line memory modules), without the need for stacking components. In addition, 2Gb DDR3 RIMMs can be designed to 16GBs by applying dual-die packages.

The monolithic 2Gb chips are energy-efficient solutions for high-density, high-performance memory applications. The 2Gb chip replaces dual-chip solutions having two 1Gb memory devices, and reduces power consumption by at least 40 percent, which is critical in server applications as well as next-generation desktops and notebooks. The 2Gb device supports a data rate of up to 1.3 gigabits per second (Gbps) at 1.5 or 1.35 volts, up to 1.6-times faster than a 800Mbps 1Gb-based dual-die package. In addition, the reduced number of DDR3 chips lowers heat emissions.

The 50nm-class process being used to manufacture Samsung?s 2Gb DDR3 is expected to become Samsung?s primary DRAM process technology next year. Mass production is slated to begin later this year.

According to market research firm IDC, DDR3 is expected to account for 29 percent of the total DRAM market in units sold and attain a 72 percent market share by 2011. In addition, the segment made up of 2Gb devices is forecast to grow from 3 percent in 2009 to 33 percent in 2011.