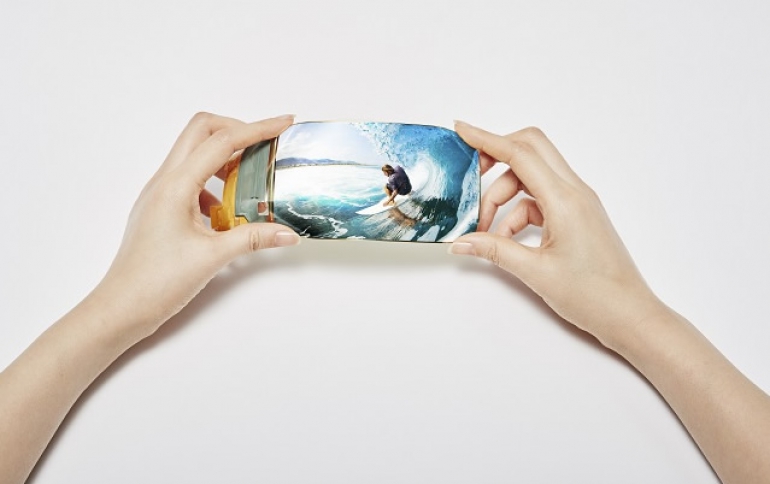 Samsung to Preview Foldable Smartphone in November
Samsung Electronics will preview of its upcoming foldable smartphone at November's Samsung Developer Conference (SDC), a company official said Tuesday.
"We may provide partial information of the foldable phone at the Samsung Developer Conference (SDC) in November, but the finished product won't be available there," a Samsung official said to Korea Times.
Samsung was expected to announce its foldable phone early next year, but the company is said to have moved up the date as Chinese competitors such as Huawei and ZTE are speeding up their efforts to release their own foldable phones.
Samsung's SDC event will be held in San Francisco for two days on Nov. 7 and 8. The company previously announced it would outline its strategies about its artificial intelligence (AI) assistant Bixby and internet of things (IoT) products.
Koh Dong-jin, president of Samsung's IT & Mobile Communications division, had previously disclosed that the company would unveil the world's first foldable phone within this year.
Samsung is said to be developing a foldable device featuring a 7-inch OLED screen unfolded and be about 4.5 inches folded.
Samsung Display division of the company recently said it had developed an "unbreakable smartphone panel" that had passed rigorous safety testing. Even after being subjected to temperatures of 71˚C and -32˚C, and dropped from a height of 1.8 meters, the display showed no signs of damage and functioned normally.
This display is a flexible organic light emitting diode (OLED) panel made of an unbreakable surface with a plastic overlay window attached to it, making it simultaneously lightweight and tough as glass but a lot more robust.
Samsung's flexible OLED screen is likely to be have the most basic level of flexibility, with the ability to be bent and curved without distorting the display but not completely folded.
As for the launch date of the device, it is speculated that the foldable smartphone would go live in the first quarter of 2019. Samsung's product unveiling roadmap tries to separate the launch of the Galaxy S10 from the foldable model. The Galaxy S10 is therefore projected to launch either in late January or in early February, while the foldable phone may hit the shelves in March.
Speaking about the S10, rumors suggest that the Samsung S10 will have three cameras. The first camera is said to come with a 12-megapixel sensor, f/1.5-2.4 variable aperture, and a 78-degree field-of-view. It'll be flanked by a 16-megapixel shooter with an f/1.9 aperture and a 123-degree field-of-view. The last camera will come with a 13-megapixel sensor and an f/2.4 aperture.
The 12- and 13-megapixel options are expected to have autofocus and optical image stabilization built-in.
By comparison, the iPhone XS and iPhone XS Max feature dual rear 12-MP cameras. One is a wide-angle lens with a f/1.8 aperture, and the other is a telephoto lens with a f/2.4 aperture.
Record Third-quarter profit expected
In related news, Samsung is set to post a hefty jump in third-quarter profit to record levels on high demand of its chips for data centers and improved production yields.
The world's top memory chipmaker plans to report preliminary results on Oct. 5.
Last quarter, Samsung's Galaxy S9 device missed sales targets and the competition from cheaper Chinese-made phones ate into margins for its mobile business.
Samsung enjoyed a spike in prices for DRAM chips, but prices for NAND chips more than halved in the same period as supply swamped demand. Although analysts expect a drop in DRAM prices, Samsung has an advantage over rivals in production technology.
Chip unit accounts for nearly 80 percent of Samsung's operating profit. But the company is also expected to benefit from a rebound in prices for large displays, as well as increased orders for organic light-emitting diode (OLED) displays after Apple launched new iPhones.
Its mobile division will see operating profit drop for a third quarter in a row, hurt by sluggish demand for smartphones as the market matures. Marketing costs for its new Galaxy Note series also pressured mobile earnings, analysts said.